Most of us need to create new folders in Windows, to better organize our files in File Explorer. The Windows operating system includes the ability to add new folders with a keyboard shortcut, context menu, or via Explorer Ribbon.
How to create a New Folder in Windows 11/10?
Let us see how you can create a New Folder in Windows 11 or Windows 10:
1] Using the Context Menu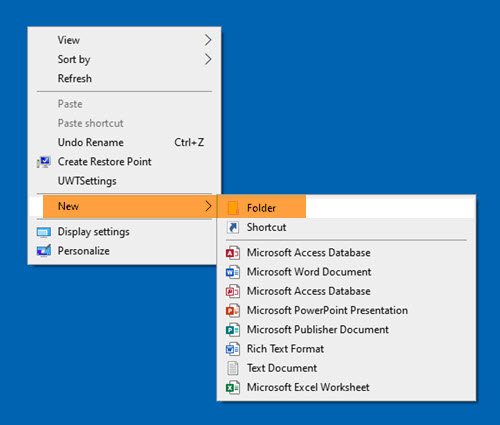 To create a new folder, right-click in the directory where you want to create it, select New > Folder.
The folder will be created with the name – New folder.
Read: How to change the Default New folder name.
2] Using a Keyboard shortcut

To use a Keyboard shortcut for creating a new folder, simply press Ctrl+Shift+N in an open Explorer window & the folder will be automatically created instantly show up, ready to be renamed to something more useful.
For example, click on the desktop and then press Ctrl+Shift+N. You will see that a New folder is created instantaneously all ready to be re-named.
Read: How to create a folder without any icon or name.
3] Via Explorer Ribbon

Open Windows File Explorer > Manage tab > Click New folder to create a new folder in that directory.
That's it!
PS: See this post if you Cannot create a new folder.
Related reads: