Outlook is a web app from Microsoft that controls and organizes your email to allow the user to focus on all the important messages and manage and share your calendar to schedule meetings. Microsoft Outlook desktop app can notify the user whenever there is an incoming message if the user chooses to use the display, a desktop alert. The user can control the transparency, location, and duration of the desktop alert.
Create Desktop Alerts for Incoming Email in Outlook
Open Outlook.
Go to File.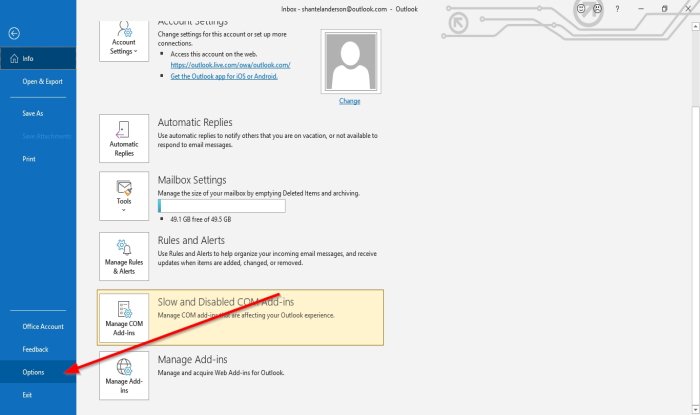 On the Backstage View, select Options.
An Outlook Options dialog box will appear.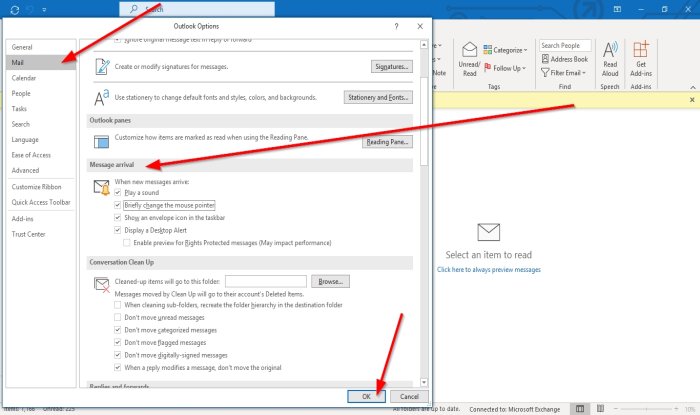 Inside the Outlook Options dialog box, click the Mail tab.
On the Mail page n the Mail Arrival section, you can choose to click one or more of the checkboxes:
Play a sound,
Briefly change the mouse pointer,
Show an envelope icon in the taskbar,
Display a Desktop Alert.
When the Play a sound checkbox is clicked, it allows whenever Outlook receives a message, the user will receive alerts with sound, a message pop-up notification, or a change in the Outlook icon on the status bar.
When the Briefly change the mouse pointer checkbox is clicked, it changes the mouse cursor whenever a message arrives.
When the Show an Envelope icon in the taskbar checkbox is clicked, it displays a desktop envelope icon in the desktop notification area whenever the user receives a message.
Show an envelope icon in the taskbar feature will not show if the emails do not come into your inbox or move to other folders by rule.
When Display a Desktop Alert checkbox is clicked, whenever the user gets a new message, a notification will appear on the user's desktop.
In Outlook, Desktop Alerts are turned on by default.
Once, checking the boxes of your choice, click OK.
Read next: How to enable Read Receipts in Microsoft Outlook.