Many a time we need to copy error messages, error codes, or other text from images, dialog boxes, or open windows, which are otherwise "un-copy-able". While one can always write down the text manually, this can be a pain if the text is too long.
If you are using Microsoft Office, you can use its in-built tool called Microsoft Office Document Imaging which will allow you to extract text from tiff and mdi files. We have also earlier seen freeware tools to copy text from images like OCR and Gttext.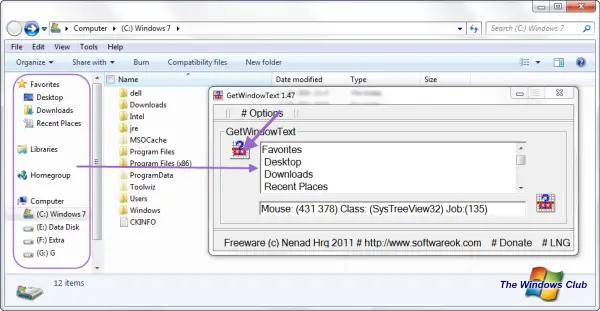 Copy text from open windows and dialog boxes in Windows
GetWindowText is a very small and portable program that allows you to read and copy the text in open windows.
If you have some open folder or a program window open and you need to copy the text in it you can do so easily using this tool. Simply click the left mouse-button on the GetWindowText icon on the left side and by holding down the left mouse button, the read can be started.
Then simply hold your mouse over the window from which the text should be read and copied. When you release the mouse button, the reading will be finished. The text will appear in the text box which you can then copy.
This Windows freeware can be read almost all the texts from Edit, Static, Groupbox Controls, and so on. It also supports directory trees (SysTreeView32), combobox, and list views (SysListView32) to read the entire contents.
Get Window Text works on all Windows and supports x64 and x32 operating systems too.
Click here to download GetWindowText.
Read: