Do you own a gaming mouse that came with a few extra buttons than what a normal mouse would usually have? While those buttons might help you quickly fire bullets in your games, you must have wondered how to put them to better use for day-to-day tasks on Windows. In this post, we've covered a small little utility called Mouse Manager that would let you exactly do that. Mouse Manager lets you customize the extra buttons on your mouse.
Mouse Manager for Windows
The tool is quite simple to use and offers some nice features. It is compatible with most of the devices and ensures all button clicks are registered and responded to quickly. If your game does not support extra buttons, you can use Mouse Manager and map these buttons to custom actions. Technically, this lets you use your mouse with almost every game out there.
By extra buttons here we mean the additional two buttons on the side of your computer mouse. Usually, these buttons are programmed as Forward and Backward buttons. Also, most of the modern games call them Mouse Button 4 and Mouse Button 5. But if your game does not support any such setting, you can always use Mouse Manager to use those extra buttons.
To set up the tool, you need to download and install the application. Although it is a small application, I doubt it comes in a portable variant.
Control what the extra Mouse buttons do
Once installed, you can start configuring the extra buttons on your mouse. Mouse Manager works in a profile setup, where you can create as many profiles you want. You can quickly switch between different profiles using the system tray icon. Profiles are very helpful if you want to configure the buttons differently for different games or applications.
To create a profile click on Add button. Now enter the key combination for Mouse Button 4 and Mouse Button 5 and then click on Save. You can enter any sequence of keys, and the same sequence will be executed whenever you press that button. For example, if you type in R which is reloaded in many games, you can easily reload while playing a shooting game. Or you can simply type in H E L L O, and your mouse would type in hello.
You can design as many profiles as you want and the customizations possible are endless. You can also remove profiles and disable a button in a particular profile.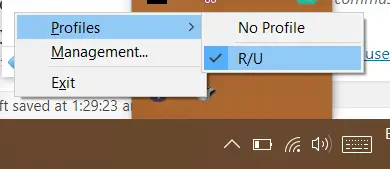 The program can also automatically start with Windows so that you don't have to manually set up every time. It can completely run silently from the system tray. You can use the tray icon to switch profiles or open the management window.
Mouse Manager is a great tool if you own one of those mice that came with extra buttons. If you think you can put those buttons to better use, Mouse Manager is here to help you. It comes with nifty features such as profiles and a system tray icons. Again, this is a small little tool but does what it promises.
Click here to download Mouse Manager.
Similar tools that may interest you: