The new generation of browsers is offering more and more control over how consumers can configure Privacy Settings. Thanks to the worldwide Privacy initiatives, it has become a focus for many, and Microsoft Edge is not behind. Microsoft had been offering extensive Privacy Settings in its OS, and the same applies to Microsoft Edge (Chromium). In this post, we will share how you can configure Privacy Settings in Microsoft Edge.
Tracking Protection is a feature in browsers that limits the effect of services like Google, Facebook, etc., tracking your online activities. If you are profiled, you are almost tracked across services and platforms.
Data Collection in Microsoft Edge
Before we start talking about how you can configure privacy, I wanted to share a bit about how data collection works in Microsoft Edge. In short, to what extent the new browser can collect the data. Some of these are important to improve the performance of the product. It helps them to understand how one uses the browser. Here is the list of data that is collected by:
Crash reports.
Info about how someone is using the browser and websites they visit.
Installation, feature usage, performance, and memory usage of Edge.
Site load time, URL of the page, page content, and more.
Configure Privacy Settings in Microsoft Edge
Microsft Edge has all its privacy settings available in one place so you can easily manage them. Open Edge, click on three dots > Settings > Settings  > Privacy and services. There is a list of settings available here. I am going to break them down in a way you can understand.
Tracking prevention
Managing Browser Data usage

Control what Edge sends back to Microsoft
Clear Browsing Data

Website Tracking
Help improve Microsoft Edge Section
Personalize your web experience
Services
1] Tracking prevention
When you visit a website, it tags you. These tags are sturdy, and they can identify that it is the same person. It is used to serve you advertisements or information. Some trackers collect and send your info to sites you haven't visited. If you like to stay anonymous, then you should either use a VPN or use the Tracking prevention settings. Make sure to toggle it on if it is off, and then configure. Microsoft Edge offers three types of settings upfront
Basic: Allows almost all trackers.
Balanced: Blocks trackers from sites you have not visited, less personalized ads.
Strict: Blocks the majority of trackers, minimal personalization information for content and ads.
The common feature of all these profiles is that they Block all known harmful trackers. The difference is that in strict mode, some websites might not work as expected.  If you are sure that some trackers should be allowed, then you have two options:
Blocked trackers: You can choose to remove trackers which you trust or maybe it's yours
Exceptions: Allow all the trackers from a site you trust.
Related: What is web tracking? What are Trackers in Browsers?
2] Managing Browser Data usage
Like any other browser, Microsoft Edge stores your browsing data, passwords, form data, and so on. Of these, cookies and browsing history information is sent to Microsoft. It allows them to make the experience as rich, fast, and personal as possible.  Now I am sure you will not like that, and Microsoft lets you have full control of it.

Control what Edge sends back to Microsoft
Open Windows 10 Settings (WIN + I)
Navigate to Privacy > Diagnostics and Feedback
Change from Full to Basic
When you choose the Basic option, it will only send info about your device, settings, capabilities, crash reports, and performance details. The Full option sends info about websites you browse, how you use your apps, and all that is available under the Basic option. Make sure to restart the browser once you make the change. We suggest reading out the Guide on Windows 10 Privacy to control more aspects.
To delete already collected data by Microsoft, go to Windows 10 Settings  > Privacy > Diagnostics & feedback. Select Delete under Delete diagnostic data to remove all of them from Microsoft Servers.
Clear Browsing Data
The second option is to clear all of your browsing data. Go to  Edge Settings  > Privacy and services. Here you should first configure what you plan to delete. Click on the arrow at the end of the option—Choose what to clear every time you close the browser.
Toggle on against options that include browsing data, download history, cookies, and other site data, and more. Once configured, click on the Choose what to clear button to remove those data. If you have turned on Sync on Microsoft Edge, then data from other devices will also be deleted.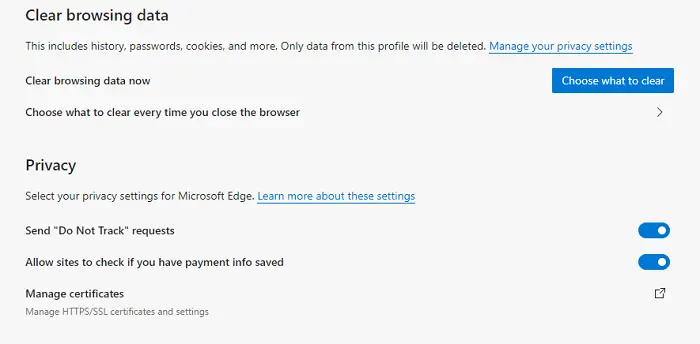 4] Website Tracking
While we have already talked about blocking the trackers, the Website tracking section offers few more settings.
Send "Do Not Track" requests: It is a formal request sent by browsers on the user's behalf, but websites can dishonor it.
Allow sites to check if you have payment info saved: If you are on a payment gateway and do not want websites to check if you have payment data, toggle this off.
Related read: Privacy and Security Settings in Edge browser on Windows 10.
5] Personalize your web experience
Toggle off the setting here to block Microsoft from using your browsing history for personalizing advertising, search, news, and other Microsoft services. You can manage your data that's saved on the Microsoft cloud and change ad settings from the Microsoft privacy dashboard.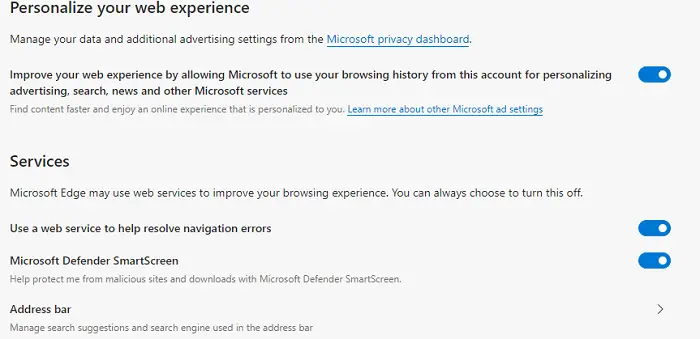 6] Services
These are here to improve your browsing experience solely, and I would highly recommend them to use it except that never allow extensions to change search engine, new tab page, or home page settings.
Use a web service to help resolve navigation errors: useful when you try to connect to public WIFI where a login is required.
Microsoft Defender SmartScreen: It blocks malicious sites and downloads and PUA.
Address bar: It allows you to search directly from the address bar, and it is possible when you enable Search and site suggestions.
Related read: Trace offers excellent Tracking protection for Chrome and Firefox.
How to check if Tracking prevention feature in Edge is working
Open any websites which display advertisements. Wait for it completely load it. Done that, click on the lock icon next to the website URL. It will reveal settings like certificates, cookies, etc. Along with this, Tracking prevention has a dedicated area where you can view:
Tracking prevention is turned on for the website
Number of blocked trackers
There is a direct link to open the settings to manage all sites.
You would be surprised to know on the number of trackers that a website deploys to track any consumer.
Related: How to search any website from the address bar
That concludes our guide to configure Privacy Settings in Microsoft Edge. Make sure also go through Windows 10 Privacy settings as well to set privacy on Windows 10 completely.