Google Chrome web browser includes an Easter egg of sorts. It lets you play a game when you are not connected to the Internet. We have seen how we can view Office, PDF or Media files or enable its built-in Password Generator. Today, we will see how we can enjoy the built-in T-Rex Dinosaur game in Chrome browser when offline.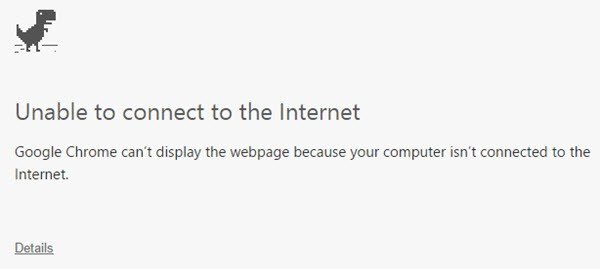 When you are not connected to the Internet and you try to visit a website, you will see the above Network Error page, displaying the message – Unable to connect to the Internet.
If you see a cached page, just refresh the page. Hard Reload, if need be, and you will see this page.
Have you ever wondered what the baby Tyrannosaurus Rex or T-Rex Dinosaur was doing there? Well, he is there waiting for you to play with him!
Chrome's T-Rex Dinosaur game
To start the game, just press the space-bar. T-Rex will start running. An endless stretch of land will appear in front of him, and you will have to avoid the cactus plants which appear in his path. In real life he would probably trample over them, but here you will have to jump over it.
To jump over the obstacle, press the space bar again. If you fail to jump over, the game stops and you will be offered a restart.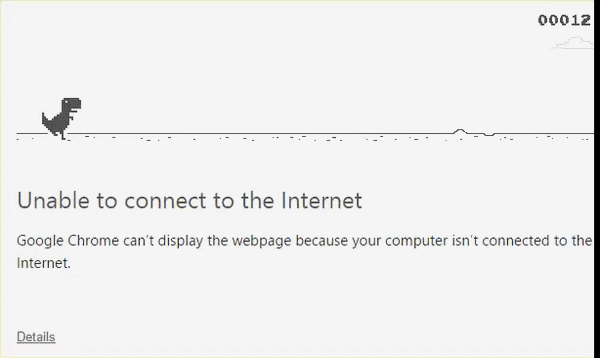 Enjoy playing this endless runner game in Chrome and let us know how much you scored in the first attempt!
If you wish, you can disable the Dinosaur game.
Now take a look at Vivaldi browsers' Vivaldia game too.