If you cannot install Google Chrome on Windows 11/10 and you receive error codes 4, 7, 12, 13, 31, 35, 57, 102, or 103, then here are the causes with potential solutions that will help you fix the issues.
Installation failed, The Google Chrome installer failed to start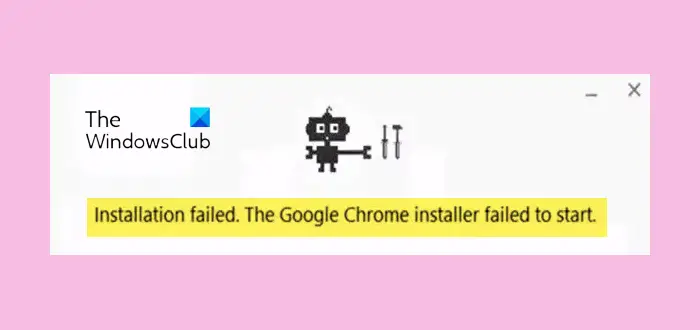 Cannot install Google Chrome on Windows 11/10
Chrome installation errors usually occur when the application's installation package fails to locate or access a required file. Corrupt or damaged installation setup files,  Interruptions due to third-party apps & Insufficient permissions are some of the other reasons.
Let us take how to resolve such errors.
Reason & solution for Chrome Installation Error 4
This happens when you want to install an older version of Chrome, but a new version is already available. Many a time the new versions cause problems. The only way out is to install an older version of Chrome which was working smoothly for you.
Go to Programs & Feature and locate Chrome.
Select it and choose to uninstall.
Then download, and install the working version of Chrome
Post this; you will have to make sure to disable Chrome Updates. Unlike Firefox, Chrome is updated through Google Update Services in Windows. You will need to disable that service.
Type Services.msc in Windows run prompt.
Search for Google Update Service (gupdate) and Google Update Service (gupdatem).
Stop them, and then chose to disable from the drop-down.
However, make sure to enable them once you are sure that your problem is resolved.
Related: Chrome Installation Failed Error Code 0x8004070c
Reason & solution for Chrome Installation Errors 7, 12, 13, 35, 57, 102, 103
You get these numbers when the Chrome install fails for unknown reasons.
1] Check if your computer has enough space
Make sure you have enough space on your computer to install Chrome. Run the Disk Cleanup Tool which can help you with that. Post that, run the Chrome Installer, and it should get installed this time.
2] Disable Antivirus and Security software
It is possible that your Antivirus or Security software might have blocked the Chrome installer you have downloaded. It is also possible that they might be blocking the source from where Chrome downloads the file. So just for installing Chrome, disable or uninstall that software. Once you install Chrome, re-enable it.
3] Install Chrome with Admin privilege
If you are an Admin or have the person around you with admin privileges, install chrome with those permissions. At times EXE files are blocked or not allowed to make changes to system files unless they have the right permissions.
Related: Error 0xa0430721 when installing Chrome
Reason & solution for Chrome Installation Error 31
This error means that you are not able to re-install Chrome. It is possible that previous uninstallation has left something behind which is blocking the reinstallation.
Create a System Restore point.
Type regedit in the run prompt, and hit enter.
This will launch the registry editor. Navigate to HKEY_LOCAL_MACHINE\SOFTWARE\Microsoft\Windows NT \CurrentVersion\Image File Execution Options
Delete the Key GoogleUpdate.exe.
If you see any other key related to Google Chrome. Delete it as well. Restart, and try installing Chrome again.
What is error 112 in Chrome install?
The error code 112 in Google Chrome is the installation error. When the Chrome installation process is interrupted on a Windows computer, you may see the error code 112 along with the error message "The installer encountered error 112." The main cause of this error is the lack of space on the hard drive. Hence, make sure that the hard drive on which you are installing Chrome has enough space. You can also try to clear your Temp folder.
How do I repair Google Chrome?
Windows 11/10 has the option to reset and repair installed programs. You can reset or repair an application via Windows 11/10 Settings. But this option is not available for all installed programs. If you click on Google Chrome on the Installed Apps page in Windows 11/10 Settings, you will see that the Advanced option is greyed out. Hence, to fix Chrome issues, you can try some fixes, like resetting Chrome to default, uninstalling and reinstalling it, etc.
We hope these solutions help you to resolve Chrome errors 4, 7, 12, 13, 31, 35, 57, 102, or 103.
Read Next: Chrome Installation Failed Error Code 0x8004070c.