In this article, we will help you to fix Chrome Autofill not working problem on a Windows 11/10 computer. The Autofill feature is helpful to automatically sign in to websites using the saved passwords in Chrome, fill in payment forms or information, addresses, etc., which makes things easier for users. But, sometimes, users face the issue that the Autofill feature doesn't work for certain sites or all sites. If you are also having such an issue, then you can try the solutions covered in this article.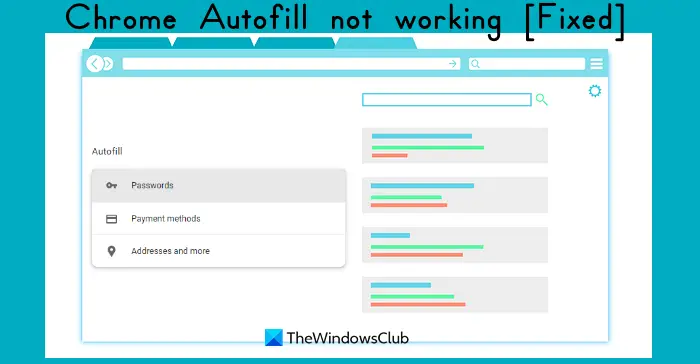 Chrome Autofill not working on Windows 11/10
Here is a list of solutions that can help fix this Chrome Autofill issue:
Configure Autofill Settings
Check Sync Settings
Update Google Chrome
Clear cookies and cached data
Turn off Chrome extensions
Create a new User Profile.
Let's check these solutions one by one.
1] Configure Autofill Settings
If the Autofill settings are not configured or set properly, then also it can cause this type of problem. So, you should check and set the Autofill settings for all three categories which include Passwords, Payment methods, and Addresses and more. For this:
Type chrome://settings/autofill in the Omnibox
Press the Enter key. This will open the Autofill section.
Now you can access each category one by one and set the required options for auto-filling the data.
Passwords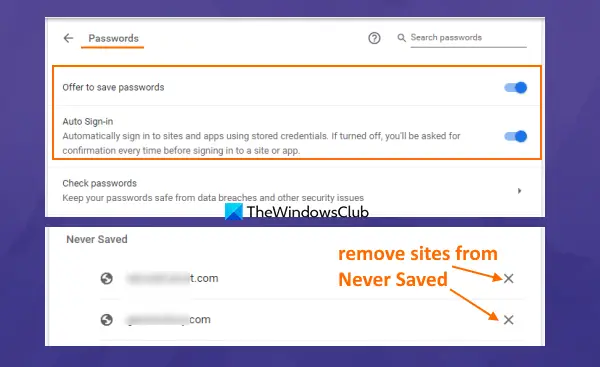 For this category, do the following things:
Turn on the Auto Sign-in option
Turn on the Offer to save passwords option
Also, scroll down the page to access the Never Saved section. Here, remove those websites from the list for which you want the Chrome Autofill feature to work again.
Payment methods

In this category, turn on:
Save and fill payment methods option
Allow sites to check if you have payment methods saved option.
Addresses and more

Here, turn on the Save and fill addresses option so that you can automatically fill information like email addresses, phone numbers, etc., to sites from the previously saved information and also save the new information.
2] Check Sync Settings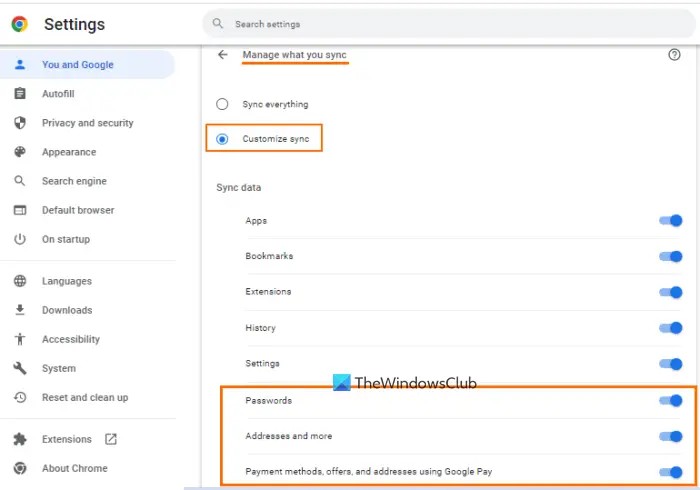 If you are able to use saved payment details, passwords, etc., on a device, but not on another device, then you should check your sync settings on that device and make sure that options related to the Autofill feature are enabled. To do that, use these steps:
Type chrome://settings/syncSetup in the Omnibox (or address bar)
Press the Enter key
Access Manage what you sync section
Select the Customize sync option
Under the Sync data section, turn on the buttons available for Addresses and more, Passwords, and Payment methods, offers, and addresses using Google Pay
3] Update Google Chrome
An outdated program or application can cause different issues to a program and its features. The same could be the case for the Autofill feature of Google Chrome. So, it is good to update the Google Chrome browser that can help you fix known issues and bugs and it might also this Autofill feature problem.
Related: How to transfer Google Chrome profile to another computer.
4] Clear cookies and cached data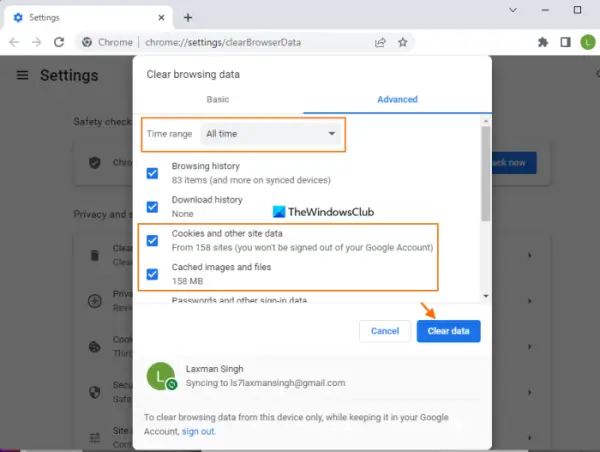 Outdated cache, site settings, and corrupt cookies can also affect the Autofill feature of Chrome because of which it is not working as expected. So, you need to clear such browsing data. The steps are as follows:
Open Google Chrome browser
Press Ctrl+Shift+Del hotkey. This will open the Clear browsing data section in a new tab
There, access the Advanced tab
Set Time range to All time using the available drop-down menu
Select Cookies and other site data option
Select the Cached images and files option
Uncheck the rest of the options like Autofill form data, Passwords and other sign-in data, etc.
Press the Clear data button.
5] Turn off Chrome extensions
It might be possible that some of the Chrome extensions installed by you are interfering with the Chrome Autofill feature. As a result, that feature is not working for all or specific sites.
To solve this problem with this case, first access the Extensions page (click on the Extensions Toolbar icon and select the Manage extensions option) of the Chrome browser. After that, you need to disable or turn off Chrome extensions one by one and check if the Autofill feature starts working or not. Once you find the problematic extension, just delete or remove it from your Chrome browser.
6] Create a new User Profile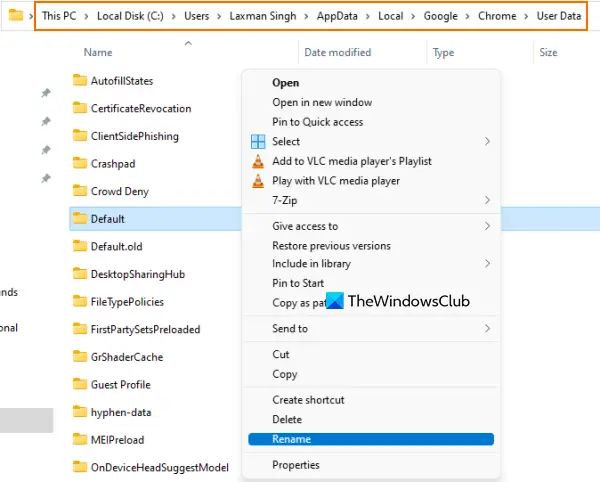 If your default user profile is corrupted, then it can cause various problems, including this one. In that case, you need to create a fresh default profile for that user account. You will lose your locally stored data. Here are the steps:
Exit or close the Chrome browser completely
Open File Explorer on your Windows 11/10 computer
Access the User Data folder of the Chrome browser. For this, enter the following path in the address bar of File Explorer and press the Enter key:
%UserProfile%\AppData\Local\Google\Chrome\User Data
Now rename the Default folder with Default.old folder or some other name. That will also work as a backup for your previous profile
Launch Google Chrome
Sign in to the Chrome browser with your Google account. All your browsing history, extensions, and other data will be synced (if saved).
This will create a fresh user profile and a new Default folder to store local data on your Windows 11/10 computer for the Chrome browser. Now you should be able to use the Google Autofill feature.
If none of these options work, then you should reset Chrome browser settings to default.
How do I fix Chrome Autofill?
If the Chrome Autofill feature is not working, then you can try some fixes like updating the Chrome browser, clearing cached data, checking sync settings, etc. We have covered all such solutions in this post above. Try these fixes and then you will be able to autofill passwords, addresses, and other data from the saved information again on your Chrome browser.
Why is autocomplete not working in Chrome?
If Google Search autocomplete feature is not working in your Chrome browser, then most probably it is turned off. If this is the case, then you can turn on or enable autocomplete feature using the following steps:
Type chrome://settings/syncSetup in the Omnibox of Chrome
Press the Enter key
Under the Other Google services section, turn on Autocomplete searches and URLs option.
In addition to that, you can also try other solutions like clear cookies, restart Chrome, disable extensions, reset Chrome, etc.
Read next: How to set up and use Microsoft Autofill Password Manager on Chrome.