Are you facing some lagging issues on your PC? If yes, the chances are higher that a process is consuming resources or something is downloading in the background on your Windows. If you are also going through this situation, this guide will help you determine if something is downloading in the background on Windows PC.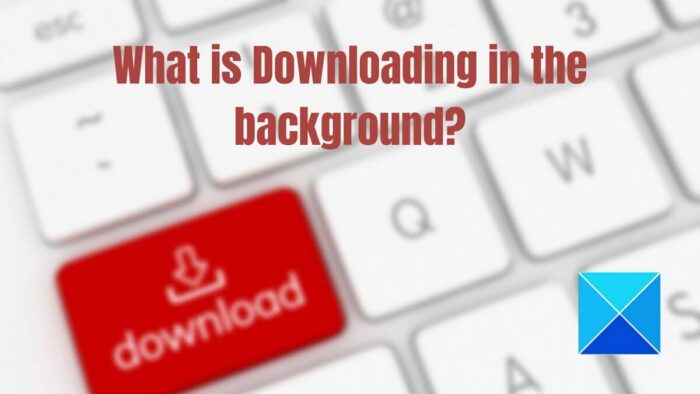 How to check if something is downloading in the background on a Windows PC?
PCs are always connected to the internet. Emails, browser downloads, Windows downloads—there is always something going in the background that keeps the constant data exchange between the application on PC and the internet. At times, one of these can make the PC feel slow. So please follow these methods to figure it out:
Task Manager
Resource Manager
Data Usage Overview
Windows Update
Browser downloads
Check each of these until you figure out what was downloading.
1] Check Task Manager
Press Ctrl + Shift + ESC to launch the Task Manager
Once done, go to the Process tab option and tap on the Ethernet or WiFi. Notice if it displays high network activity.
Switch to the Processes tab, and sort the processes by Network. Click on the network column twice to sort in descending order to determine the process currently consuming the most bandwidth.
Select the process and tap on the End Task option to stop the download process from running in the background.
Ending up the downloading task from the Task Manager is a temporary fix. You can launch the program on your device using the most bandwidth to determine the download and if there is a setting available with the app that allows you to control the download.
2] Check using Resource Manager
Launch the Run command on your PC by pressing the Windows key and R buttons together.
Type "resmon" in the Run box to open the Resource Monitor on your PC.
Now go to the Resource Monitor Window and tap on the Network tab.
The next thing you must do in the league is to expand the Network Activity tab successfully.
Check out the process consuming the highest network data to enable further processing.
If it's a background process, you can choose to kill it or open the app to figure out what you can do next. It's not wise to kill the process if a vital download is in progress. So always make an informed decision.
Note: You can click on the checkbox next to any running process, revealing the application's subprocess. It helps to determine which component of the application is consuming more data.
3] Check Data Usage Overview to find which app is downloading
Windows offers download usage for each application. It is specifically useful if you are on limited data usage and must ensure some apps don't download too much.
Go to Windows Settings (Win + I)
Navigate to Network & Internet > Advanced network settings > Data usage
Select the adaptor and look for any unusual downloads
Applications like browsers, systems, and streaming apps like Netflix will have high data usage. Ignore them, and check what else is consuming more data.
4] Check Windows Update
Most users opt for the automatic updates option to maintain the excellent functionality of their devices. This option is quite helpful and helps you keep your Windows updated without effort. Despite having so many facilities, these downloads sometimes slow down the speed of your PC and make it difficult for the users to carry out their different tasks efficiently.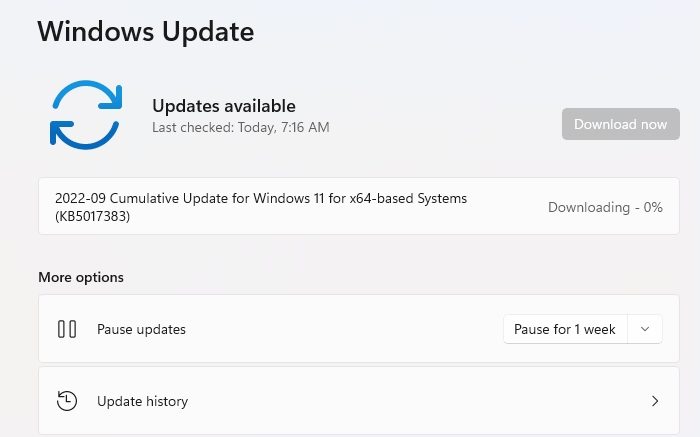 Go to Windows Settings > Windows Update. Check if a download is in progress. While you can, we suggest not to stop it and wait until it's complete. Later, you can configure Active hours under Advanced options, so the download starts after work hours.
However, if the update is stuck for a long time and still consuming bandwidth, it's best to restart your PC and follow our guide on the stuck download status of Windows Update.
5] Check Browser for download in progress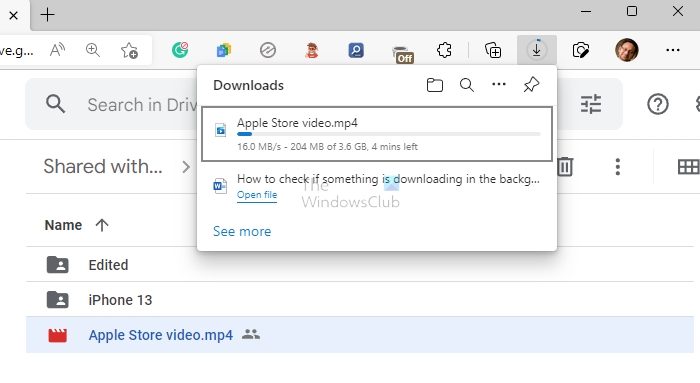 You might have started a large-size file download in the browser and have forgotten about it. Open the download section of your browser, and check if there is a download in progress. If you want to skip the download, cancel it, and everything should go normal.
Read: How to tell which App is using the Internet in the background on Windows
Hopefully, you have learned how to ideally check if something is downloading in the background on Windows PC. It is a simple and easy task that hardly takes very few seconds to complete. This process helps users to find out the different lagging issues occurring there on their laptop or PC.
How do I see active downloads on Windows?
Apart from Windows Update and Microsoft Store downloading updates, you can go to the Downloads folder and check if there are temporary files. If yes, then these are your active downloads.
How do I stop Windows from downloading in the background?
You can configure the Windows update to download only after active hours, limit it using a metered connection, or pause the update for some time. There is no way to disable updates, and no one should do that.