Thanks to the ever-increasing dependence on the internet, we involuntary spend a lot of time on our Windows PCs. It gets boring at times as well especially if we are doing the same tasks every other day. How about refreshing yourself with auto changing wallpapers now and then, it is certainly a good concept to divert your attention to pictures that you love to see. The next question is, how to do it on your Windows 11/10 PC? Well, you do not have to worry at all, thanks to Wallpaper Change Scheduler. Here is more about the free software.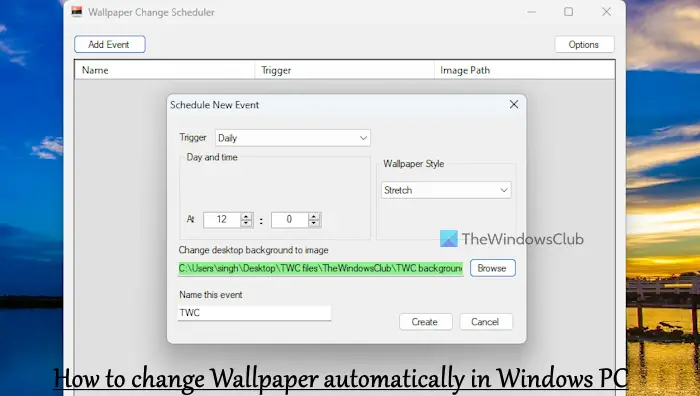 Change Wallpaper automatically in Windows 11/10
Wallpaper Change Scheduler is a freeware that allows you to change your wallpaper automatically in Windows 11/10. This tool has several pleasing features that allow you to schedule wallpaper changes on your desktop on a daily or weekly basis, mouse idle basis, and at logon. You can even change the wallpaper on the movement of the mouse!
This tool works on all Windows versions and requires the basic .NET Framework 4 to be installed on your PC. The memory and storage requirement is basic too, as it hardly needs a disk space of 1MB and 512MB of RAM to operate.
Installation
The installation process has hardly anything to talk about, just download the setup file of 849 KB and execute it. It will hardly take 5 seconds for you to complete the process.
Once installed, just click onto the System tray (bottom right-hand corner of our screen) to locate the icon of the Wallpaper Change Scheduler. The following user interface will appear on your screen.
About the User Interface
The first impression about the UI is that it is too simple and does not help in understanding where, to begin with. However, things become easy as you move ahead. Let us get started on how to use this tool.
Using Wallpaper Change Scheduler
Click "Add Event" as shown in the below screenshot.
A "Schedule New Event" window will pop-up on your screen.
Now select the Trigger, that you want to choose for your Wallpaper. Each trigger comes with its own specific settings.
Choose from the following options.
Weekly
Daily
On mouse idle
On mouse move
At logon
After that, you have to choose Day and Time when you want the trigger to happen.
Next, select the Wallpaper Style from the following options.
Tile
Center
Stretch
Fit
Fill
Next, click on the Browse tab to select the wallpaper.
Click Create. You can also give a name to the even if needed.
Your event is now created and will be executed as selected.
You can repeat the above steps to create more events and the wallpaper will be changed based on the created events on your Windows 11/10 PC.
If you want, you can also remove any event, or edit the event using the available options. In case you want to stop the event trigger for some time, then click on the Options button, and select the Pause Schedule Events option.
Wallpaper Change Scheduler download
Wallpaper Change Scheduler allows you to create multiple events. You can easily edit the events by going to the main interface with their Name, Trigger, and Image Path listed.
Click here to download Wallpaper Change Scheduler.
One of the shortcomings of this freeware is that you cannot trigger multiple wallpapers for a single trigger. Moreover, it does not offer anything else except Wallpaper refresh. Still, the tool is perfect to keep your desktop fresh every day and save time if you like to tinker with your wallpapers now and then.
How do I get Windows 11 to change wallpaper automatically?
A third-party wallpaper changer tool is a good option for doing this. If you don't want that, then you can use the Slideshow feature for the Background section in the Settings app of Windows 11 to make Windows 11 change the desktop wallpaper automatically. You can choose a folder or picture album from your PC, choose a fit for wallpaper, and set the slideshow timer to 10 minutes, 1 minute, 30 minutes, etc., and the desktop background will change accordingly.
Does Windows 11 have dynamic wallpaper?
You can use the Windows Spotlight feature to have dynamic wallpaper or a new desktop background every day on your Windows 11 computer. In the Settings app, go to the Background option (under the Personalization category), and select the Windows spotlight option for the Personalize your background option. This will display Windows Spotlight backgrounds on the Desktop every day.
TIP: You can also use some best free auto wallpaper changer Microsoft Store apps to have dynamic wallpapers on your Windows 11 PC.