Want to change the Touchpad Sensitivity? If your laptop's touchpad is too sensitive then decrease it. And if it is set at low sensitivity, then increase it. Regardless of whatever your laptop's touchpad sensitivity, if it has not been set correctly then it can make your device slightly difficult to use. In this article, we have explained three simple ways that will help you to change touchpad sensitivity in your Windows 10 PC.
Change Touchpad Sensitivity in Windows 10
Here are three methods using which you can change the touchpad sensitivity on your Windows 10 device:
Using the Windows Settings App
Via Registry Editor
Through the Control Panel
Let's see the methods in detail.
1] Change Touchpad Sensitivity using the Settings App
To change touchpad sensitivity using the Settings app:
Right-click on Start and select Settings to open the Windows 10 Settings.
Select Devices > Touchpad.
Move to the right pane and go to the Touch sensitivity under the Taps section.
Click on the drop-down menu
Choose the option as per your requirement.

Most Sensitive
High Sensitivity
Medium Sensitivity
Low sensitivity.

Restart your computer.
2] Change Touchpad Sensitivity via Registry Editor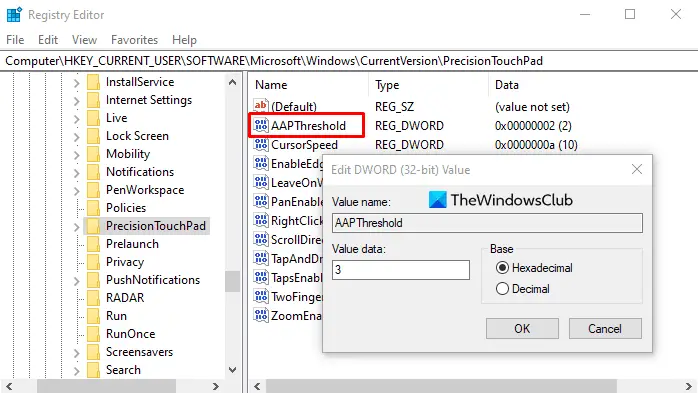 Click on the Start menu and type Registry.
It should show the Registry Editor app on the top of the list, open it.
In the Registry Editor window, go to the following registry key:
HKEY_CURRENT_USER\Software\Microsoft\Windows\CurrentVersion\PrecisionTouchPad
Move to the right side and double-click on the AAPThreshold value.
In the popup menu, set the value name from 0 to 3 where 0 denotes the most sensitivity, and 3 represents the least one. Then click OK to save the changes.
The numbers from 0 to 3 indicate the sensitiveness are:
Most Sensitive: 0
High Sensitivity: 1
Medium Sensitivity: 2
Low sensitivity: 3
Now close the window and reboot your device for these changes to take effect.
3] Through the Control Panel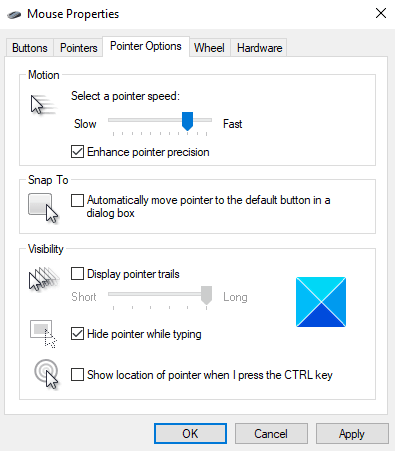 Press the Windows button and type control panel.
Select the Control Panel application from the top of the list.
From the list of all control panel items, select the Mouse option.
In the Properties window, go to the Pointer Options tab.
Now under the Motion section, hold the slider and drag it to the left to slow the mouse sensitivity.
In the same way, to fast the mouse sensitivity, drag the slider to the right.
Once you adjust your touchpad sensitivity, click Apply > OK to apply the changes.
TIP: This post shows how to Reset Touchpad settings to default in Windows 10.
Let us know if this article helped you to change the touchpad sensitivity.