This post will show you how to change theme in Outlook and customize outgoing mail. Microsoft Outlook is a part of Office Suite that helps users access Microsoft Exchange Server emails. This email application is mainly used for business purposes as it offers plenty of features. It also allows users to change themes and customize outgoing emails. Keep reading this post to learn how you can do it.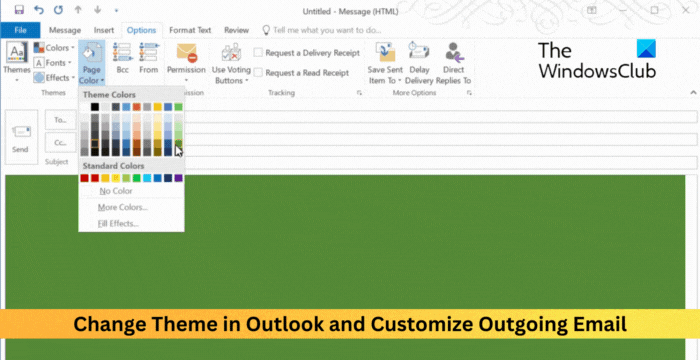 How to change Theme in Outlook
Follow these steps to change themes in Outlook:
Open Outlook and click on Files > Options at the top left corner.
The Outlook Options window will now open; here, navigate to General.
Under Personalize your copy of Microsoft Office section, click on the dropdown beside Office Theme and select the desired theme.
Click on Ok to save the changes.
Can I change the appearance of my Outlook email?
Yes, you can change the appearance of your Outlook email. To do so, go to File > Options, click on the dropdown beside Office Theme, and select your desired theme.
How to customize Outgoing Email in Outlook
To customize Outgoing emails in Outlook, follow these steps:
Create a new message by clicking on New Email and navigate to the Options tab.
Here, click on Themes and select your desired theme.

You can add a background image by clicking Page Color and selecting your desired background color.

Further, click on Fonts and select font from the drop-down menu.
Once done, click on Send to send the email.
Read: How to turn Email into Appointment in Outlook
Hope this helps.