The Windows Task Manager shows your processes, performance statistics, app history, startup apps, users, process details, and services on your Windows 11 PC. The real-time update speed in Task Manager is how frequently the data in Task Manager is automatically updated or refreshed. You can, if you wish, change the real-time update speed in Windows Task Manager on your Windows 11 PC. Let us see how.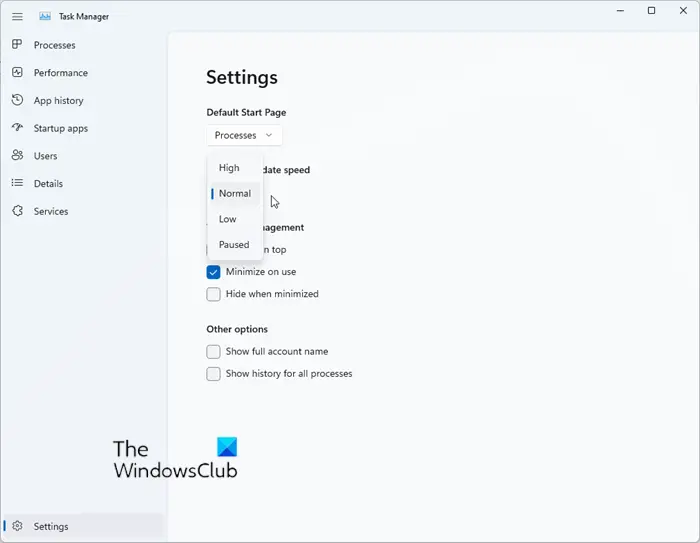 Change Real Time Update Speed in Task Manager of Windows 11
To change the real-time update speed in Windows Task Manager do the following:
Right-click on the Taskbar or the Start button, depending on your Windows 11 version
Select Task Manager
Click the Settings icon
Now under Real time update speed make your selection.
You have the following options:

High: High stands for 0.5 second. It will speed up the updating and the process listings will update every half second.
Normal: Normal stands for 1 second, which means the default update speed is once per second. It is the default interval.
Low: Low stands for 4 seconds. This option will slow down the update speed to once every 4 seconds.
Paused: Paused will temporarily stop and freeze all the process listings. This means that Windows will not update the listings until you select a higher real time update speed.
This is how you can pause or change the real-time data update speed in Task Manager in Windows 11.
Related: How to change Task Manager Data Update speed in Windows 10
How do I change Mbps to MBps in Task Manager?
You cannot change the speed unit in Task Manager (Megabits per second to Megabytes per second), as the Task Manager picks up the speed unit that is most appropriate and compatible with the current performance of the PC. There is no option for the users to change it.
Does update speed of Task Manager affect performance?
The update speed of Windows 11 Task Manager could marginally affect the performance of your Windows 11 PC. It might affect the process listings and displays of the Task Manager as well.