In the early days of the Sticky Notes for Windows 10, the option was there for users to change the font size of text quite easily. For some strange reason, Microsoft removed this feature with the latest update. Therefore, the Sticky Notes app is worse off than before.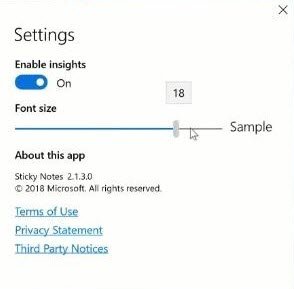 You had to open Sticky Notes > 3-dots > Settings and then slide the slider, under Enable insights.
We have to say, the removal of the font feature to change its size is a strange one. We remember a time when this was a much asked for feature, so to see the software giant choosing to add it, then take it away, it makes us wonder who thought this was a good idea.
Now let us see how to change the font size in the Sticky Notes because that' what you're here for. Mind you,when you do this, it will not just change the font size for Sticky Notes, but for all your Windows programs & apps.
Change Font size in Sticky Notes in Windows 10
We need to venture off to the Ease of Access section of the Settings app because that's where we're going to work some magic.
Fire up the Settings app by pressing the Windows key + I, then navigate to the Ease of Access section below, and click on it.
After entering the Ease of Access menu, select Display from the list of options, and from there, you should see something that says "Make text bigger." You simply need to use your mouse to move the slider to change the size of the font.
Bear in mind that this method will change the font size of everything in Windows 10 instead of just the Sticky Notes app alone.
This method is best because it only changes the font size of apps instead of delivering a wholesale change across the board. To make it happen, scroll under Display until you've come across an option that says "Change the size of apps and text on the main display."
Here you'll see that the option is 100 percent, but you'll want to change that to 125%. Click on the drop-down menu, select 125%, then go ahead and restart your Windows 10 computer.
Launch the Sticky Notes app and test if the problem persists. If nothing changes, then you should consider switching to a free third-party Sticky Notes app. There are several options available, so check them out.
We do hope that Microsoft gets the stting to change the font size in Sticky Notes back.