Did you often use the Sticky Notes in Windows 10/8/7 but wished they offered some more features? Well, in this post, we've talked about some of the sticky notes applications available for Windows 10. These note-taking applications not only make your life simpler but also makes your desktop look beautiful and full of information. Towards the end, we have also mentioned a browser extension for Chrome and Firefox that lets you create sticky notes.
Free Sticky Notes for Windows 10
Here is a list of some of the Best free Sticky Notes for Windows PC:
Stickies
ZenR Notes
OrangeNote
Simple Sticky Notes
StickyPad
PNotes
7 Sticky Notes
hott notes
Sticky Notes Chrome extension
Sticky Notes Firefox Addon.
1] Stickies
Stickies is a simple note-taking application that can remind you of the old days of yellow-colored sticky papers. You can fell in love with the simplicity of this tool. The digital notes created by Stickies always stays on top of other applications but can be moved back easily. Moreover, you can associate Stickies with an application so that the notes come forward only when a particular window is open. The notes are highly customizable; you can change colors, font types, and so on. Or you can download pre-curated themes from the Stickies website. You can even add reminders or make the notes automatically hide after a certain amount of time.
TIP: Alarm Stickies lets you create and set alarm reminders.
2] ZenR Notes
ZenR Notes is not a sticky notes application exactly. But if you are looking for some security, then this might be it. ZenR Notes is a password protected note-taking application that encrypts and stores all your notes in a secure manner. The app comes in a portable form factor and lets you create your notes on the go. The notes can include anything like text, images, lists, and formatting is also supported. If you happen to forget any of your passwords, ZenR Notes support recovery using an email ID.
3] OrangeNote
OrangeNote is a combination of a modern sticky notes application and a clipboard manager. The duo comes with a lot of features integrated into each other that makes this application one of the best in this list. You can easily create customized sticky notes that stay on your computer screen all the time. Other than that, the application maintains a database of your clipboard history, so that you can quickly search and anything you've copied earlier. Also, you can assign hotkeys to your clippings so that you can directly paste anything in a program using that hotkey. OrangeNote is a powerful note-taking application that comes with a lot of features. You can even upgrade to PRO if you need features like synchronization across computers.
4] Simple Sticky Notes
As the name suggests, Simple Sticky Notes is a basic note-taking application that lets you add your notes as sticky windows on your desktop. The application runs entirely from the system tray and is very easy to operate. The color of the notes is customizable, and each note can be closed or minimized individually. Click here to download Simple Sticky Notes.
5] StickyPad
StickyPad is a free utility that lets you create floating notes on your desktop and top of other windows. StickyPad lets you decide opacity of the notes. You can have translucent notes so that you can continue doing your work while the notes always stay on your screen. StickyPad also lets you save and print your notes. Another interesting feature is that the program lets you set a hotkey which, when pressed, will start StickyPad in the note-taking mode. You do not need your mouse to navigate around; all you need to do is hit the hotkey and enter your notes. Click here to download StickyPad.
6] PNotes
PNotes is a simpler open-sourced note-taking application that comes with a lot of nitty-gritty features. You can customize individual notes or apply skins to customize them. The program supports multiple languages and other features like transparency. The best part about the software is the portable form factor. The application is completely portable and leaves no traces in the registry or other areas. You can simply carry it around in your USB drive and run it on whatever computer you may like. Apart from that, PNotes comes with application-level password-protection. You can password protect individual notes or apply password-protection to a group of notes. Other than that, the program supports other features like backup and synchronization of notes too. Click here to download PNotes.
7] 7 Sticky Notes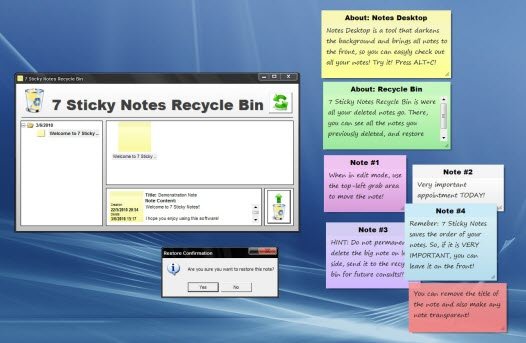 7 Sticky Notes is a free desktop notes software that creates Sticky Notes directly on your Windows Desktop as well as password-protect it. It has a good-looking realistic sticky note appearance for ultimate user experience and offers amazing features that make 7 Sticky Notes powerful, simple to use, reliable, and light.
Read: Create simple notes with PeperNote.
8] hott notes
hott notes is a simple yet creative note-taking application. For all those people who quickly want to jot down something or just scribble around some important info, this might be the perfect tool. hott notes let you make notes in a variety of ways. You can add simple reminders or create lists of a task. Or you can create 'Scribble' notes that let you just scribble anything on that particular note. The program comes with all the necessary features required to customize and manage your notes. Click here to download hot notes.
So, these were some of the sticky notes application that we love. Do share your suggestions in the comments section. All these tools are available as Windows programs and are free to download.
Apart from these, we are also mentioning two more entries in this list, and these are browser extensions for Chrome & Firefox.
9] Sticky Notes Chrome extension
Available to download on Google Chrome Web Store, this extension makes it easier to take notes while you are browsing the internet. You cannot just create sticky notes limited to your browser, but you can also move the notes to your desktop. Being a browser extension, this application comes with features that no other application can offer. The extension supports automatic Google Drive backups and speech recognition. All other basic features, like font and color customizations, are also available. Go here to get the extension.
10] Sticky Notes Firefox Addon
This one is a similar extension for Firefox, that lets you put sticky notes on a web page. The extension supports synchronization across devices and also offers simple customization and management. Go here to download Sticky Notes for Firefox.
Now read: Best note-taking apps for Windows 10 available in Microsoft Store.