Working with Windows 10 is getting pretty simple these days, thanks to the tricks and tweaks available. All of us have seen that with every new major release, Windows OS is evolving. But what we miss the most is the basic tweaks we used to do when Windows XP was at its peak. In this article, I will show you how to change the default Shutdown options in the Alt+F4 Dialog box in Windows 10.
Alt+F4 shortcut is one of the most used shortcuts in the Windows environment. If anyone knows how to handle a system using shortcuts, he/she can easily handle it without even touching the mouse. These shortcuts are easy to use and make our work faster too. While using Alt+F4, a dialog box opens up with Restart (or any other) as a pre-selected option. Today we will see how to change it to Shutdown as a default.
Change default Shutdown options in Alt+F4
It doesn't matter if there are many other ways of shutting down the system, Alt+F4 remains everyone's favorite. Please keep in mind that the method we are going to perform today requires some changes in a Windows Registry, so do not change anything that is not mentioned in the methods below.
1] Using Windows Registry
Press Win + R keys, the Run dialog box will appear. Type regedit and hit enter.
Navigate to the registry:
HKEY_CURRENT_USER\Software\Microsoft\Windows\CurrentVersion\Explorer\Advanced
Right-click on the Advanced registry tree and click on New. Now, select DWORD (32-bit) Value.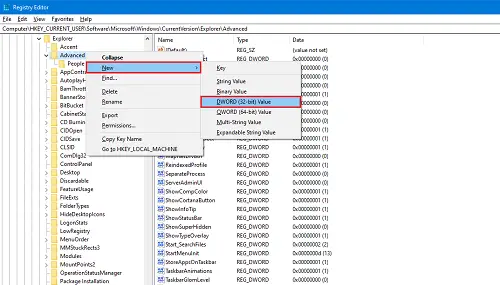 Name it as Start_PowerButtonAction. It will control the default action in the Shut Down dialog box.
Double-click on the newly created dword.
Now enter the Value data as 2 to make "Shut down" as the default action. Select Base as Decimal.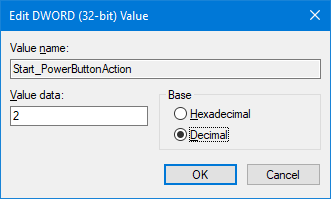 To make any other option as default, you can use:
4 to make Restart as the default action
256 to make Switch user as the default action
1 to make Sign out as the default action
16 to make Sleep as the default action
64 to make Hibernate as the default action.
Note: You can make Sleep and Hibernate available in Control Panel.
Keep in mind that you can perform this method as an admin for every user of the system. For making it available only to a user, it is done by logging in as that user and applying the above method.
TIP: See this post if Alt + F4 not working on Windows 10.
2] Using Local Group Policy
You can use this method for all sorts of groups like all users, users except admin, etc. But, you must sign in as an administrator for using this method.
Open Start menu and type edit group policy.
Click on the application to open it.
On the left panel, enlarge the Administrative Templates tree in the User Configuration section.
Now select Start Menu and Taskbar.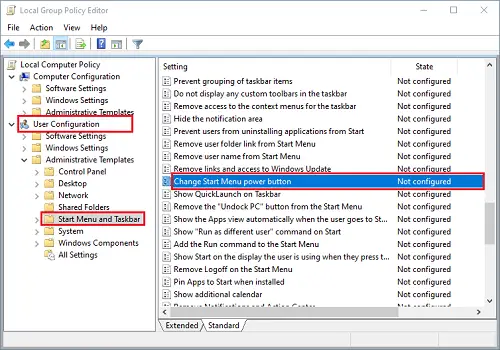 In the Setting window double-click on Change Start Menu power button.
Click on Enabled and choose Shut Down from the dropdown list in the Options window.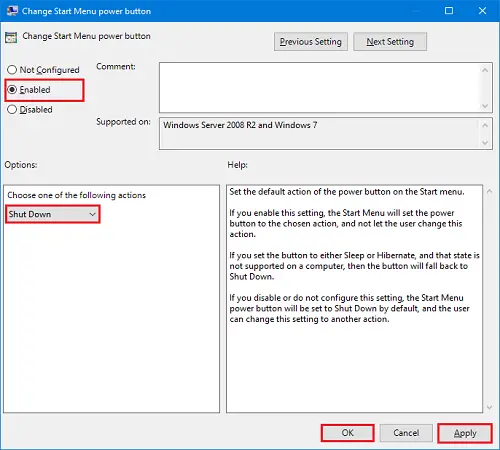 Click on Apply and then click on OK.
In these ways, you can easily change the ALt+F4 dialog box's default action.
Make sure to restart your system for these changes to take place effectively.
Read next: How to create a shortcut to open Shut Down Dialog Box (Alt+F4).