Games take a lot of space, and if you are running out of space on the System Drive, then here is how you can change the default location of where the Xbox App installs games. You will have to take a two-step approach to set it up, but once done, you will not have to worry about space.
What is the Xbox App on Windows?
Xbox App is the primary app that makes it easy to find and install games. While it is still the Microsoft Store in the background, most games can be managed using the app. The app also makes it easy to view all the games, progress, earned XP, and more. That said, with Windows installed, the primary storage is mainly occupied by applications, OS files, and with Games taking so much space, performance can slow down. So it's better to have a large dedicated partition for games alone.
Change default location of where Xbox app install games
The first step is to change the default location where the games are installed. The default location is set to C drive or the system drive. So when you change the location and install another game, it will install on a different location. Make sure to choose a driver which offers good read-write speed for better performance.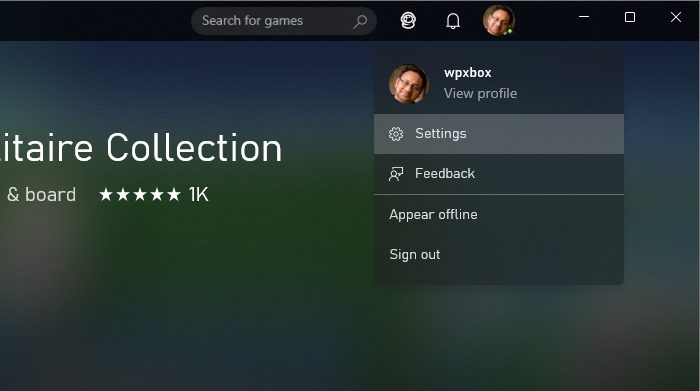 Open the Xbox App
Click on your Profile picture > Select Settings
In the Xbox Settings, go to General Section > Game install options
Assuming you have another partition, click on the drop-down and change it to another drive
Taking one step further, if you have multiple partitions and enough space, you can set one more thing. Under game install options, check the box which says— Ask me for install options on every install.
Now the next time you install a game, it will prompt where to install the game.
Change Location of Existing Xbox Games
The second step is to move existing games to a different location so the System Drive can have more breathing space and the games can expand if needed.
Go to Windows Settings > Apps > Apps & features. Click on the three-dot vertical menu > Advanced Options. Look for the option that allows moving the app from one location to another on the next screen. Once moved, all shortcuts and entries will be updated so there are no broken links.
Can you store Xbox game pass games on the external hard drive?
Yes, you can move any game to an external HDD if the developer has allowed it. It also applies to any app, and all of them work. That said, ensure the hard drive is connected to when you want to play the game. That said, it doesn't mean you will be able to plug and play the game on any PC. Ensure the external drive is 256 GB capacity and uses a USB 3.0 connection.
Can you play Xbox games on a PC without an Xbox?
If the Xbox Game is also available for PC, you can play the Xbox Games on PC as well. However, you will need a different subscription to play the games on PC. However, if you have an Ultimate Xbox Game Pass, you don't have to buy a separate subscription.
That's it. I hope this helps.