If you're unable to remove an unwanted keyboard layout from your Windows Settings, then you can try the solution that we will provide in this post to successfully resolve the issue.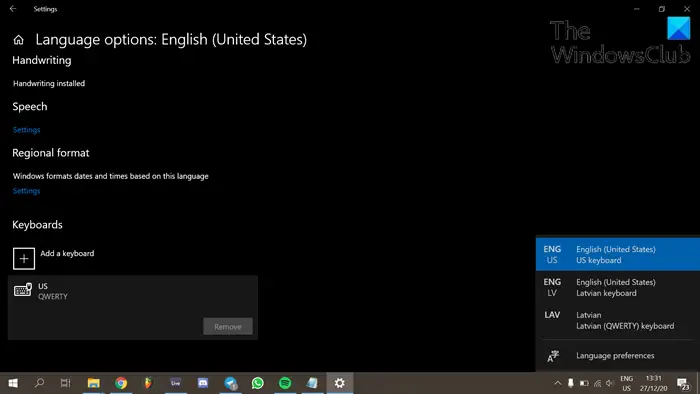 A keyboard layout is any specific physical, visual or functional arrangement of the keys, legends, or key-meaning associations of a computer keyboard, mobile phone, or other computer-controlled typographic keyboards. The physical layout is the actual positioning of keys on a keyboard.
Read: Windows 10 Upgrade stuck at Choose your keyboard layout screen.
Can't remove a Keyboard layout in Windows 11/10
You can easily remove keyboard layouts on your Windows 10 device. However, in the case whereby you can't remove a keyboard layout using the standard method, you can follow our instructions below to remove the keyboard layout via the registry.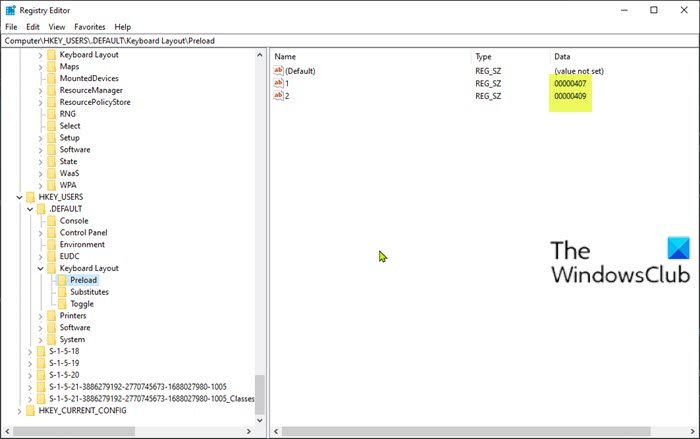 To remove a keyboard layout via the registry, do the following:
Since this is a registry operation, it is recommended that you back up the registry or create a system restore point as necessary precautionary measures. Once done, you can proceed as follows:
HKEY_USERS\.DEFAULT\Keyboard Layout\Preload 
HKEY_CURRENT_USER\Keyboard Layout\Preload
HKEY_USERS\.DEFAULT\Control Panel\International\User Profile
HKEY_USERS\.DEFAULT\Control Panel\International\User Profile System Backup
At each of the registry locations, on the right pane, match the keyboard identifier among the list of Keyboard Identifiers here on Microsoft.com.
Delete the key.
Exit Registry Editor.
Restart computer.
Your problem should be resolved.
TIP: Microsoft Keyboard Layout Creator lets you create custom keyboard layouts.