NVIDIA GeForce Experience Overlay helps gamers access some of NVIDIA's gaming features. However, some users reported that they could not move their mouse when accessing the Overlay. This is a matter of grave concern, especially if you are a competitive gamer as Overlay does give you a lot of advantages. In this post, we will see what you need to do when you can't move Mouse in NVIDIA GeForce Experience Overlay.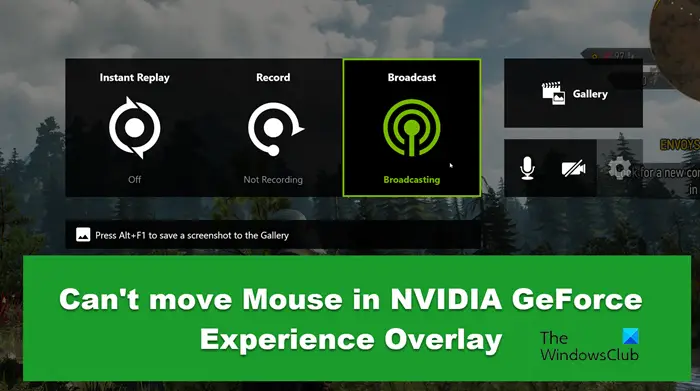 Fix Can't move Mouse in NVIDIA GeForce Experience Overlay
If you can't move Mouse in NVIDIA GeForce Experience Overlay, follow the solutions mentioned below to resolve the issue.
Restart the game
Disable and re-enable NVIDIA Overlay
Update Graphics Drivers
Use Borderless window
Use other Overlay tools
Let us talk about them in detail.
1] Restart the game
The very first thing you need to do when your game got stuck is restart it. Sometimes, the issue is nothing but some temporary glitch, and restarting will do the job. So, go ahead and close the game. Now, before opening it again, open Task Manager and inspect if any instance of the game is still running. In case, there is a running instance of the game, right-click on it and select End Task. Now, open the game again and check if the issue is resolved. If you don't want to close the game or if restarting doesn't work, move to the next solution.
2] Disable and re-enable NVIDIA Overlay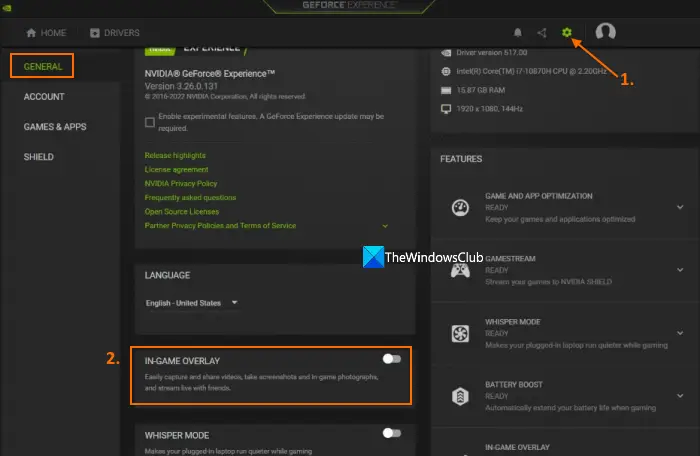 Another solution to resolve temporary glitches is resetting the NVIDIA Overlay app. We just need to disable the NVIDIA GeForce Overlay and then turn it on again. This will just refresh every service that is related to NVIDIA Overlay and hopefully, resolve the issue for you. Follow the steps given below to do the same.
Open the NVIDIA GeForce Experience
Click on the Settings icon (or the gear icon) in the top right corner available just before your profile icon
In the GENERAL section, disable the toggle of IN-GAME OVERLAY.
Now, wait for a few minutes and then enable the IN-GAME OVERLAY.
Now, open the game and check if the issue is resolved. Hopefully, this will do the job for you.
3] Update Graphics Drivers
Next up, we need to update the display drivers, especially the dedicated one, which in this case is NVIDIA. That's because outdated display drivers can cause compatibility issues and may also have some bugs.
There are some other methods to update the display drivers like installing the latest version of the driver from the manufacturer's website or using NVIDIA GeForce experience:

You can right-click on its system tray icon and select Check for updates.
If updates are available, you will see a popup notification to this effect.
Click on it, and NVIDIA GeForce experience UI will open.
Clicking on the green Download driver button will commence its download and installation.
Restart your computer once it is installed.
To update the integrated display drivers, you can use the Device Manager.
4] Use Borderless window and lower screen resolution
If you use the Fullscreen mode, it is better to switch to a borderless window if you want to use overlay. You can also lower the screen resolution slightly to make it work with the overlay. Ideally, one shouldn't have to make sacrifices in order to use the NVIDIA GeForce Overlay, but for the time being, go to the game's settings and make these changes. Then, play the game and see if it works.
5] Use other overlay tools
There are various overlay tools, such as Steam and Xbox Game Bar. If NVIDIA GeForce Overlay shows peculiarity, you can switch to other services with overlays such as Steam, Discord, and Xbox Game Bar.
TIP: We also have guides you can use if NVIDIA GeForce Overlay is not working. This one will show you how to use Auto tuning.
Why can't I click on GeForce Overlay?
If you are not able to click on GeForce Overlay, there are some glitches that you need to deal with. Not just that, you will experience the issue if the NVIDIA Graphic Drivers are not updated. However, there is nothing to worry about as we have aforementioned every single solution needed to resolve the issue.
Read: How to show FPS in games on Windows PC?
Why is my Alt Z not working?
Sometimes, when we open the computer, it doesn't kickstart NVIDIA Overlay services. In that case, all we have to do is disable and then enable the in-game overlay. To do the same, open the NVIDIA GeForce Experience. Now, make sure you are on the General tab and then disable In-Game Overlay. Finally, enable it. Hopefully, this will do the job.
Also read: NVIDIA GeForce Experience unable to open Share.