With new visuals, improved features and added capabilities, every subsequent version of Windows gets better. The latest change in Windows includes a revamped Cortana digital assistant. But, to use the stand-alone Cortana app, you must sign in. So, if you experience any problem related to the Cortana sign-in event or cannot Sign in the Cortana app on Windows 10 or Windows 11, use this post as your troubleshooting guide.
Cannot Sign in to Cortana app on Windows 11/10
Microsoft's personal productivity assistant helps you save time and focus your attention on what matters most. On a few occasions, it may show unseen errors too. When this happens, you can take the following action, if you cannot Sign in to Cortana:
Open Registry Editor.
Go to HKEY_USERS\.DEFAULT.
Expand the Software folder, choose Microsoft.
Expand Microsoft folder to locate IdentityCRL.
Go to StoredIdentities.
Check the sub-key for the Microsoft account email ID you're trying to sign-in.
Delete the entry.
Close Registry Editor and restart your PC.
Switch to Microsoft account from a local account
Please note that the above method requires you to change the Registry settings. Serious consequences can occur if you change the Registry Editor incorrectly. Create a Registry backup, before proceeding further.
Open Registry Editor and navigate to the following key:
Computer\HKEY_USERS\.DEFAULT\Software\Microsoft\IdentityCRL\StoredIdentities
Now, under the 'StoredIdentities' registry key, you should see a sub-key for the Microsoft account email ID that you are using to try to sign-in.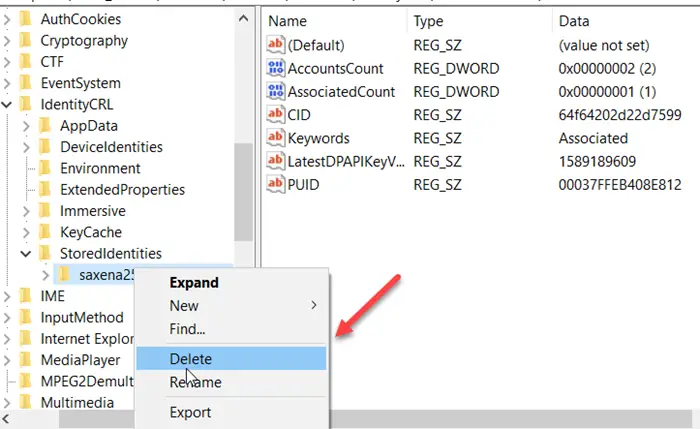 Simply, right-click on it and select the 'Delete' option.
Close the Registry Editor and restart your PC.
Now, all you must do is go to the 'Settings' app and try to switch to Microsoft Account using your Local Account.
Once you sign-in to your Microsoft account, you should also be able to sign in Cortana, automatically.
Here are a few things Cortana can help you get done:
Join a meeting in Microsoft Teams
Manage your calendar and keep your schedule up to date
Create and manage lists
Set reminders and alarms
Find definitions and info
Open your favorite apps.
I hope that helps!
This post will help you if Cortana is not available on Windows 11/10.