If Internet Explorer, Edge, Chrome, Firefox browser automatically adds www to URL & takes you to a wrong path, then this post will help you fix the problem. Usually, in such a situation, you should clear the browser cache and see if it works for you. But if that does not help, we suggest you try the following.
Browser automatically adds www to URL
Let us see how to fix it for Microsoft Edge, Google Chrome, Internet Explorer and Mozilla Firefox web browsers, on Windows 10/8/7. Before you commence, run a full scan with your antivirus software and one of these browser hijack removal tools to ensure that your browser has not been hijacked. Having done that, move on!
Edge, Internet Explorer adds www to URL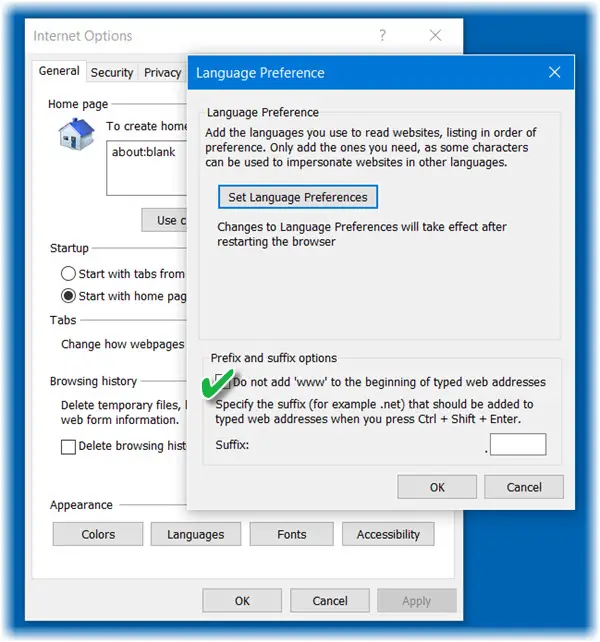 Open Internet Explorer > Internet Options > General tab > Appearance > Languages button. In the new box which opens, check the Do not add www to the beginning of typed addresses. Click OK/Apply and exit.
Chrome adds www to URLs

If your Google Chrome browser does this, Disable Prediction Service.
Go to Settings > Show advanced settings > Uncheck the box saying Use a prediction service to help complete searches and URLs typed in the address bar or the app launcher search box.
Firefox adds www automatically

Open Firefox, type about:config in the address bar, and hit Enter. Search for browser.fixup.alternate. Now double-click on browser.fixup.alternate.enabled to change its value to False. The other two settings are there if you want to change the default values of the prefix and suffix.
If none of this helps, maybe you want to backup your browser favorites and reset IE, reset Chrome or reset Firefox as the case may be, and see if that works for you.