Well, this one was surely a strange one for me. I launched the Microsoft Edge browser on my Windows laptop only to find that after a few seconds, my PC crashed with a IRQL_NOT_LESS_OR_EQUAL Stop Error and restarted. This happened to me 3 or 4 times. It took me a while to understand when or how it was happening, but after a few restarts, I was able to understand the issue. If you see a Blue Screen when you open the Microsoft Edge browser or if your Microsoft Edge is stuck or frozen on a Blue Screen, this post will help you.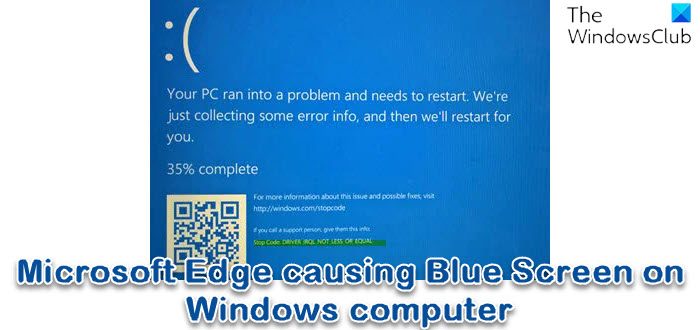 Microsoft Edge causing Blue Screen on Windows computer
The IRQL_NOT_LESS_OR_EQUAL is a fairly common Stop Error that occurs when a driver has illegally accessed a memory location while NT is operating at a specific IRQL. This is a driver coding error, akin to trying to access an invalid memory location. If you receive this error, you may want to update your display driver and see if that helps you.
I noticed one thing. When I was not connected to the Internet, and I launched Edge, my PC did not crash. The moment I connected to the Internet, Edge, while trying to load my Start Page caused a Blue Screen. Take a look at the video.
Read: Why does every Windows Update have to bring problems?
If you receive a Windows Blue Screen when you launch Edge browser, check if your Start Page. My Edge was set to open with a Start Page and new Tabs with Top sites and suggested content.
To fix this issue, I decided to set Edge to open with a blank page as follows and see if it helped – and it did!

Disconnect from the Internet.
Launch Microsoft Edge brower
Click on 3-dots and select Settings
Open the Start, home and nes tabs section
Under When Edge starts, select Open these pages
Click on Add a new page and set it to open about:blank.
You can also set your new Tabs to open to a blank page.
Close Edge, connect to the Internet and re-launch your Edge browser and see. It should have worked.
Hope this helps! If it doesn't, move to any one of the alternative browsers for Windows.
Why is Edge not working after update?
If you are facing this Edge BSOD issue after installing a Windows Update, then we recommend that you uninstall the update and hide it for now. Resetting Microsoft Edge to default is also a suggestion we have to make.
Microsoft Edge is stuck on a Blue Screen
If you see that your Microsoft Edge browser is stuck or frozen on a Blue Screen, then it could well be malware. Check your Edge extensions and uninstall or disable the doubtful ones. If need be, reset Edge browser settings to default. Next, close Edge and scan your computer with your antivirus software as well freeware tool AdwCleaner.