In this post, we will see how you can block or allow third-party cookies and site data in Edge, Chrome, Firefox, Opera, Internet Explorer browsers on Windows 11/10.
An Internet Cookie is a small snippet of information sent from a web server to a user's browser, which then stores it. On subsequent access to the same web server, this server can then read back this information snippet and use it to "recognize" the user. While Cookies are required for proper rendering of web pages, there are some cookies, which you may want to block for privacy concerns.
There are several types of Cookies like First Party Cookies, 3rd Party Cookie, Session Cookies, Persistent Cookies, Tracking Cookies or Browser Independent Cookies like Flash cookies and Silverlight cookies, depending on the role they play.
Block or Allow Third-Party Cookies
Third-Party Cookies are nothing but Cookies from another website requested via embedded code. These have no real benefit to the user as they are only used for data gathering purposes.
Some websites or features on a web page may not work if you block third-party cookies. Then again, some of you may have privacy concerns and may want to block third-party cookies.
We have seen how you can manage cookies in Internet Explorer, Edge, Chrome, Firefox, and Opera. Now let us see how you can allow or block third-party cookies in these web browsers.
Block Third-Party Cookies in Microsoft Edge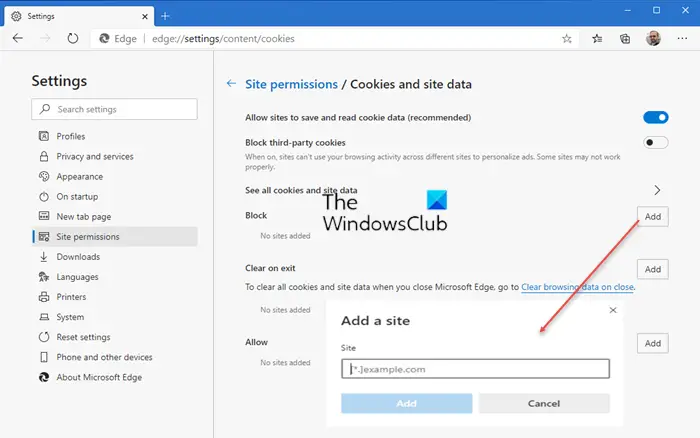 Launch Edge and navigate to the following path via its Address bar:
edge://settings/content/cookies
Toggle the switch to the On position for Block third-party cookies, to enable this setting.
Block third-party cookies and site data in Chrome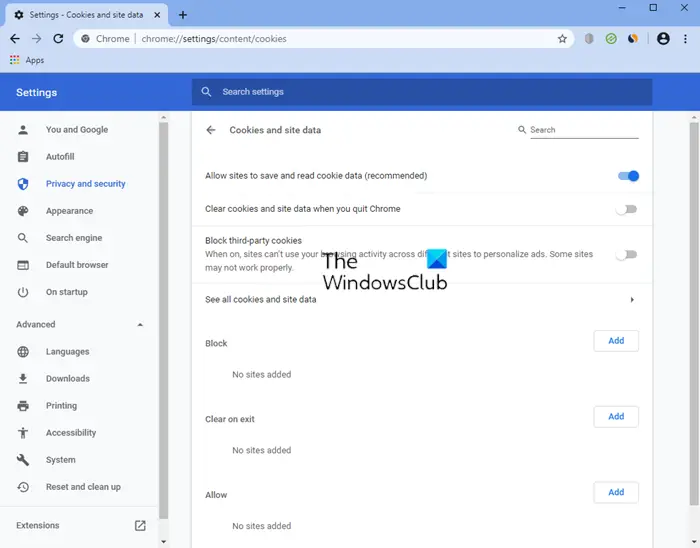 In Google Chrome, open Settings. Click on Show advanced settings and scroll down to Privacy. Click on the Content settings button. You will see the setting as shown above.
You may select the Block third-party cookies option. Click Done and exit.
Accept third-party cookies in Firefox
Firefox will block most third-party tracking Cookies. You can harden the setting under Settings > Options > Privacy and Security tab.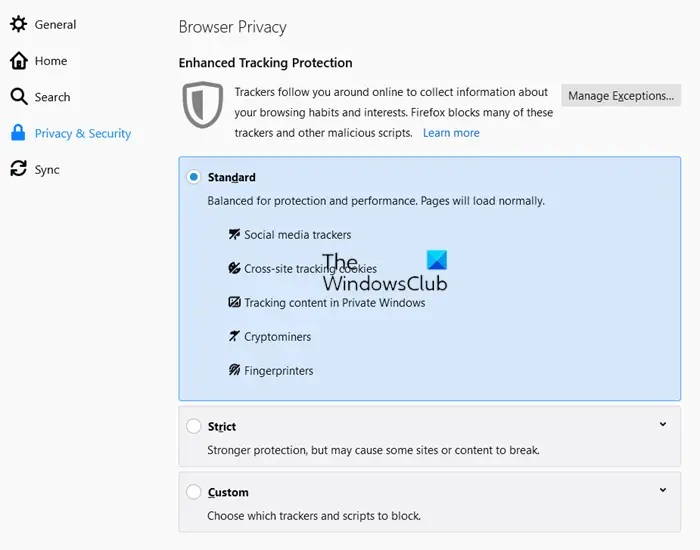 Scroll down a bit.
Under Cookies and Site data you can find the settings required to Manage Permissions.
Block third-party cookies and site data  in Opera
Open Opera Settings and click on the Privacy & security link. Under Cookies, enable the Block third-party cookies setting. Restart Opera.
Block Third-Party Cookies in Internet Explorer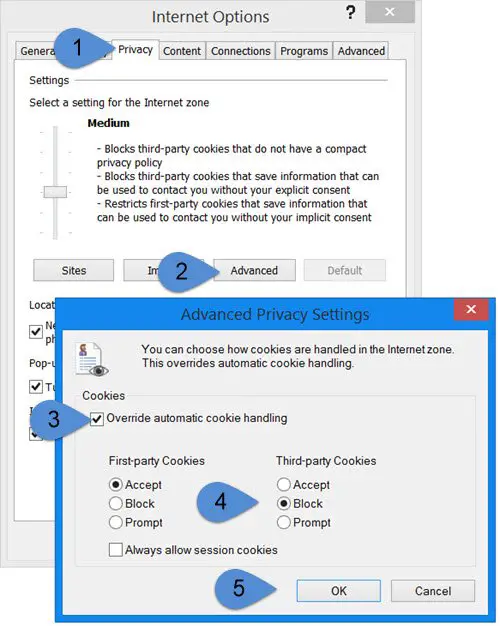 To set Internet Explorer to block third-party cookies, open IE > Internet Options > Privacy tab.
Click on the Advanced button to open the Advanced Privacy Settings. here, check the Override automatic cookie handling box. IE by default accepts third-party cookies. To block them, select Block. Click OK and exit.
In this way, you can disable third-party cookies in the popular web browsers in Windows.
Tomorrow we will see how you can enable or disable 3rd-party cookies in the UWP IE app.
Have a look at this freeware called Expired Cookies Cleaner too.