At times, you might upload and share a lot of files with your team members on Slack. If so, it could be a hectic task to manage them all for future use. Although Slack has a file manager, you can still install a file manager app and get a better overview of your files. That is why we have tested some of the best File Management apps for Slack that you can install and use with your team members.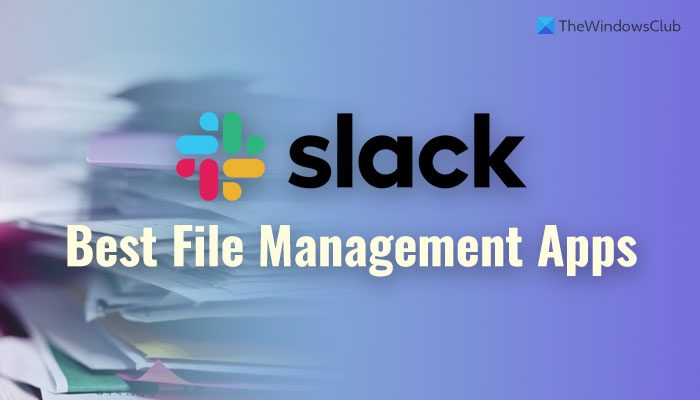 Best Slack File Management apps to better organize files
To download these File Management apps, you must sign into your Slack channel first. But it is quicker to install these apps directly from the app gallery. All of them can be found in the Slack app directory. You can select your channel and install them as per your requirements.
Google Drive
OneDrive and SharePoint
odrive
Dokkio
Digital Pigeon
To learn more about these apps, continue reading.
1] Google Drive
Sometimes, you might need to send large files and manage them accordingly. If so, Google Drive could be a great option for you. Not only that, but also it helps you manage your uploaded files right from the Slack interface. You can find a similar Google Drive interface after integrating it into Slack. For your information, you can create and view documents, presentations, spreadsheets, etc., with the help of this app. Install Google Drive for Slack from slack.com.
2] OneDrive and SharePoint
Even if you do not use a Microsoft 365 subscription, you can use this app to complete the job. Like Google Drive, it allows you to create and manage files without distractions. Apart from that, you can share your OneDrive-stored files with other team members, manage previews before sharing, etc. For security purposes, it lets you allow or block access to certain files at your convenience. Install OneDrive and SharePoint from slack.com.
3] odrive
odrive lets you manage your desktop files from the Slack interface. There could be times when you might need to share or manage your files that are staying on your desktop. Instead of uploading them to Slack, you can use odrive to share them with your team. You can place your files on your desktop and choose it from odrive app to share them with others. Install odrive from slack.com.
4] Dokkio
If you do not need an app like Google Drive or OneDrive but instead want something that can manage your existing files, Dokkio is probably the best option for you. All you need to do is to install and connect the app. Following that, it categorizes all the uploaded files by tags. Next, you can find them as per your requirements. For obvious reasons, you can manage, create, and delete tags and categories if you want to. Install Dokkio from slack.com.
5] Digital Pigeon
Digital Pigeon helps you share files with team members that are not even uploaded to Slack. Even if you have already uploaded a file, you can send it via Digital Pigeon. As it offers a file management system, you can use it to organize your files smoothly. There is no need to opt for Slack's file manager as long as you want more flexibility. Install Digital Pigeon from slack.com.
That's it! I hope it helped.
Read: How to connect Google Calendar to Slack, Zoom and Teams
Can you organize files in Slack?
You can organize files in Slack. Whether you have ten or hundreds of files, you can certainly manage them per your requirements. Although you might not get a look like Windows 11 or Windows 10, you can undoubtedly get a better overview of your files after installing a suitable file management app.
What apps should I add to Slack?
There are some great Slack apps available and installing apps is pretty easy and not very time-consuming. However, you must know the purpose of the app. For example, if you want to increase your productivity, IFTTT, Todoist, Workast, etc., do a pretty good job. On the other hand, if you have an app or web development team, you can use ClickUp, LucidChart, Pingdom, etc.