Its no doubt that Microsoft Word is the most widely used word processing program to create dynamic official documents. Microsoft Word is mostly used by big corporations, businesses, and academics, as part of the online productivity application. We all use Microsoft Word on a day-to-day basis to create professional-looking documents for various purposes like newspapers, resumes, business cards, eBooks, brochures, letters, and many others.
The powerful tool is based on an electronic spreadsheet that lets you use various logical formulas and mathematical equations to create some high-quality official documents which you can save, print and publish. While the Microsoft word is already loaded with a large number of features, you can also add custom features to the Word program by using the supplement program like an add-in.
Add-ins are extremely useful that boost your Microsoft Word program to the next level by assisting you to personalize documents and speed up their accessibility. The Word users can choose among the plenty of handy time-saving add-ins that boosts productivity and simplifies their life. There are a few amazing add-ins that provide extra functionality and solutions that extend the program to a whole new level. In this article, we round up some of the best Microsoft Word add-ins to boost productivity and efficiency.
Productivity Add-ins for Microsoft Word
1] DocuSign for Word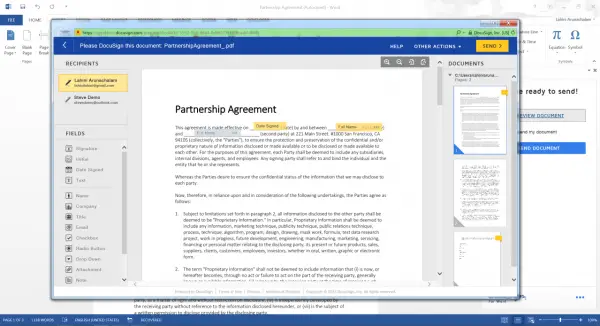 DocuSign for Word broadens your scope of productivity by enabling you to securely sign document yourself or send documents to someone else for eSignature without leaving Microsoft Word. After creating and editing a document, you can securely sign a document with the help of DocuSign. Additionally, you can also use its drag and drop functionality which lets you drag and drop the tags where recipients need to sign or add your own signature. DocuSign for Word is completely secured that meets eSignature legal standards and guarantees that your signatures are kept secured in the Digital Transaction Management. It also gives the uses the benefit of using DocuSign for documents anytime, anywhere in a few seconds.  Once the document is ready, you can send the signed documents via email or automatically save them in DocuSign. Additionally, you can also set up your very own organization to save documents to a central location for quick access using this add-in.
2] Pickit
Picket is a Word add-in that offers high-quality clipart, layout design ideas, and unlimited images for creating eye-catching documents. This is a must-have add-in for all those who want to use Microsoft Word for creating templates, brochures, newsletters, professional looking presentations, etc. Picket suggests some stunning layouts and design ideas to your Word documents that help to create some amazing documents in a few minutes. It contains a large collection of stock images, illustrations, and vectors that are licensed and assures complete safety. Additionally, Picket users access Editor's choice collections exclusively made for Word along with tips, ideas, and layout suggestions.
3] Translator
The Translator is the most useful add-ins that let you translate words and sentences in a document within Microsoft Word itself. You need to struggle switching among different tabs to pick the words and translate it on Google translate in a different tab. The Translator is powered by Microsoft Translator online service. In order to translate sentences in a document simply highlight the sentences or a word, or you can directly enter the text in the add-in window. Get it here.
4] QR4Office
QR4Office is a handy add-in tool that generates QR code images within the document. It encodes the information like URL, texts from a file, contact details or location into a QR code that paves the way for ease of sharing capabilities. QR4Office is completely secured that makes use of SSL secure connection to protect the content privacy. QR4Office users can customize the background, size, and color of the QR code images and also have the ability to set the QR error correction percentage.
5] Resume CV Template Builder
Resume CV Template Builder by Rezemo is a free add-in that lets you create professional looking resumes in few minutes for all the job seeker out there. It is suitable for beginners who want to start from scratch and build an eye-catching resume. Users can analyze the job description and assist with the list of keywords you should be using in a resume. For this, all you need to do is enter the employer details. The resume builder allows you to sign-in to LinkedIn and imports LinkedIn profile along with all your data.
6] Consistency Checker
Consistency Checker is a useful add-in for maintaining consistency in long documents. The content uniformity and orderliness play a pivotal role in creating a professional and well-written document. Consistency Checker doesn't check grammar, it checks for inconsistencies in the document. It searches for possible error in hyphenation, spellings, and abbreviations. It also checks for the use of numbers in sentences and other common typos. Get it here.
How does MS Word improve productivity?
There are many ways to improve your productivity while using Microsoft Word on your computer. For example, you can go through the aforementioned list and use some of those add-ins. You can also change some default settings to make things work better for you. Apart from that, you must learn some keyboard shortcuts as well.
How can I use Microsoft Word more effectively?
To use Microsoft Word more effectively, you can install some add-ins mentioned above. However, if you do not want to use add-ins, you can always open the Word Options panel and change some default settings that you do not like to use. On the other hand, you can change the Ribbon, remove unnecessary items, and add the essentials only.
Let me know if I missed something.