Machine Learning and Deep Learning are two of the most talked about topics in the world of Information Technology. In this, we teach machines Artificial Intelligence. Although one can create basic Machine Learning projects with an integrated GPU, once you start dealing with neural engines and rendering images, you need a good GPU. In this post, we will see some of the best GPUs for Machine Learning Projects.
Best GPU for Machine Learning Projects
If you are looking for some best GPUs to work better in Machine Learning Projects, then here are some of the best out there in the market:
NVIDIA RTX 3090 Ti
AMD Radeon VII
NIVIDA RTX 3070
EVGA GeForce GTX 1080
NVIDIA RTX 3060 Ti
Let's get to the services of these GPUs for machine learning projects.
1] NVIDIA RTX 3090 Ti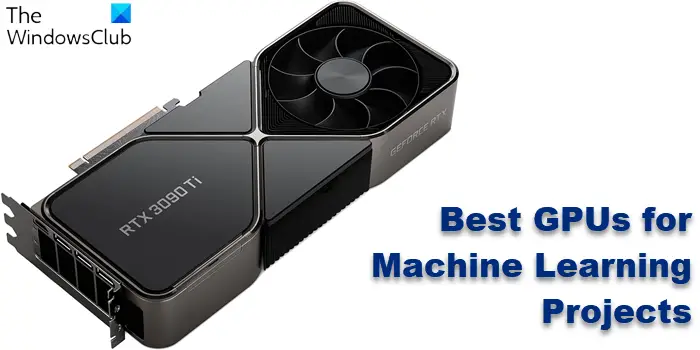 Presenting you with a multi-tasking, all-in-one GPU, NVIDIA RTX 3090. So starting from Tensor cores to some awesome features like real-time ray facing, this GPU has it all. Solving research and data science related-problems get quick with the 35.6 computing performance and a 24GB memory size.
Although the GPU costs a fortune, it also guarantees its users a better video experience with the help of Deep Learning Super Sampling, 4K Visualisation, and real-time tracing features. All-in-all, being able to execute bulky operations with ease and in lesser time is worth spending every single penny on NVIDIA RTX 3090 Ti.
2] AMD Radeon VII
If you are trying to find  GPU, particularly for deep learning, AMD Radeon VII is the best bet.  A memory size of HBM2-16 GB expands the users' abilities to do the complex workload and handle difficult operations smoothly.
With the combined help of Vega Architecture and the best-of-the-best computing engine, finishing all your AI-related work becomes hassle-free and faster. The GPU has a 13.8 TFLOPS computing performance that fills the need required for vigorous complex neural networks. AMD Radeon VII may not have Tensor Cores, but they redeem this loss by supporting OpenCL and ROCm framework, allowing users choices when it comes to different deep learning frameworks and software.
3] NVIDIA RTX 3070
NVIDIA RTX 3070 is a known name in the data science, deep learning, and AI-loving community. This GPU offers a wide array of features to make workload stress free such as 8GB GDDR6 memory, Tensor Cores, and so on.
Being the priority of many users, sometimes pose an availability issue when talking about RTX 3070 GPU. Just like NVIDIA RTX 3090, this model also offers Real-time ray tracing and supports DLSS. Because RTX 3070 is a strong GPU, heat and high power consumption can be expected. Apart from this easily solvable minor drawback, NVIDIA RTX 3070 is a must-buy.
4] EVGA GeForce GTX 1080
Moving on to the next GPU, EVGA GeForce 1080 offers 8GB of GDDR5X memory size, giving you enough memory to do the work smoothly, and without getting disturbed. It works on the NVIDIA Pascal architecture and offers cutting-edge visuals to extract full fun out of AAA games. EVGA GeForce GTX 1080′ also uses the NVIDIA VRWorks to optimize virtual reality.
5] NVIDIA RTX 3060 Ti
NVIDIA RTX 3060 Ti is one of the best budget-friendly GPUs currently available in the market. This GPU comes with 8GB of GDDR6 memory size, 4964 CUDA cores that offer a resilient alternative. Just like any other NVIDIA GPU, you will also have Tesnore Cores, providing excellent acceleration capabilities.
One of the limitations of NVIDIA RTX 3060 is that it doesn't have a power scale as high as some of the more flagship GPUs in the market. However, this is the only drawback compared to many other benefits that will come in a budget-friendly range.
That's it!
Read: Best free tools to benchmark CPU and GPU on Windows computer
The ability to handle parallel computations better makes GPUs highly beneficial for machine learning. However, it's important to note that not all machine learning tasks require GPUs, and the choice of hardware depends on the specific requirements and scale of the project. And therefore we have listed some of the best that you can get for machine learning projects.
Read: Best Graphics Card for AMD Ryzen 9 3900x