Are you looking for a free video downloader for your Chrome or Edge browser? This post will help you find a suitable video downloader extension to download online videos for free.
Is there a free video downloader for Chrome?
Yes, there are some free video downloaders for Chrome. You can use free extensions like Video Downloader Professional, video downloader – CocoCut, etc., to download web videos in Chrome. These web extensions are available on the Chrome web store and can be easily installed and added to the browser.
Best free Video Downloader for Chrome and Edge
Here are the best free Video Downloader extensions for Google Chrome and Microsoft Edge to download a video in your browser:
Video Downloader Professional
Sharp Video Downloader
video downloader – CocoCut
Leap Video Downloader
FetchV
All Video Downloader professional
Video Downloader Plus
1 Video Downloader
1] Video Downloader Professional
Video Downloader Professional is a free browser extension for downloading online videos. This free web extension is available for Google Chrome. You can install and add it to your Chrome browser from here.
After adding this extension, you open a website with videos and click on the Video Downloader Professional extension icon from the extension badge in Chrome. It will fetch and display videos available on that active video page. It lists videos in multiple resolutions, sizes, and quality. You can select the desired video quality that you want to download.
It downloads and saves MP4 videos from websites. You can also add videos to its Video List and check out and play the videos whenever you want to. You don't have to go back to the original video page. You can also play online MP4 videos via Google Chromecast on your TV or you can play them on your Google Home.
If you want a similar add-on for Edge, try All Video Downloader Professional from the Edge Add-ons store.
Read: How to download videos from Reddit?
2] Sharp Video Downloader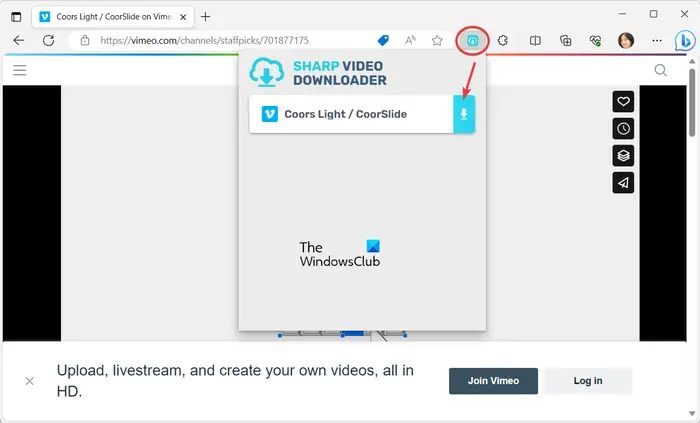 Sharp Video Downloader is a free video downloader for Microsoft Edge. This free add-on lets you grab and download online videos within minutes. It supports major video hosting platforms like Vimeo and more, and you can also download embedded HTML5 videos using this free add-on.
You can open a website containing videos and then click on its add-on. It will then find and list the video that you can download. You can download your videos in WebM and MPEG formats.
3] Video Downloader – CocoCut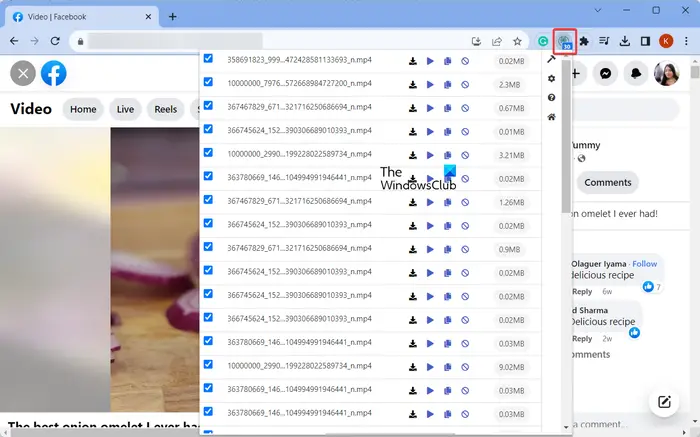 Another free video downloader for Chrome and Edge is Video Downloader – CocoCut. You can add it to these browsers from the Chrome web store and Edge Add-ons store.
Once added, open a web page with videos. It will automatically detect videos available on the current page and list them all. You can click on this extension, select the video you want to download, and then press the Download button to save it to your computer.
Here are some great features of this handy video downloader for Chrome and Edge:
It lets you batch download multiple videos present on a website. You can select multiple videos and then press the Download selected button to download them all.
Not only downloads, but it also lets you play/preview the video right from the extension badge.
You can also copy the URL of a fetched video.
If you want to block videos from certain domains, you can also do that.
It offers a Force Download feature that you can use if this video downloader cannot detect or download a video on a website.
You can also configure some settings like file extension settings, content type, etc.
You can add it to Chrome from here. For Edge, visit its Add-ons page.
Read: How to download Subtitles from YouTube videos?
4] Leap Video Downloader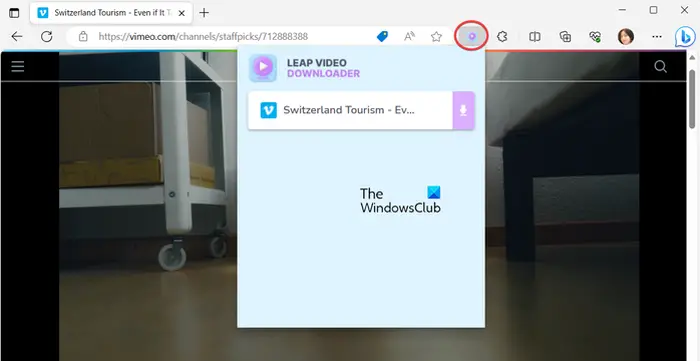 Leap Video Downloader can be your other go-to for a video downloader for Edge. Except for restrictive video hosting platforms, it can download videos from any website. You can grab and download HTML5 videos as well. You can open the web page from where you want to download a video in your web browser, click on this add-on, and download the fetched videos. As simple as that.
5] FetchV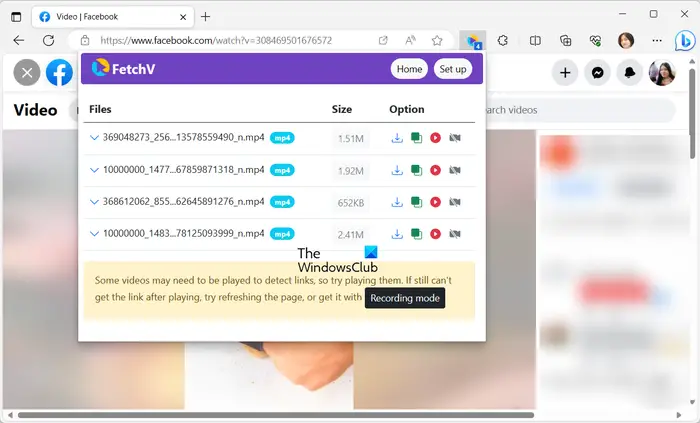 FetchV is yet another video downloader for Chrome and Microsoft Edge. It is a free add-on to grab and download videos from popular websites. You can download any online video that may include HLS, M3U8, MP4, WebM, FLV, and more videos.
It is available on the Edge Add-ons page and the Chrome web store page from where you can download and install it in your browser.
Once installed, access it from the top-right toolbar and start downloading your videos. You may be required to play a video to let the add-on detect the video.
You can also play the video right from this add-on. It also lets you block videos from specific domains. Besides that, you can also copy the video URL.
This free video downloader provides a handy Recording mode feature. This feature enables you to download videos forcibly in case it fails to detect some videos on a page. You can even set up the Size filtering option to get videos in the ideal size.
See: Download Facebook Videos without using any software.
6] Video Downloader Plus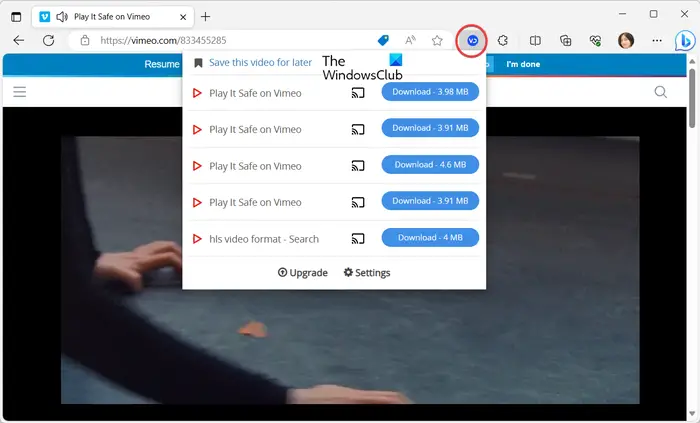 The next video downloader for Edge is Video Downloader Plus. It allows you to download online videos from various video-hosting websites like Facebook, Instagram, Twitter, Vimeo, Dailymotion, etc. It supports various formats for downloading videos including MP4, FLV, MOV, WebM, 3GP, HLS, etc.
You can download a video in different sizes and quality. Plus, it also lets you download high-quality videos in 2k and 4k resolutions.
This video downloader lets you use Google Chromecast to play a video on TV. You can also save a video for later.
7] 1 Video Downloader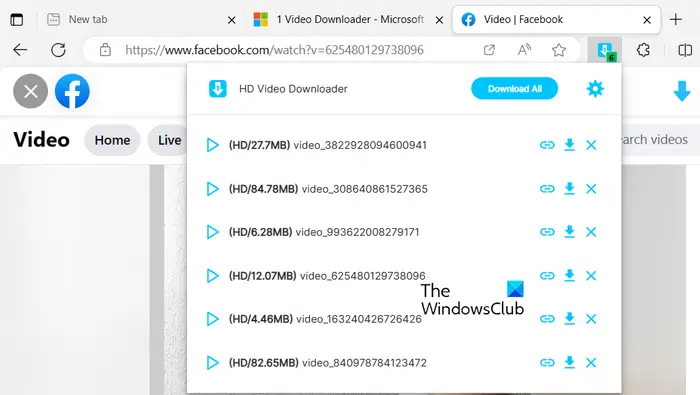 1 Video Downloader is one more good video downloader for Chrome and Edge. You can download online videos from several popular video-sharing and hosting websites, including Facebook, Instagram, Vimeo, TikTok, etc. It automatically detects videos on the current web page and lists fetched videos. You can see the videos with respective file sizes. To download a video, click on the Download button present next to the video.
It offers a Download all feature that you can use to batch download all videos found on a web page. Apart from that, you can also copy the video URLs if you want. It also lets you change some basic add-on settings, including theme.
Apart from Chrome and Edge, you can install and use it in other web browsers as well, including Firefox, Opera, and Yandex. It is available here.
See: Best Free Online Video Editor without downloading.
What is the best free video downloader extension for Chrome?
Video Downloader – CocoCut is one of the best video downloader extensions for Chrome. It offers a lot of advanced features that may come in handy to you. You can use it to download multiple online videos at once. It automatically fetches videos and also lets you preview your videos, copy their URLs, or block videos from particular domains.