Looking for a good free organizational chart maker tool? Here are some good free online tools and software using which you can create an organizational chart.
What is the free tool to draw Organization Chart?
There are a lot of free online tools as well as desktop applications using which you can create organizational charts. If you want to use editing templates to quickly design an org chart, Canva is great as it offers a lot of beautiful org chart templates. In case you want to create charts offline, use software like Dia Diagram Maker.
Best free Organizational chart tools and software
Here is a list of some good free organizational chart maker online tools and software that you can use to create an Org chart or Organogram on your Windows PC:
Draw.io
Creately
Dia Diagram Editor
Canva
1] Draw.io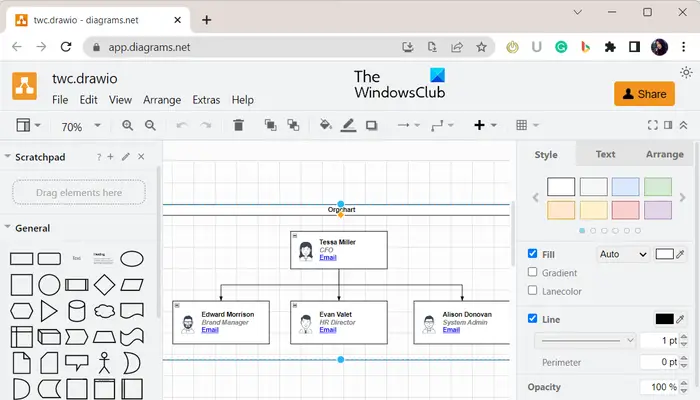 Draw.io is a free online chart maker that lets you create organizational charts. It provides plenty of templates using which you can create custom charts easily. If you want to create a completely new chart, it also lets you do so.
To use it, open its website in a web browser and click on the Create New Diagram button. After that, choose the Org chart template from the displayed Basic chart templates and press the Create button. Then, you will be asked to provide the location and filename to save the final chart; do that.
An editing window to customize the basic organizational chart will appear. Here, you can edit the names of employees, enter their designation, add their email addresses, etc. It provides all the required formatting tools to customize the appearance and text of your chart.
Once you are done making your organization chart, you can save it in multiple formats including SVG, PNG, JPG, PDF, HTML, XML, etc. If you want to share the chart online, you can generate its URL and share it with your colleagues. Besides that, it also allows you to embed the generated org chart into Google Slides, Google Sheets, Google Docs, Microsoft Word, etc.
You can try it here.
See: How to use the Organization Chart in Microsoft Teams?
2] Creately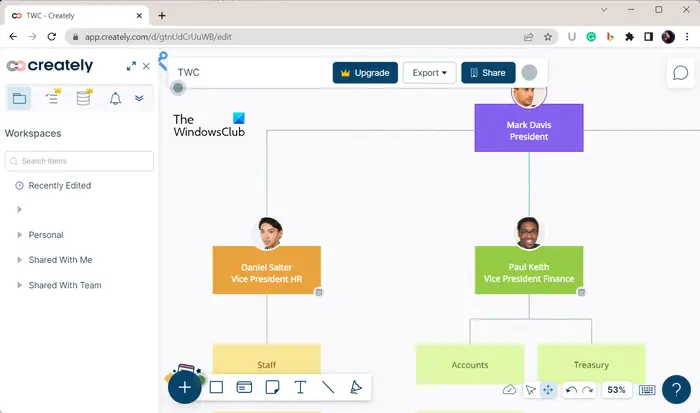 Creately is the next online tool on this list to create an organizational chart. In it, you can easily create an org chart because it provides an organizational chart template. Using it, you can simply create a new workspace and then from its Templates library, select an organization chart template. Once you selected a template, you can edit it according to your requirements.
It provides different types of shapes, a text tool, sticky notes, a freehand drawing tool, stickers, and more tools that you can use for creating an organizational chart.
This tool can be used to collaboratively edit the organizational charts. You can invite your colleagues and then customize the chart together accordingly.
Once done, you can export the diagram in formats like PNG, SVG, JEG, PDF, CSV, etc. Plus, it also generates embedded code to embed your chart in a website or project.
If you want to use it, visit its website here.
Read: How to Create an Org Chart in Google Docs?
3] Dia Diagram Editor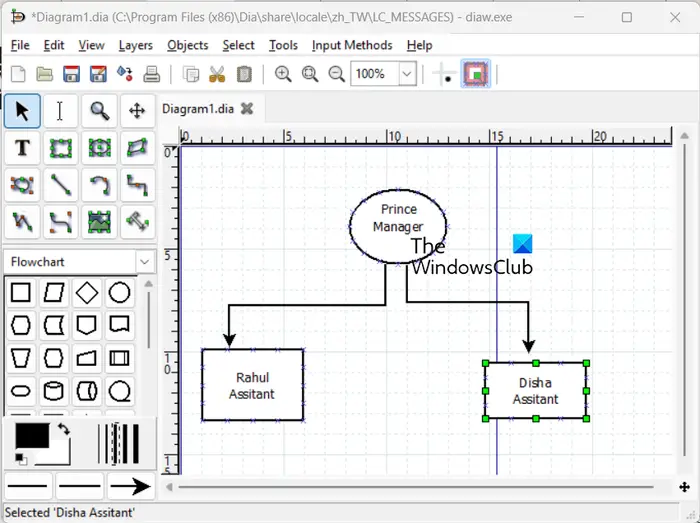 Dia Diagram Editor is a free and open-source charts and diagrams maker application for Windows 11/10. Using it, you can create organizational charts from scratch. It contains a set of designing and editing tools including shapes and text using which you can create a detailed org chart.
First, you need to download and install this software on your PC. After that, launch the program and click on the Flowchart tools option from the left-side pane. Now, you can start adding shapes to your chart for each employee, connect them using the connector, and describe their respective roles using the text tool. Furthermore, you can customize the chart using the formatting options provided in it.
When the org chart is complete, you can save the chart in PDF, SVG, TIFF, EMF, and more formats.
It is a simple yet effective organizational chart software that is free and open source. You can download it from here.
4] Canva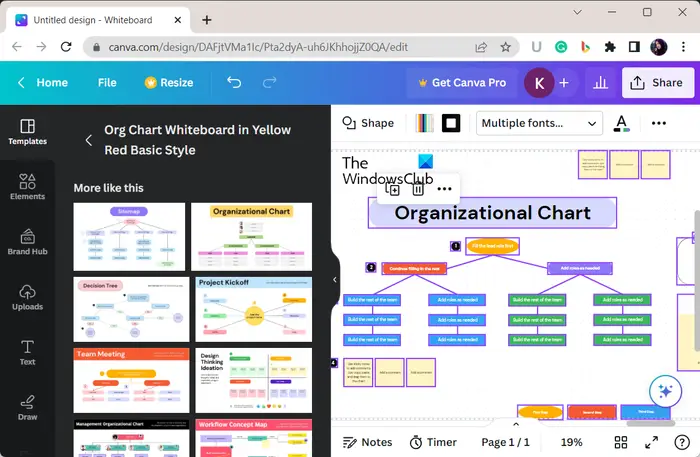 Canva is a popular choice for users to create free diagrams and images. It also lets you easily create organizational charts online.
You can simply visit its organization chart page here and click on the Create an organizational chart button to get started. You can then search for organizational chart templates in its Templates section and choose the desired one from the results. It provides a variety of org chart templates to use and customize to create your own chart. The final chart can be saved in formats like PNG, JPG, PDF, etc., or even share your charts online.
How do I create an org chart in Excel for free?
To create an organizational chart in Excel for free, you can use its SmartArt feature. You can go to the Insert tab, select the SmartArt option, and then click on the Organization Chart layout option to add an Org chart to your sheet.
Now read: How to create an Org chart in PowerPoint?