In this tutorial, I am going to discuss how to create an org chart in Microsoft PowerPoint. An Org chart (Organizational chart or Organogram) represents the basic hierarchy of employees working in an organization. To create and show an organizational chart in PowerPoint presentations, you don't have to look for an external add-in service. You can just use its Illustrations tool to create an organizational chart in your PPTs.
Microsoft PowerPoint provides you a dedicated SmartArt Graphics menu to create different types of diagrams and charts in your presentations. Using SmartArt Graphics, you can also create an organization chart in a PPT. It provides different templates to create an org chart including Simple Organization Chart, Picture Organization Chart, Name and Title Organization Chart, and Half-Circle Organization Chart. You can use any of these templates as a basic structure of your org chart and then customize it as per your requirement.
Let us have a look at the step-by-step procedure to create an organogram in PowerPoint.
How to create an Org chart in PowerPoint
These are the main steps to create an org chart in PowerPoint presentations:
Open PowerPoint application.
Go to the Insert tab and click on the SmartArt option.
Select an Org chart template.
Customize the Org Chart.
Save the chart.
Let's elaborate on these steps now!
First, launch the Microsoft PowerPoint application and then open or create a presentation where you want to make an org chart. Next, simply move to the Insert tab, and from the Illustration section, click on the SmartArt option.

A dialog window will open up where you can select from various SmartArt graphics like process, cycle, pyramid, matrix, etc. Here, you will see a Hierarchy category; click on it. You will see various organization chart templates (the ones mentioned above) in the top row. Select any of them as per your requirement and then click on the OK button.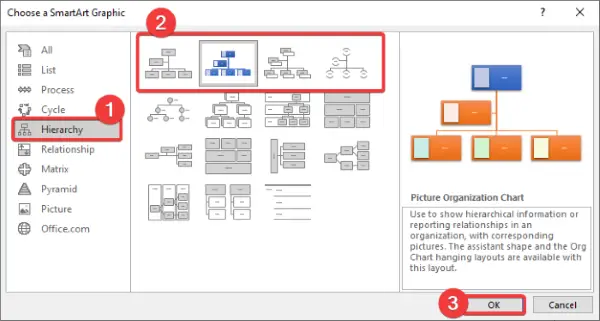 Now, you can customize the added organization chart template accordingly. You can start editing the names of organization members in a hierarchy. There is also a SmartArt Design tab that opens up when you add a related graphic. It lets you customize the SmartArt style, change the layout of the chart or branch, customize the color theme, etc.
You can also add more shapes to the existing chart to add more members or assistants by using Add Shape option.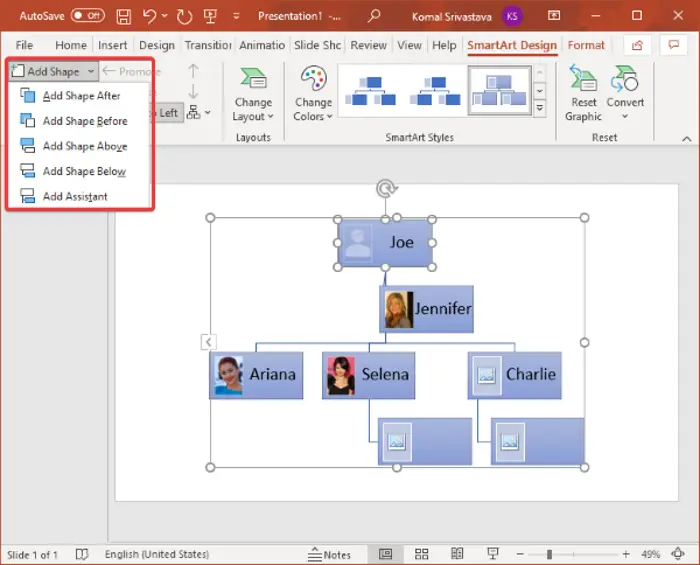 Furthermore, if you choose the Picture Organization Chart template, you can easily add related photos to each employee in the org chart. It lets you insert member photos from different sources including local image files, stock images, online pictures, and various icons.
Read: How to create an Org Chart in Google Docs.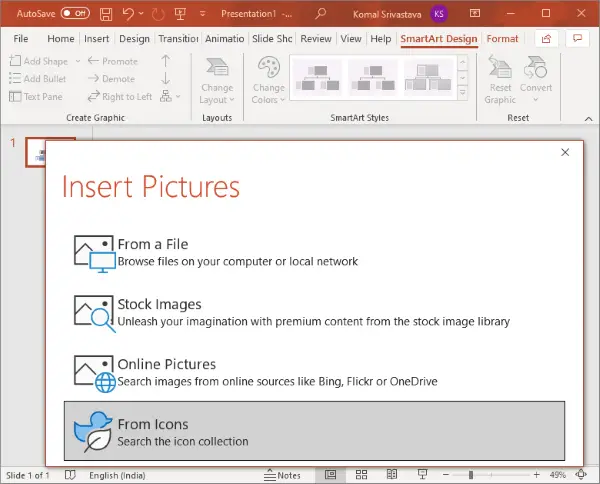 To present an org chart during a presentation, you can also add animation effects to it from the Animation tab. It lets you display organization members one by one, all at once, or one level at once. You can also customize the type of effect, animation timing, duration, and other animation parameters.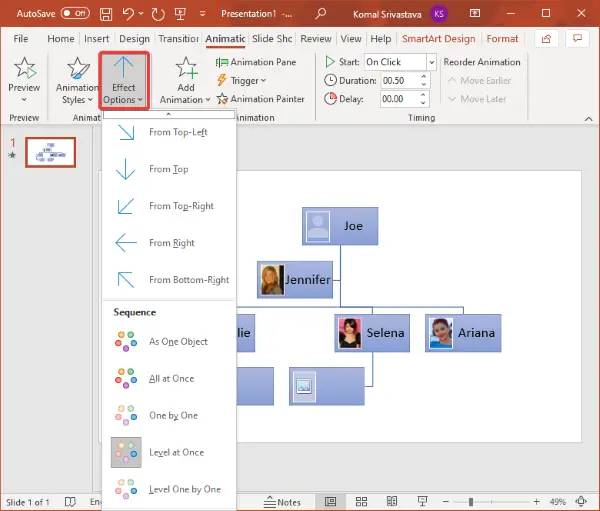 PowerPoint allows you to save the organization chart with your presentation in PPT or PPTX or any other format. Or, you can also choose to export an org chart to a separate image file. To do so, right-click on the chart, and from the context menu, click on the Save As Picture option.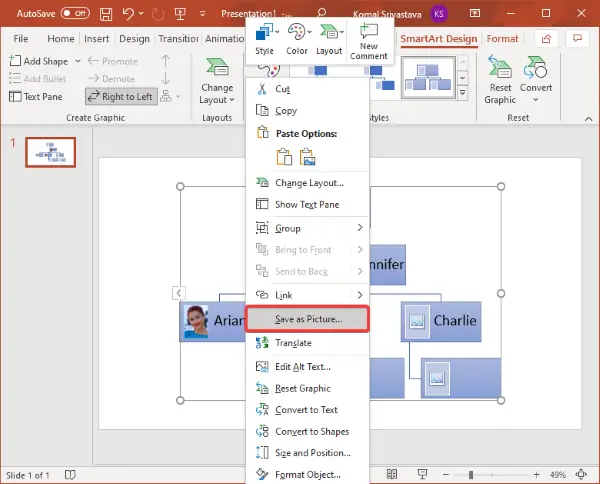 Now, provide output filename and location and select a desired image file format from PNG, JPEG, TIFF, WMF, EMF, BMP, and SVG. Click on the Save button and an image of your organizational chart will be saved.
Hope this article helps you create organizational charts in PowerPoint.
Related read: How to put References or cite Sources in PowerPoint.