Are you looking for a free iTunes alternative for your Windows 11/10 PC? Here is a list of some best free iTunes alternatives that you can use on your PC. These software let you manage your iOS device music on your computer. You can transfer files from iPhone to PC or vice versa, play your music, organize your music, and do much more. Let us check out the list now.
Best free iTunes alternatives for Windows 11/10
Here are the best free iTunes alternative software that you can use on your Windows 11/10 PC:
Media Monkey
iExplorer
AnyTrans
MusicBee
CopyTrans
1] Media Monkey
Media Monkey is one of the best free iTunes alternatives for Windows 11/10. It is primarily a music player, but it also contains a lot of such features that make it a great alternative application for iTunes. It provides a file transfer feature that helps you transfer your music files from iPhone/iPad/iPod Touch to PC, and vice versa. You can easily synchronize your audio, video, and playlists files with iPhone, iPod, iPad, Android, and other devices.
It lets you listen to your local songs, online radio, Spotify, online podcasts, etc. You can even fine-tune an audio file using a 10-band equalizer, volume leveling, DSP effect add-ons, and more functions. It also lets you organize and manage your music collections. Plus, it also offers a Cast feature to stream audio/video to Google Cast or DLNA devices.
More features of this iTunes alternative software are:
Auto-tagging music files with their metadata, artwork, and lyrics.
Clean up duplicate files from your collection.
Auto-DJ automatically plays songs based on your preferences.
Creates statistics and other reports of your music collection.
The good thing is that you don't even need to install iTunes to use MediaMonkey for file transfer.
2] iExplorer
iExplorer is an iPhone manager that acts as a free iTunes alternative. It is a lightweight software that enables you to transfer music, messages, photos, videos, and other content from any iPhone, iPod, iPad, or iTunes backup to your Windows computer. It also lets your transfer files to iTunes Library. You can also export your iPhone Text Messages, Voicemails, Address Book Contacts, Calendar Events, Reminders, etc.
The free version of this software is feature limited. You will be required to purchase its advanced version to utilize all its features. Download it from here.
Read: iPad not recognized by Windows PC.
3] AnyTrans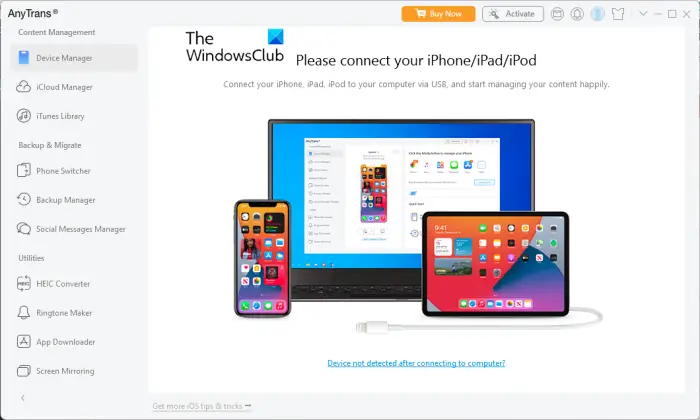 The next iTunes alternative on this list is AnyTrans (formerly known as PodTrans). It lets you manage, transfer, and back up content from your iPhone, iPad, or iPod to your PC and vice versa. You can also manage your iCloud content including Contacts, Photos, Videos, Notes, etc., through this application.
All the main tabs to access specific features are available on the left side of its GUI. It contains an iTunes Library tab to transfer and manage your iTunes music collections on your PC. However, you will need to install iTunes on your PC for that. Some more features that you can find in this iTunes alternative are Backup Manager, Phone Switcher (to migrate data from Android to iPhone), and Social Messages Manager (to manage WhatsApp, Line, and Viber messages).
Besides the abovementioned features, you can find various additional handy tools in this software. It offers a HEIC Converter tool using which you can convert HEIC images to JPG/ JPEG and PNG images. A dedicated tool to create your own ringtones from audio files is also provided in it. You can also directly download apps from App Store using your Apple ID.
If you liked it, you can download this free iTunes alternative from here.
4] MusicBee
MusicBee is the next free iTunes alternative for Windows 11/10. It is primarily a music manager and player for PC. You can manage, find, transfer, and play music files on your computer using this free software. Its user interface is quite like iTunes. You can also sync your music collection with devices. It also lets you sync podcasts and playlists, as well as audiobooks. It also supports Android and Windows Phone (8.1+) devices for syncing music data.
It lets you customize the audio sound using a 10-band or 15-band Equalizer and DSP effects. You can even use high-end audio cards with WASAPI and ASIO support with this audio player. Apart from that, it offers a lot more handy features including 5.1 surround sound, logarithmic volume scaling, normalized volume streaming, use of WinAmp plugins, etc.
You can also find some other handy tools in it such as CD Ripping, Metadata Tagging, Groove Music Support, and more. All in all, it is a great music manager that you can use as an alternative to iTunes for Windows.
See: How to view or transfer Live Photos from iPhone to Windows PC?
5] CopyTrans
You can also use CopyTrans as an alternative to iTunes for PC. Using it, you can easily transfer your media files from your computer to your iPhone, iPod Touch, and iPad. You can also edit your iPhone playlists through it. It can also be used for modifying track titles and artwork.
On its main GUI, you can view different sections including Playlists, Albums, Categories, Genres, etc. Once you connect your iOS, you will be able to view your entire music collection on its interface. You can then add, edit, remove, delete, and search your music files. It also lets you play your music files.
You can simply drag and drop music files including songs, videos, ringtones, podcasts, and audiobooks from your PC to its interface to copy them to your iPhone. You don't need iTunes to do that. It is compatible with Apple Music and you can make playlists from your Apple Music tracks directly on your PC.
It is a nice free iTunes alternative for PC. You can get it from copytrans.net.
What can I use instead of iTunes on Windows?
Media Monkey and MusicBee are the two best free iTunes alternatives for Windows PC. These are feature-rich music manager software that allow you to transfer your media files from an iOS device to your computer and vice versa. You can simply manage your iTunes library on your PC using these iTunes alternatives. These software also offer a nice set of features to play and customize your music.
Is there a free version of iTunes?
iTunes is completely free to download and use. You can download and install it on your computer, and access your music files from your iOS device on Windows. You can transfer music files from PC to iPhone or iPhone to PC. It also lets you purchase music from the iTunes Store, listen to online radio, listen to podcasts, and do much more.
Now read: Best free Podcast Apps for Windows PC.