This post includes some best free ISO maker tools for Windows 11/10. You can create an ISO file from a folder (including sub-folders and files), a file (like EXE, Audio, Video, documents, etc.), and/or a DVD/CD drive. Once generated, you can burn the ISO file, open it or mount it as a virtual drive using double-click or share it with anyone you want. This can also be helpful to create a backup of your important files/folders as your data will remain saved in the ISO file.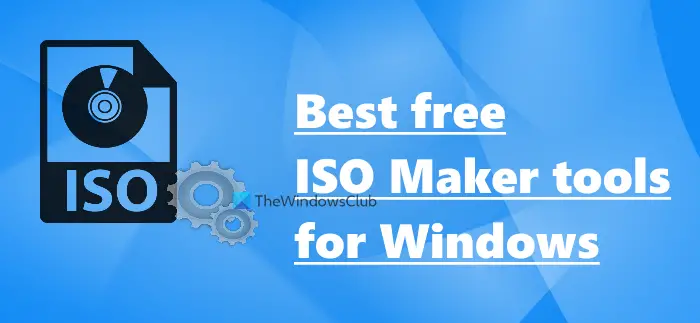 Windows 11/10 OS doesn't come with any native option or built-in tool to create ISO files. It only lets you mount and unmount ISO files with the built-in feature. So, for converting your files and folders to an ISO image file, you will need third-party ISO creator software. Free ISO Creator, AnyBurn, etc., are some good examples to use for this purpose. This post includes a list of such tools.
Best free ISO Maker tools for Windows 11/10
Here is a list of the best free ISO maker tools for Windows 11/10 computers:
AnyBurn
Free ISO Creator
WinBurner
BurnAware Free
IsoCreator.
Let's check all these ISO maker software one by one.
1] AnyBurn
AnyBurn (free version) is a multipurpose software. It is available with portable and installer versions and you can use it to burn image files (IMG, BIN, WIM, FCD, NRG, CUE, DMG, UIF, ISO, etc.) to CD/DVD/Blu-ray discs. In addition to that, it lets you erase a rewritable disc, convert an image file to another image format, RIP audio CD to APE/MP3/FLAC, etc., edit an image file, and more.
The feature to create an image file is also there that lets you add multiple files and folders at once to create a single ISO image file. Let's check the steps:
Open the software interface
Press Create image file from files/folders button
Use the Add button to select files and folders of your choice. You can also remove added files/folders if you have put them accidentally
Select the output type as CD (700 MB), DVD, etc., using the drop-down menu, or select a custom disk capacity
Press the Next button
Use the folder/browse icon to set the output folder and image name
Select the image file type to Standard ISO Images (.ISO) from the available drop-down menu if the output is not set to ISO already
Press the Create Now button.
Let the process complete and then you can use the ISO file saved to the destination location.
2] Free ISO Creator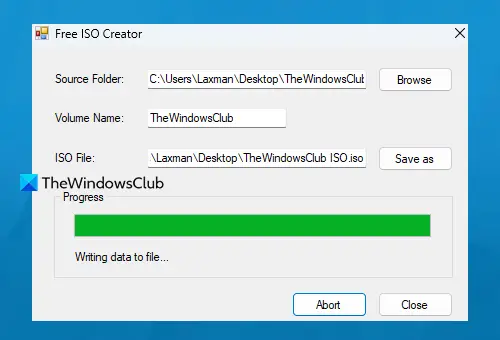 Free ISO Creator is a very simple software on this list. Its basic interface helps you create an ISO image from a folder or CD/DVD drive. It doesn't with complicated settings and other options therefore a handy option for beginners as well.
You can get this tool from freeisocreator.com. After installation, open its interface and use the Browse button to add the source folder for which you want to create an ISO file. After that, provide the Volume Name that will visible when you mount the ISO file.
Use the Save as button to select the destination folder and file name for the output ISO. Finally, hit the Create button to begin the ISO creation process. It will start writing data to file which will take some time and then you can access and use your ISO file.
3] WinBurner
WinBurner is another simple tool and it lets you write ISO to CD/DVD, write files to CD/DVD, and create ISO from files and folders or CD/DVD. You can get its portable version or installer version from winburner.com and then open its main interface.
On its main interface, select the Create ISO from files option and it will open a separate box. In that box, use the Select files to write button. Another box will open using which you can add files and folders for the output ISO file. Only one file or folder can be added at a time which might be time-consuming if you have to add a lot of items.
Press the OK button to come back to the previous box. Now press the Create the iso file button to select the output folder and file name for your ISO file. Once done, provide a volume name in the given field, and hit the Create button. Wait for the process to be completed and then you can access the output ISO.
Related: Best free ISO mounter software for Windows
4] BurnAware Free
BurnAware Free (for non-commercial use) is one of the best ISO creator tools on this list. It lets you make bootable ISO from local files or generate a standard ISO image from multiple files and folders stored on your system.
This tool also comes with many other features such as burning ISO, Audio CDs, and MP3 discs, burning data across multiple discs (available in paid plan), copying Blu-ray discs to disc images, etc. Now let's check the steps to create a standard ISO file from local files and folders in Windows 11/10:
Open its interface after installing the tool
Select the ISO Images category from the left section
Click on the Make ISO option and a separate Make ISO window will open
Use Add files button to add files and folders from a location
Press the Close button to come back to the Make ISO window. You can also select and remove any added entries
Select the output type to CD, DVD DL, Blu-ray, etc., using the drop-down option
Press the Make button.
A Save as window will open to set the file name and output folder for the ISO file. Now the tool will start checking the total number of files for processing and then image progress will take place.
5] IsoCreator
IsoCreator is a tiny tool and the simplest ISO maker software in this list. Its user-friendly interface lets you create an ISO file quickly, but only one folder is supported for making a standard ISO file. If that works, then you should use this tool.
Grab the MSI file of this tool from sourceforge.net and install it. This tool also requires Microsoft .NET Framework 3.5 to work so you should install it if you haven't already.
Open its interface and then provide the output ISO file path and name using the Browse button. Enter a volume name in the available text field, provide the input folder using the Browse button, and press the Start button. Finally, you will get the output ISO after completing the process.
Does Windows 11/10 have an ISO burner?
Yes, there is a built-in Windows Disc Image Burner tool in Windows 11/10 that lets you burn ISO image files. Use the Burn disc image right-click menu option for an ISO file to open the interface of that tool. After that, you can select the Disc burner drive, and use the Burn button to begin the process.
Hope this is helpful.
Read next: Best free ISO Burners for Windows PC.