If you don't wish to pay some money for paid burning software, you may want to check out BurnAware. BurnAware Free is one of the most popular free CD, DVD, Blu-ray Disc burning software available for Windows 10. Using this program, you can easily create and burn Audio and MP3 CD, Data and DVD-Video disc, ISO and Cue Image, erase or format rewritable disc, copy your CD or DVD to ISO image.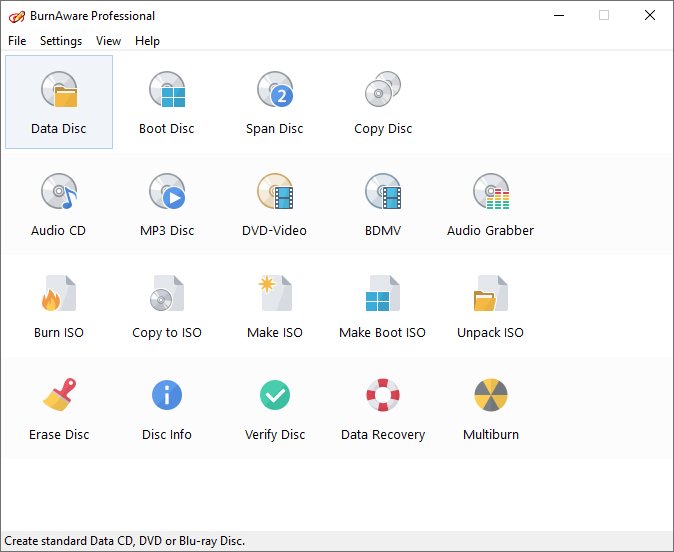 BurnAware burning software for Windows PC
BurnAware is a full-fledged, easy-to-use burning software that allows users to write all types of files such as digital photos, pictures, archives, images, documents, music, and videos to CDs, DVDs and Blu-ray Discs. With BurnAware, you also will be able to create bootable or multisession discs, high-quality Audio CDs and Video DVDs, make and burn disc images, copy and backup discs.
Features:
Writes to all CD/DVD media types including Blu-Ray (BD-R/BD-RE).
Creates disc images.
Supports all current hardware interfaces (IDE/SCSI/USB/1394/SATA).
On-the-fly writing for all image types (no staging to hard drive first).
Writes Multi-Session to all supported media formats.
Auto-verification of written files.
Supports Unicode for multi-byte languages.
BurnAware Free Edition:
Creates and burns standard/bootable Data CDs, DVDs, Blu-ray
Creates and burns Audio CDs, MP3 Discs and DVD-Videos
Creates standard / bootable ISO Images, burns various Disc Images
Copies standard / multimedia CDs, DVDs, Blu-ray to Disc Images
Erases rewritable Discs, verifies Discs, displays Disc / Drive details
BurnAware free download
Download BurnAware Free from its homepage.
The little application is very powerful and useful for beginners as well as advanced users. The latest version brings performance improvements & new options. It now offers a new method of verification, as well as a log with details of any process.