Windows 11/10 offers native support for burning .iso images. You can now burn images to disc, without using 3rd party software, as it includes a built-in Windows Disc Image Burner or isoburn.exe.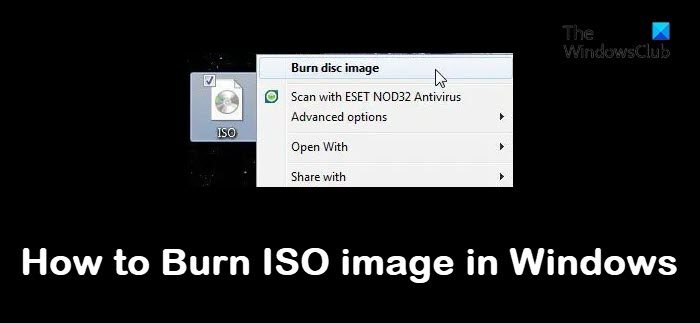 Can Windows burn ISO to DVD?
Yes! Windows 11/10 has a built-in ISO burner called Windows Disc Image Burner. This tool  can help burn an ISO file to a DVD, CD, USB, or BD very easily.
How to Burn ISO image using Windows Disc Image Burner
To use the Windows Disc Image Burner to burn an ISO image in Windows:
Right-click on any .iso image
Select the option to Burn disc image. Make sure that you have inserted your DVD.
Clicking on it will open the Windows Disc Image Burner.
This gives you the option to burn the ISO image to CD or a DVD and to verify the disc after burning it.
Do check the option to Verify disc after burning.
Click on Burn.
That's it!
Fix: A disc burner wasn't found error.
If you wish, you can also change the burn settings. Right-click on the CD/DVD drive and select Properties and click on Recording tab.
Clicking on Global Settings button will offer you a few more options.
You can also Burn ISO files using Command Prompt.
TIP: These Free ISO Burners for Windows may also interest some of you.