B1 Free Archiver is a free file archive manager that can easily perform operations like file archiving, file compression, file extraction, and more. It is a user-friendly file archiving software that can run on multiple platforms like Windows, Mac, Linux, and Android. There are many free compression software in the same category, available in the market today and most of them like 7-Zip, are also free, however, the flexibility that this file archiving software provides, makes it stand out.
B1 Free Archiver review
Simple to use, B1 Free Archiver compresses files and extracts content from archives with ease. It supports various archive formats like ZIP, RAR, 7Z, ZIPX, etc. and the file archiving operation is completed in a matter of few clicks.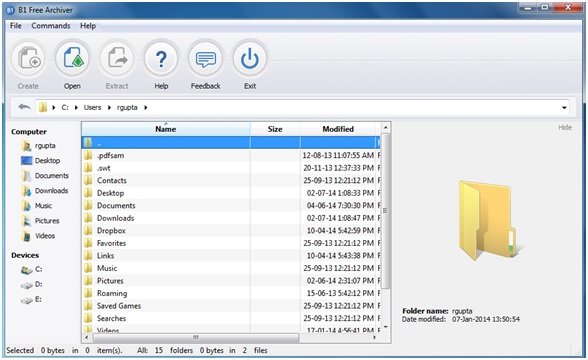 Features of B1 Free Archiver
There are lots of features of B1 Free Archiver that can convince you to choose B1 Free Archiver over other software in the same category. Some of the features are as follows:
Easy to understand and use, so you need not require any manual to use
Freeware
Simple and work very fast, even with those archives who got lots of stuff in them
Safe and secure as it does not install any malicious program on your system and it never asks you any personal information
An operation like file archiving, file compression is done very fast
How to use B1 Free Archiver
Using B1 Free Archiver is actually very simple. All you need to do is to download the software and install it on your system and then just start using it. If you see the user interface of the software, then you can find that there are 6 buttons on the top of the icon showing the different functionality of the software. Let's go through them,

Create: By using Create button you can create archive files in either B1 format or in Zip format. All you need to do is to select the

file/folder

and click on Create. As soon as you click it, a window will appear that will ask you for the name of the archive, the path where you want to create, archive format, password, split archive and compression mode. Select it according to your requirement and finally press Start to start the archiving process.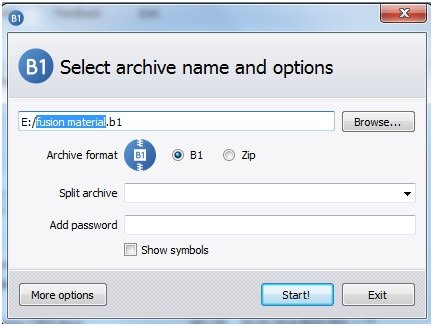 Open: This button is used to open the archive file. Click on Open and just select your file to open it.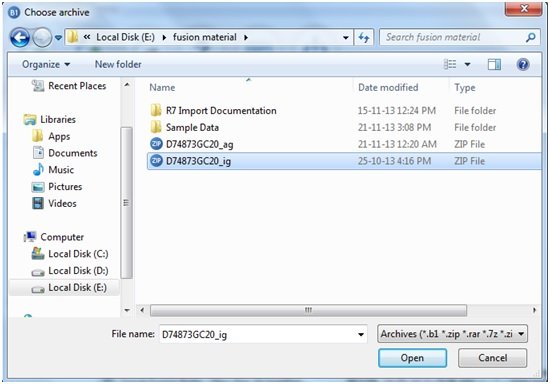 Extract: Extract is used to extract the content of the archive file. Just select the archive

file/folder

and click on Extract. As soon as you click it, it will ask you for the path where you want to extract the content. Select it and press Ok.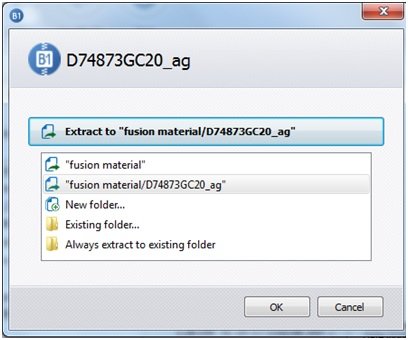 Help: if you require any help you can make you of this button. Here you will get a step-by-step guide to all related tasks.
Feedback: If you have any questions or suggestions, you can make use of this option.
Exit: It is used to exit the application once you are done with your work.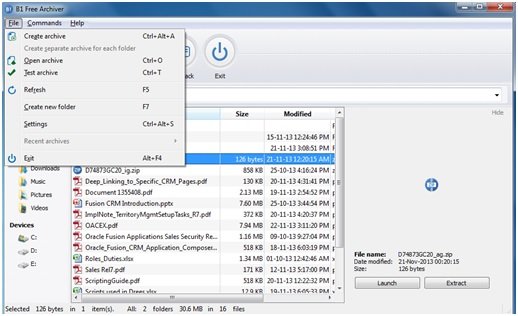 You can also use File and Commands drop-down button which you can see on the top of the window. Using Files' option you can create, open, test archives. You can refresh the content and can modify the setting of the software. Options like Extract, Cut and Copy, etc. can be found in the Commands drop-down button.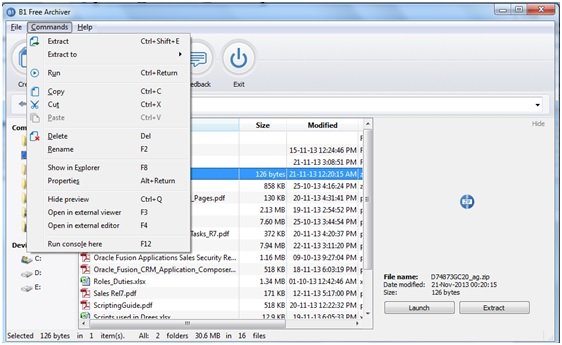 B1Free Archiver – Advantages:
Open archive format, so best for personal as well as commercial use.
Best compression ration speeds with the advanced compression algorithm
Since it an open-source anyone can see and copy the code for future usage
Encryption of data with password
B1 Free Archiver free download
Click here to download B1 Free Archiver. The total size of the software is not very large, so it hardly takes any time to download. The best part is that it is supported by all versions of the Windows operating system.
PS: MagicArchiver lets you create or modify archive files on Windows PC.