Code Two, has already been giving away some smart applications that remind you about missing attachments, sync Outlook emails, calendars, and much more. Here is yet another utility, a new practical Microsoft Outlook add-on released for free by them Code Two Outlook Reply All Reminder.
Automatically Reply to all in Outlook using Reply All Reminder Plugin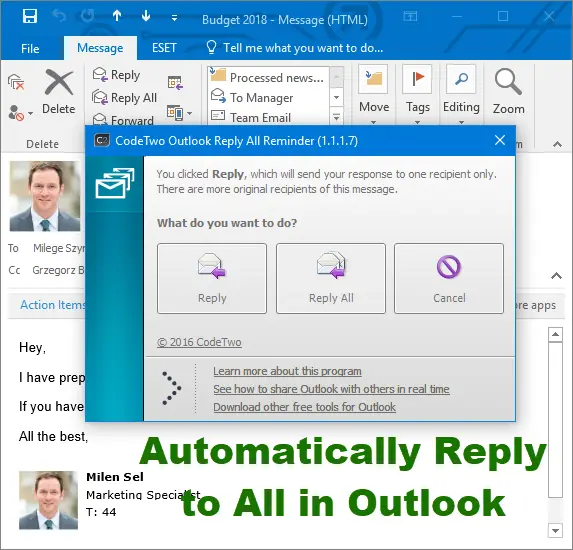 The freeware has been created to prevent Outlook users from excluding other recipients (specified in the CC: or To: fields) accidentally when replying to a group message. This is particularly significant in cases where you hit the Reply button, instead of the Reply All button. When it comes to business group correspondence, skipping an important recipient may invite big trouble.
Installing Code Two Outlook Reply All Reminder
To install the program simply visit the official website, download the installer and launch the program. It will automatically get added to your Outlook Add-ins, ready to activate an alert, as and when necessary. Make sure your Outlook is closed during the installation process.
After you click Reply, when responding to a group correspondence, the plugin triggers a notification window informing that your message will be received by one person only. In the newly open window, you can select the Reply All button to send the message to all original recipients.
Once you launch your Outlook again, you will not notice any changes in your mail client but the new plugin added to the Outlook Add-ins list.
Some features:
Notification window – the freeware informs you about other recipients of the original e-mail before you write the reply message.
User-friendly installation – installation is a simple, easy and quick
No configuration needed – there is no need to configure the program after the installation
In all, Code Two Outlook Reply All Reminder is a handy application that notifies you whether to include or exclude recipients when replying to a group message. Works on the latest versions of Windows and Microsoft Outlook, too.
Download Code Two Outlook Reply All Reminder from codetwo.com.
Related: How to turn off Reply All in Outlook.