TPM or Trusted Platform Module is a security chip on the motherboard which stores all passwords and security-related data. It offers hardware-based, security-related functions if you are receiving an error message Alert! TPM Device Is Not Detected, then this post will help you resolve the problem.

Before we go ahead, you need to make sure if TPM is available on your PC. Old PCs may not have the module. The right way to check is to look into UEFI/BIOS Security settings.
Alert! TPM device is not detected
These suggestions involve updating BIOS and installing drivers. Make sure you know what you are doing or take the help of someone who knows it.
Enable TPM from BIOS
Update BIOS
Reinstall Trusted Platform Module driver
If TPM is missing or not showing in BIOS, follow these suggestions. You will also need an administrator account.
1] Enable TPM from BIOS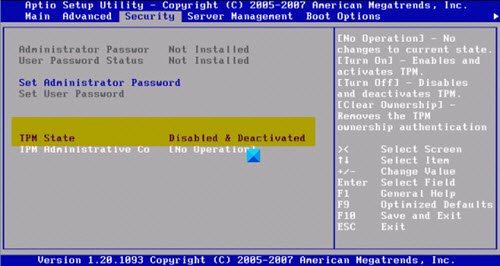 If TPM is disabled in the BIOS and Windows or software checks for it, it will throw this error. Enabling BIOS is easy, but it will vary from OEM to OEM. However, it is usually available under the Security section.
2] Update BIOS or UEFI
OEM offers updates to the BIOS/UEFI  from time to time, and if the TPM detection has failed all of a sudden, then you need to update it.
Most of the modern PCS now offer software that can update the BIOS without going into the BIOS. If that's not possible, you will need to check with the Motherboard manual to update it via a USB drive and through the UEFI or BIOS.
It is also recommended to disconnect the power supply or battery and keep it that way. Post 30 seconds, you can reboot, and TPM should work now.
Read: Download or Update Dell Drivers using Dell Update utility.
3] Reinstall Trusted Platform Module Driver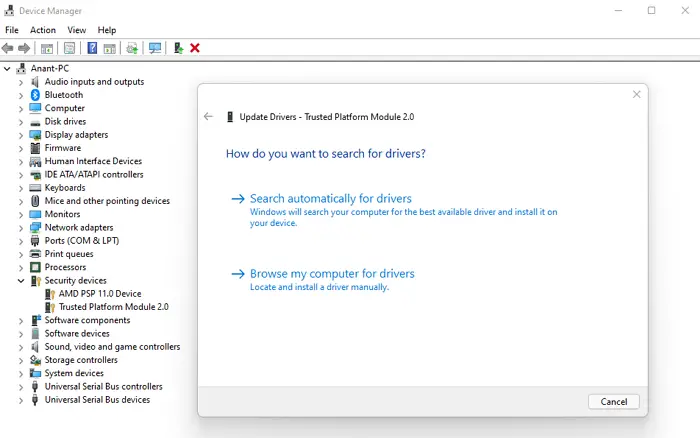 TPM Drivers can also be updated using the Device Manager & Windows Optional Update. Follow these steps:
Open Power Menu using Win + X, and then click on Device Manager
Locate Trusted Platform Module under Security
Right-click on it, and click on Update Driver and click on Search automatically for drivers
The next screen will then prompt you to search for updated drivers on Windows Update.
This will open Windows Update, and you can then navigate to Advanced Options > Optional updates
Check if there is a driver update available. If yes, then update the TPM drivers.
Can I add a TPM to my Computer?
External TPM modules are common, except that it wasn't popular until Windows 11 made it a requirement. Yes, you can add TPM externally, and they are available for as low as $50. Post that, you will have to make sure Windows and BIOS/UEFI recognizes it.
Read: The TPM could not be initialized after BIOS update.
What happens if I enable TPM?
Nothing will happen even if you Enable the TPM. It's a platform that others can use. So if you are using Bitlocker, the software can choose to save all passwords inside it. So if you are worried that you will lose your files, everything will be encrypted, then don't. Windows will also boot as usual.
I hope the post has helped you resolve the TPM Device Is Not Detected error on Windows PC.