VLC is probably the most popular, free, open-source, and cross-platform media player around. Many of us use subtitles while watching movies on our Windows PC when it is available in a different language. In addition to this, many people use subtitles to be familiar with an unknown language.
Sometimes, users can face problems like delays. This means that you cannot find the exact subtitle at the exact time. It can be delayed or appear earlier up. It happens when the media player fails to synchronize the subtitle correctly. Also, this problem occurs when the subtitle is written in a bad manner. It is possible to convert .srt (standard file extension of subtitle) file to .txt. If anybody makes a wrong change with this file, you can face problems with the subtitle.
If you are facing similar issues, you can check out this guide. Here you can adjust the subtitle speed in VLC and get a solution to rectify the subtitle synchronization.
Adjust subtitle speed in VLC Media Player
There are two different ways to adjust the subtitle speed of VLC Media Player. The first one will be done using a keyboard shortcut and the second one will be done manually. If you use a keyboard shortcut, you can either delay or speed up the subtitle by 50ms. This is fixed and not possible to change. However, if you use the manual method, you can do the same by 1ms.
Using Keyboard
If you think that you need to speed up the subtitle, just press G. It will speed it up by 50ms.
If you think that you need to delay the subtitle, just press H button. It will delay the subtitle speed by 50ms. You can keep pressing it for as many times as you want.
Manual Method
As mentioned before, you will get more options using this technique. To adjust subtitle speed of VLC, just open the particular video, click on Tools > Track Synchronization.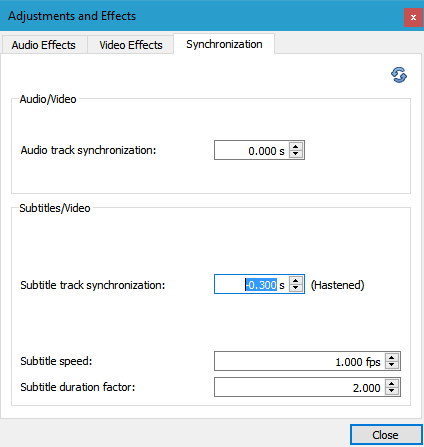 Now, you can adjust it using the option that says "Subtitle track synchronization". If you click on the down button, it will be hastened. The opposite thing (up button) will let you delay the subtitle speed. This is also possible to change subtitle duration time as well. the up/down buttons function in the same way.
Note: If you close the media player, you need to set it again.
I hope this little tutorial will help you a lot.
By the way, did you know that VLC can record desktop screen?