OneDrive is mainly used for backup, you can back up your important folders (your Desktop, Documents, and Pictures folders) on your Windows PC with OneDrive PC folder backup, so they're protected and available on other devices. In this post, we will show you how to add multiple email accounts in OneDrive on Windows 11/10.
Add multiple OneDrive Accounts on one PC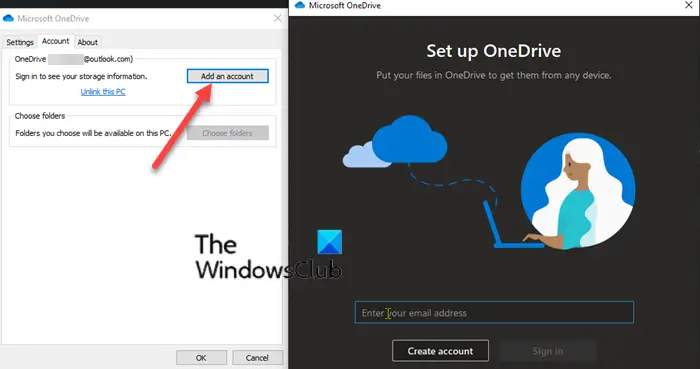 To add multiple email accounts in OneDrive on Windows 11/10, follow the suggestions described below.
Now, to add the secondary (multiple) email accounts, do the following:
Right-click on the OneDrive icon in the system tray/notification area on the right side of the Taskbar, and click on Settings.
In the Microsoft OneDrive 

settings windows that appear

, click on the Account Tab.
Under Account Tab, you can see Add an account button.
Click the button and you will get a separate popup window where you can sign in the secondary email account.
Enter your secondary mail account and proceed with the configuration.
When done, you can see two OneDrive folders in File Explorer on your Windows 11/10 PC.
Repeat the steps for additional email accounts you wish to add in OneDrive.
That's it on how to add another email account in OneDrive on Windows 11/10!
Microsoft OneDrive is a file hosting service and synchronization service operated by Microsoft as part of its web version of Office. It allows users to store files and personal data like Windows settings or BitLocker recovery keys in the cloud, share files, and sync files across Android, Windows Phone, and iOS mobile devices, Windows and macOS computers, and the Xbox 360 and Xbox One consoles. Users can upload Microsoft Office documents to OneDrive.
OneDrive offers 5 GB of storage space free of charge, with 100 GB, 1 TB, and 6 TB storage options available either separately or with Office 365 subscriptions.
Read: How to find out which Microsoft Account you're using with OneDrive.