If you are bored with your default Windows mouse cursor design you might want to check out this tool adds a cartoon character to your mouse cursor. It is great to break the monotony once in a while or to surprise friends. mmFollow quite simply adds a cartoon character to the mouse cursor.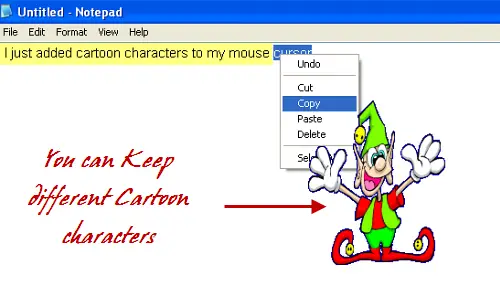 Add a Cartoon Character to your Mouse Cursor
mmFollow ensures rapid location of the pointer and obviously adds a little fun to use the computer.  When in use, the application adds an icon to the Windows Taskbar area.
By right-clicking on this icon, you can vary the character.
There are many cartoon characters to choose from such as bee, elf, clown, tiger, etc.
Once you install mmFollow, it silently sits on your Taskbar and whenever you need to change the cartoon character, just right-click the icon on the taskbar and choose the characters. If you need to exit the program, choose Exit.
If you have kids at home, they will surely love this tool.
Download mmFollow mouse cursor tool here from Softpedia.
UPDATE FROM ADMIN: While my antivirus did not give out a warning when I installed it successfully on my Windows PC, in the comments below HarleyGuy says "This software comes up as ADWARE in AVG anti-virus"!