There is an interesting utility out there for Windows 11/10 called ZipLock, and it is designed to compress your files. Not only that, but you can use it to backup and secure your files on a USB stick. It's quite a neat tool that we have come to enjoy after multiple days of use.
Compress, Backup and Password-protect ZIP files on Windows 11/10
One of the best things about Ziplock is that it is a portable program; therefore, you can have it on your USB stick and use it on any Windows 10 computer. Not only that, there is no need for installation, and that is something we've come to enjoy with certain tools.
Now, one other thing that this tool brings to the table is Advanced Encryption Standard (AES). We understand that it supports a 128-bit key, but you can get a version with a 256-bit key if you send the developer a small donation.
Also, please bear in mind that Ziplock was created in Java; therefore, you will need to download the latest version of the Java Virtual Machine to get things moving.
Ziplock any of your files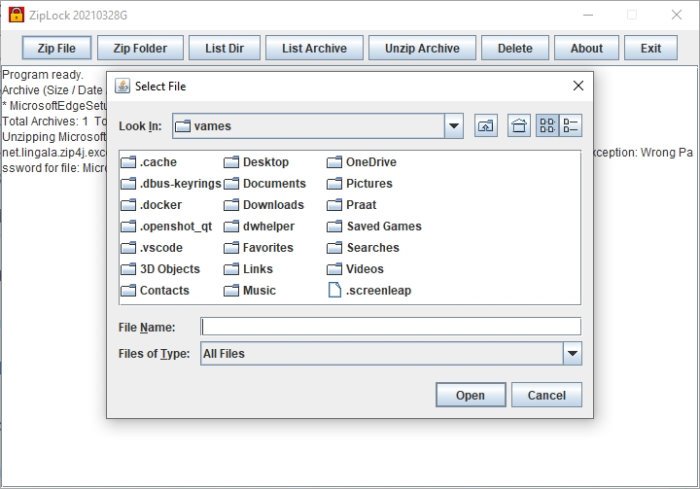 If you want to ziplock a single file, then you're in luck because the program supports this 100 percent. Simply click on Zip File from the tab at the top, then select the file you want to add. From there, the tool will require you to add a password to the ZIP file as it prepares to use AES 128 bit encryption to secure the file.
Ziplock an entire folder
The ability to Ziplock a single file is a great idea, but what about an entire folder with all its contents? Yes, that is possible.
For those who want to do this, go ahead and click on Zip Folder, then select the one you want to protect. Once that is done, add your password to activate AES, and you're good to tango.
View a list of your directory
If you've created multiple zip-locked files and folders, you can have a look at them via one simple test. It's so easy even your puppy can do it. You best believe that.
To get the task done, click on the List Dir tab, and that's it. See? Easy.
Unzip a zipped archive
The ability to zip and protect files and folders is cool, but it is also possible to unzip these files and folders quite easily as well.
So, how do we unzip files and folders? Well, select the Unzip Archive button, then right away, you should see the number of protected files and folders. Select the preferred zipped file, then hit Open. From there, choose where you want the contents to appear, then type the password and hit the Enter key.
You can download the latest version from here.
READ NEXT: How to Zip a folder using a Batch file in Windows.