Does Windows 11/10 keep on compressing files automatically? If so, you can fix this issue by following the methods listed in this post. Here, we are going to share multiple working solutions to fix Windows 10 automatically compressing files issue.
File compression is usually done to keep files and folders in a relatively smaller size to cope up with lesser disk space or to save some disk space. At times, Windows starts compressing your files and folders automatically which you might not want. This can be because your PC is running out of space. Another element that can be responsible for it is that the auto-compression on folders or drives might be enabled due to some unknown factors. Additionally, it might be caused to due to corrupted icon cache database making users believe that automatic compression is enabled.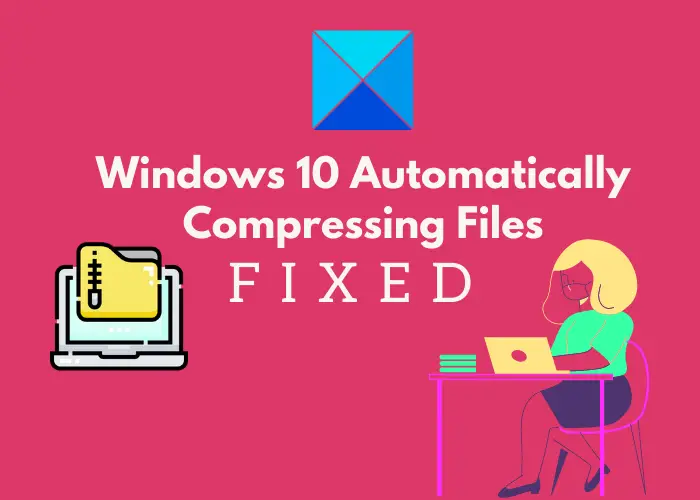 Now, if you are facing this issue and you don't want Windows 10 to automatically compress your files and folders, here is a guide for you. You can use any of the listed solutions based on the scenario that suits you to fix the issue on your PC.
How do I stop my files from automatically compressing?
If your files are being compressed automatically, this guide is for you. Here, we have tried to bring all the possible working solutions that will help you prevent your files from being automatically compressed on Windows 10. You can manually check disk space, clear up temporary files from your system, perform a disk cleanup, disable auto-compression on folder/ drives, and do more.
Windows 11/10 is automatically compressing files
If Windows 11 or Windows 10 is automatically compressing files, then here are the suggestions that will help yu resolve the issue:
Disable Compression on the Drive.
Disable Compression on Folders.
Let us discuss the above methods in detail now!
1] Disable Compression on the Drive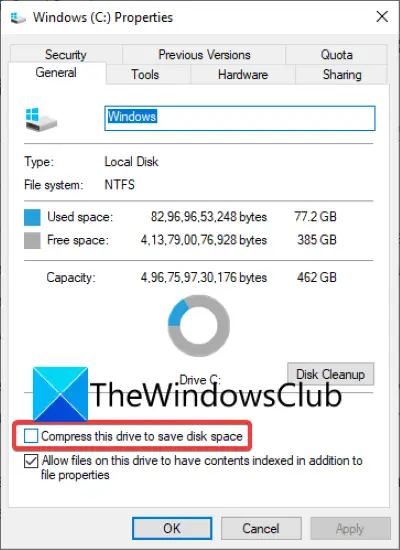 There are some instances when automatic compression is enabled on the drive and folder. For example, automatic compression might be turned on by OS to install new updates. In such a scenario, the problem of automatic compression can be solved by manually disabling the automatic compression on the drive. You can follow the below steps to do so:
Firstly, open the File Explorer and go to the drive causing the problem.
After that, right-click on the drive, and from the context menu, press the Properties option.
Next, go to the General tab in the Properties window.
Now, make sure the Compress This Drive to Save Disk Space checkbox is not selected.
If not, de-select this checkbox and then press the OK button.
Restart your PC to let the change apply and then see if the issue is gone or not.
Read: System Compression in Windows and how it saves space on devices.
2] Disable Compression on Folders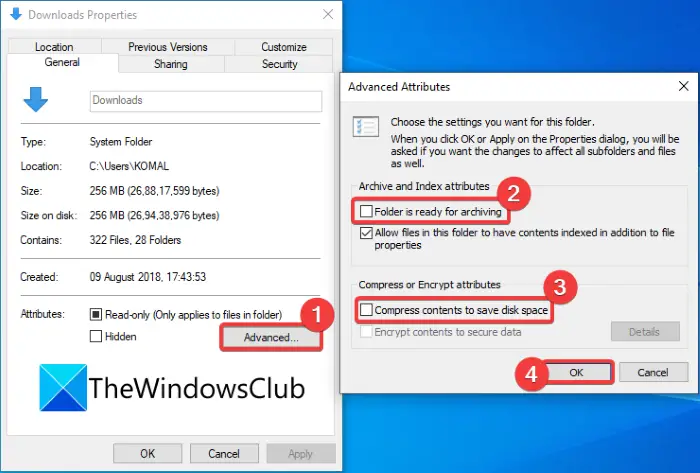 In case some specific folders are causing the compression issue on your PC, you can disable automatic compression on those folders. Follow below steps to do so:
Open File Explorer and go to the problematic folder (e.g., Video folder).
Right-click on the folder.
From the context menu, select the Properties option.
In the Properties window, tap on the Advanced button to open up the Advanced Attributes dialog.
Now, uncheck the Folder is Ready for Archiving and Compress Contents to Save Disk Space options.
Next, click the OK button to apply changes.
Finally, restart your computer to check if the issue still persists or not.
If you are encountering an automatic compression issue only on some user profile-specific folders, you can go to the user profile, select the problematic folder, and then apply the above steps to disable compression for the folder.
You can select the user profile by going to this location: C:\Users
TIP: You can also disable compression using Command Prompt, Group Policy or Registry methods.
Finally, rebuild the Icon Cache Database
In a few instances, like if the folders were decompressed after Windows update installation, the double-blue arrow might still keep showing on files or folders because of a corrupted icon cache database. This makes the user believe that the files are being continuously compressed automatically. Such a scenario calls for rebuilding the icon cache database to fix the issue.
If you are encountering an issue primarily with exe (program) files' shortcuts, you can try to fix this problem by deleting older shortcuts and recreating new ones.
Read: How to Decompress all files on Windows 10
How do I stop Windows from compressing files?
If you have by mistake enabled compression on drives or folders, you can use Method (3) and/or Method (4) from this article to stop Windows 10 from compressing your files. In case this doesn't fix up the issue for you, you can try some other solutions to prevent file compression on your PC.
Why are my files being compressed?
There are higher chances that your files are being compressed because your PC is running out of space. As compressed files and folders consume less space on disk, thus automatic compression. It also may be the case that the compression on the drive/folder is enabled knowingly or unknowingly. So, you will need to disable compression by going to Properties of the problematic folder or drive. Check out the steps that we have mentioned for the same.
That's it! Hope this article helps you fix the Windows 11/10 automatically compressing file issue.
Now read: Windows does not boot after compressing System Drive.