Recently, we talked about Microsoft BitLocker Administration and Monitoring. This technology is a pioneer for encrypting drives at the organizational level. However, sometimes you may face issues in saving the recovery key while using BitLocker feature. In some scenarios, you may come across the Your recovery key couldn't be saved to this location. Please choose a different location error.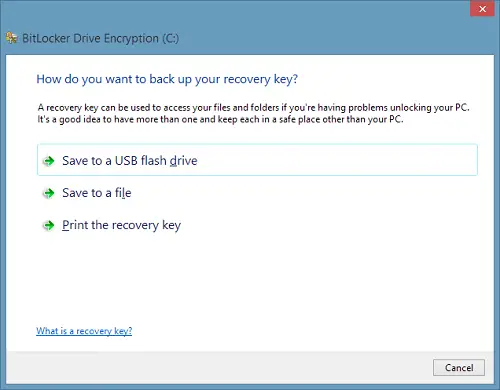 No matter; which option you choose from the available ones shown above, it may result in the same error. Now since all three options are giving the same error, you will be just unable to complete the drive encryption process. This post will tell you how to fix this problem.
BitLocker – Your recovery key couldn't be saved to this location
1. Press Windows Key + R combination and put gpedit.msc in Run dialog box.
2. In the left pane navigate to:
Computer Configuration -> Administrative Templates -> Windows Components -> BitLocker Drive Encryption -> Operating System Drives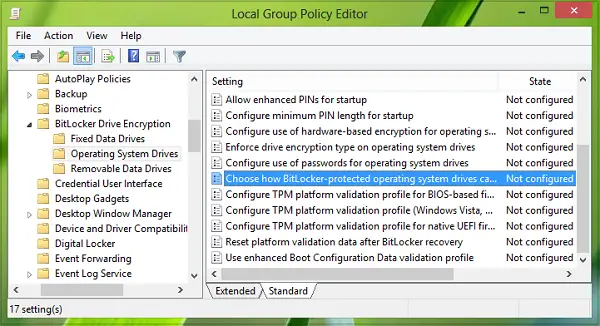 3. In the right pane of above-shown window, look for the setting Choose how BitLocker-protected operating system drives can be recovered, it must be showing Not Configured status by default. Double click on this setting to modify: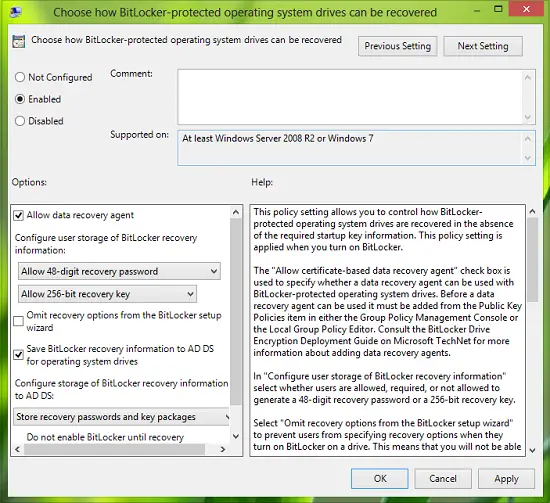 4. In the above-shown window, click on Enabled firstly, and now make sure that Allow data recovery agent option is checked. When you're done, click on Apply followed by OK.
5. If you're device is slate; then you need to Enable setting Enable use of BitLocker authentication requiring preboot keyboard input on slates as well in the same manner as done above: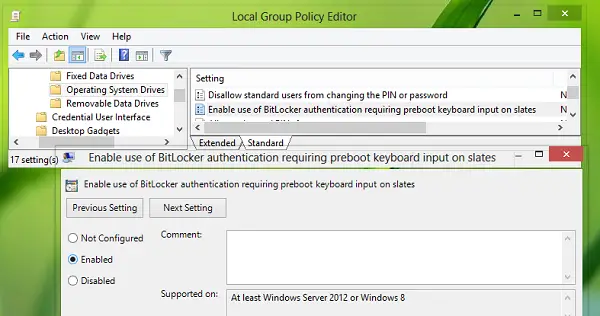 Now close the Local Group Policy Editor; reboot the machine and your issue should be fixed by now. That's it!
Go here if you need to Recover files & data from an inaccessible BitLocker encrypted drive.
This post will show you how to change the default location for saving BitLocker Recovery Key.