Windows 11 has a strict set of requirements when it comes to hardware. While most of them were able to bypass it during the release time, some users who are now trying to upgrade are given a warning. It says that if they upgrade, the PC will no longer be supported and won't be entitled to receive updates. i.e., not entitled to updates. Further, the warning also warns that damages to the PC due to lack of compatibility aren't covered under the manufacturer's warranty.  This post will look at solutions that will help you bypass.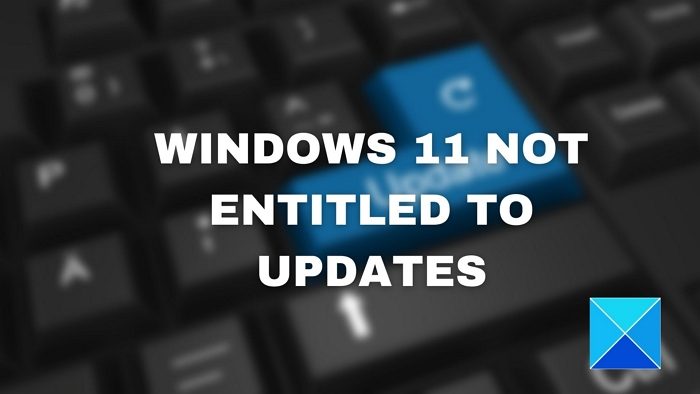 Your PC will no longer be supported and won't be entitled to receive updates.
What will happen if you accept the warning?
While Microsoft is not recommending installing Windows 11 on unsupported devices (mostly TPM), it does allow it if you accept the warning message. So if you accept it, you can install Windows 11 and use it, but post that, you may not get an update, and your OEM may not honor the warranty if something goes wrong while using it.
Your PC will no longer be supported and won't be entitled to receive updates
So what can users do? The only option is a fresh install on your PC instead of an upgrade. The primary check that the installation file checks is the TPM requirement. If a PC has a TPM feature with basic requirements, no warning will be available.
You can bypass the TPM check by editing certain registry values, so the setup file assumes everything is compatible. It is only for those PC which doesn't have the TPM 1.2.
Back up all your important files and take note of app settings.
Create a bootable USB drive, and then boot the PC using that.
Once on the setup screen, press SHIFT + F10 to open the Command Prompt
Type regedit and press the Enter key to open the Registry Editor
Navigate to the following path
 HKEY_LOCAL_MACHINE\SYSTEM\Setup
Right-click on the Setup key, and create another key with the name as LabConfig
Create two DWORD(32-bit) with the names BypassTPMCheck and BypassSecureBootCheck
Double click both of them, and set the value as 1
Close Registry Editor and the command prompt
Install Windows usually, and there will be no check made for TPM
Post this; Windows 11 will keep getting updates as you were expecting. However, it is essential to note that Microsoft can change this anytime and block the access if it finds a workaround for this hack. TPM 1.2 is a necessary feature and only secures your passwords in a better way. Eventually, you will need to upgrade the PC with time.
Related: How to install Windows 11 on unsupported hardware or processor
Can you keep running Windows without updating?
Yes, it is possible to run without updating, but the PC will face security issues with time. Since there will be no security update, chances are you may land into trouble. You will also miss any performance updates.
How do I fix Windows 11 not updating?
If your PC meets the hardware requirement and still not getting an update, then here are a couple of things you can do. Run Windows Update Troubleshooter, Restart Windows Update service, clean up storage space, etc.