The "Your device is offline. Try a different sign-in method" in Windows. This error usually occurs when a user tries to log in using Microsoft Account in Windows 11/10. It can also appear when they try to access specific online services and apps, or if a remote server hosting the user's account information faces some errors.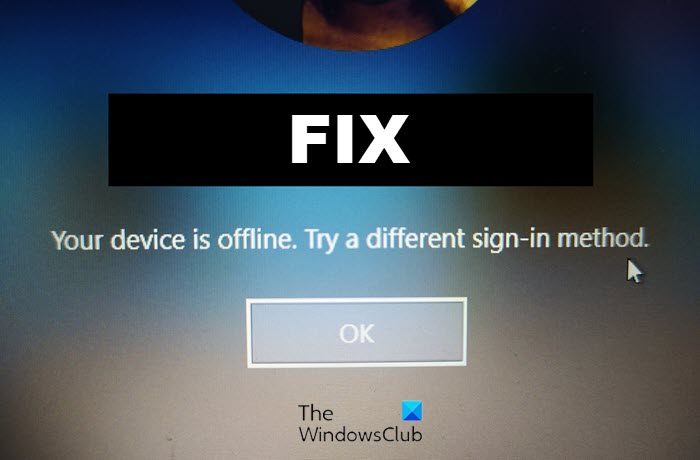 Why does my computer keep telling me I'm offline?
Your device may keep telling you it's offline when it is unable to connect to the internet. In some cases, incorrect login credentials and errors within the servers can also cause this error. However, some other reasons are:
Network Adapter Issues
System Errors or Glitches
Misconfigured Network Settings
Router Issues
Fix Your device is offline, Try a different sign-in method in Windows
To fix the Your device is offline, Try a different sign-in method error, try restarting your device and the router. However, sometimes running network diagnostics may help. Other than that, here are some more fixes:
Verify Account Credentials
Check Server Status
Reset Network Settings
Tweak the Registry
Sign-in with a Local Account
Troubleshoot in Clean Boot State
Now let us see these in detail.
1] Verify Account Credentials
Check if you are entering the right account credentials, i.e., your user id and password. Try entering your old password and checking if that works. However, if it doesn't work, click initiate the steps to recover your password.
2] Check Server Status
Check the Microsoft Server status, as the servers may be under maintenance or facing downtime by going here. You can also follow @MSFT365Status on Twitter to check if they've posted about ongoing maintenance. If many people have the same issue, the server may face downtime.
3] Reset Network Settings
Performing a Network reset on Windows 11 uninstalls and then reinstalls all the network drivers. It will also reset all related settings to their default. Here's how:
Press the Windows key + I to open Settings.
Navigate to

 

Network and 

Internet

and click on Advanced Network Settings.
Click on Network Reset > Reset Now
Now check if your device is offline error is fixed.
4] Tweak the Registry entry
Deleting the faulty subkeys in the registry editor can help fix Windows sign-in errors. Here's how:
Press the Windows key + R to open the Run dialog box.
Type regedit and hit Enter.
Once the Registry Editor opens, navigate to the following path:

Computer\HKEY_USERS\.DEFAULT\Software\Microsoft\IdentityCRL\StoredIdentities

Expand the StoredIdentities key and delete the faulty key under it.
Restart your device once done, and try logging in again.
Before you proceed, make sure to create a system restore point. Doing so is beneficial, as a single mistake while modifying the registries can make your device crash.
5] Sign in with a Local Account
Logging in via a local account can solve the error temporarily. This will be because a local account allows the user to log in without a password. Here's how you can sign in using a local account:
Press the Windows key + I to open Settings.
Navigate to Accounts > Your info.
Here, click on Sign in with a local account instead.
On the next page, a prompt asking for confirmation will appear, click on Next and enter your device's PIN or Password.
Your device will now sign out and you'll be able to log into a local account.
Read: Your device is offline. Please sign in with the last password used on this device
6] Troubleshoot in Clean Boot State
Third-party applications installed on your device can be responsible for why you're unable to sign into your Microsoft Account. Perform a Clean Boot of your PC to restrict all third-party applications, and try logging in again. Here's how you can perform a clean boot:
Click on Start, search for System Configuration, and open it.
Navigate to the General tab and check the Selective Startup option and the Load System Services Option under it.
Then navigate to the Services tab and check the option Hide all Microsoft services.
Click on Disable all at the bottom right corner and hit Apply, then Ok to save changes.
If the error doesn't appear in the Clean Boot State, you may need to manually enable one process after another and see who the culprit is. Once you've identified it, disable or uninstall the software.