If Your account is currently locked, Error Code 395002 in Diablo 4 keeps troubling you; then this post will help you resolve the issue. Diablo 4 is a role-playing action game developed and published by Blizzard Entertainment. However, like any other game, it is not immune to technical issues. The error message reads:
Your account is currently locked. Please wait a few minutes and try again.
(Code 395002)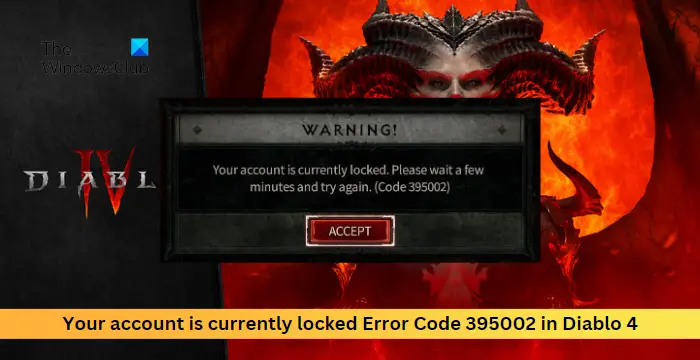 Your account is currently locked Error Code 395002 in Diablo 4
To fix Diablo 4 Error Code 395002, Your account is currently locked you can follow these suggestions to get rid of the error:
Check System Requirements
Update Graphics Drivers
Scan the Game Files
Disable System Overclocking
Close Unnecessary Background Applications
Allow Diablo 4 through Windows Defender Firewall
Reinstall the Game
Let's now see these in detail.
1] Check System Requirements
Before making any major changes, check if your device meets the recommended requirements to run Diablo 4. Those are:
OS: 64-bit Windows 11 or Windows 10 version 1909 or newer
Processor: Intel Core i5-4670K or AMD R3-1300X
Memory: 16 GB RAM
Graphics: NVIDIA GeForce GTX 970 or AMD Radeon RX 470
DirectX: Version 12
Storage: SSD with 90 GB available space
Internet: Broadband Connection
2] Update Graphics Drivers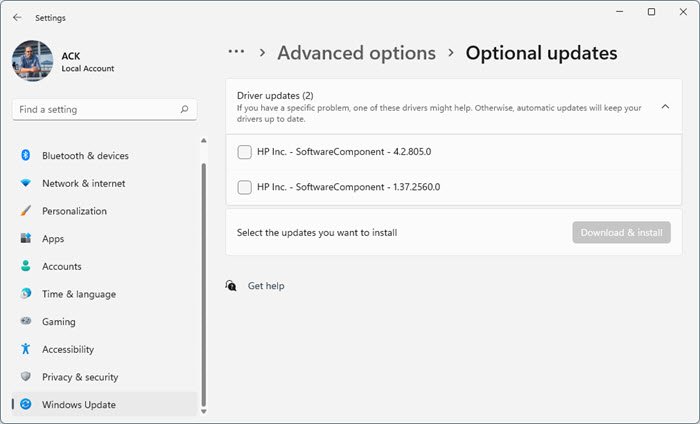 Next, update your device's graphics drivers to their latest version. This is because outdated and corrupted graphics drivers can be why Error Code 395002 in occurs Diablo 4. Update graphics drivers and see if the error's fixed. Here's how:
Open Settings and navigate to Settings > Update & Security > Windows Update.
Here, click on View optional updates.
A list of updates will be available under Driver Updates; choose the one to install.
You may want to use free Driver Update software or tools. NV Updater and AMD Driver Autodetect will update the graphic card driver if that's the case.
3] Scan the Game Files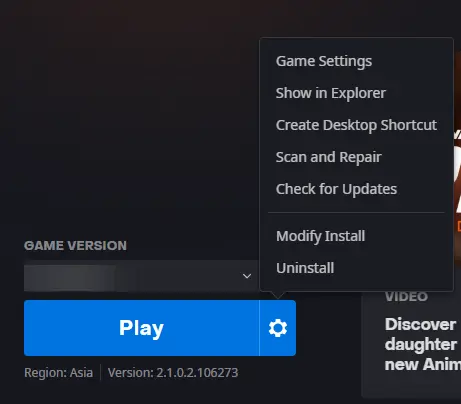 The files of Diablo 4 can get corrupted sometimes, causing it to malfunction. It can also be why the Error Code 395002 in Diablo 4 occurs. Scan the game files on the Battle.net client and see if the error's fixed. Here's how:
Launch the Battle.net client and click on Diablo 4.
Click on the Gear icon and select Scan and Repair.
Now click on Begin Scan and wait for the process to complete.
Close the Battle.net launcher, and restart your PC once done.
4] Disable System Overclocking
Overclocking increases a component's clock rate and makes it run faster than it was designed to run. This can lead to the Your account is currently locked Error Code 395002 and ultimately crashing your GPU. Therefore, disabling overclocking is recommended; otherwise, opt for a different configuration that doesn't make the GPU crash.
5] Close Unnecessary Background Applications
Another reason Diablo 4 crashes with Error Code 395002 is due to a lack of memory and system resources. Closing all the apps and programs running in the background will free up system resources to be used by the game. Here's how you can close background applications:
Press Start, search Task Manager and click on Open.
Navigate to Processes and see which program is consuming the most memory.
Right-click on the program and select End task.
6] Allow Diablo 4 through Windows Defender Firewall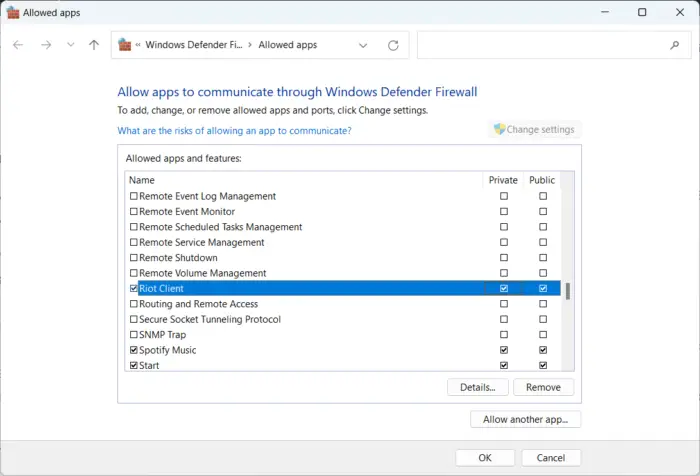 Windows Firewall sometimes interferes with the game's processes and makes it malfunction or crash. Making some exceptions in Windows Firewall can help fix the Error Code 395002 in Diablo 4. Here's how:
Press the Windows key + I to open Settings.
Navigate to Privacy & Security > Windows Security > Firewall & network protection.
In the Firewall tab, click on Allow an app through firewall.
On the next page, click on Change settings and select Allow another app.
On the Allowed apps window, locate Diablo 4 and check both the Private and Public boxes.
7] Reinstall the Game
If none of these suggestions helped you consider reinstalling Diablo 4. This is known to help most users fix the error.
Read: Fix Diablo Immortal Connection issues on Windows PC
We hope these suggestions have helped you.
How do I fix Diablo 4 from crashing?
If Diablo 4 keeps crashing, scan and update the game files. However, if that doesn't help, disable system overclocking and allow the game through Windows Firewall.