Are you also annoyed by the Xbox Payment Error Code C101A007? You are not alone, as many users have reported this issue recently. There can be several reasons behind the problem. This error prevents you from purchasing games from the Xbox store. Usually, this error occurs due to unauthorized payment or suspicious activity from your account, and this post will help you resolve the problem.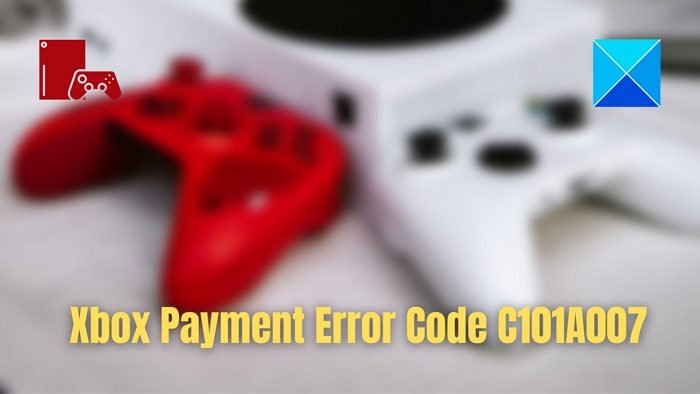 Why does Xbox Error C101A007 occur?
You would have encountered this error while purchasing any new game at the billing screen. Most of the time, suspicious or unusual activity from your Xbox account causes the error. It can be due to an unusual sign-in attempt or when your account is used from different regions.
This error may also mean that your payment mode is unauthorized. It usually happens due to the credit limit, card block, incorrect AVS information, and exceeding the card limit.
Another reason for this error is an unusual activity from your Xbox account. A suspicious login or multiple failed login attempts can lead to this error. To protect your Xbox account from fraud and misuse, Microsoft locks it when it suspects unusual activity.
Fix Xbox Payment Error Code C101A007
Let's check out the solutions which will help you fix the Xbox Payment Error Code C101A007.
Below mentioned is a list of the same:
Connect with your bank to check if there is an issue with your CARD or bank account
Contact Xbox Support
Now, let's look at how these solutions can be helpful.
1] Connect with Bank to Check if There Is An Issue With Your CARD Or Bank Account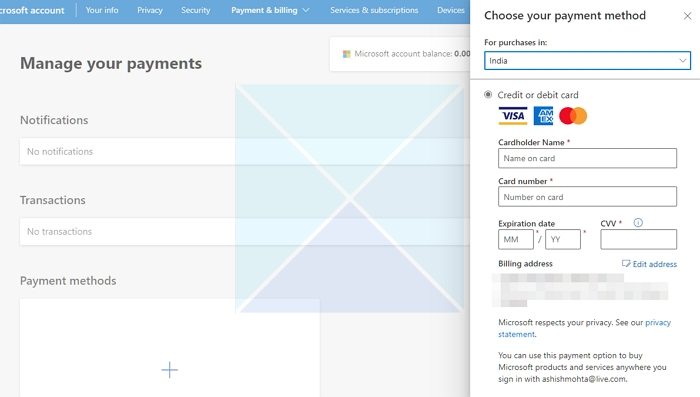 Most of the time, payment issues lead to the error code C101A007. Therefore, the straightforward solution in such a case is to connect with your bank and verify if your Card has an issue. Once that is resolved, you should remove the Card from your account and add it again.
Afterward, follow these steps below to complete payment:
On the payment screen, Sign in to your Microsoft Account
Scroll down and click on Add a new payment method
Choose the desired payment method and click proceed
If you still encounter the error message, nothing is wrong with your payment method. Follow the next method.
2] Contact Xbox Support
You would also get an error when Microsoft detects suspicious login attempts from your account. You can check the recent activity tab to check where it is logged in or was logged in previously. However, you can unlock your account by entering the security code received in your mail. For more help, contact the Microsoft support team with the Contact us option.
Follow the steps given below to contact the Xbox support team:
Open the link here in your browser
Navigate below to Still Need Help and press the Contact Us button green-colored button
Fill in the details to describe your exact issue.
Now, Xbox will reach out to you and resolve your problem in the best possible way.
Conclusion
The Payment Error Code C101A007 is a standard error that several users encounter. One of the prime reasons for the error is an issue in payment due to improper card details. Often banks do not authorize payments leading to the issue. You can contact your bank to resolve this and set up payment again. Otherwise, Microsoft also restricts it when it detects suspicious login details from your account. Thus, you can also solve the issue by checking the recent activity page.
Why is my Card being rejected on Xbox?
While there can be many reasons for rejection, according to Microsoft, one of the most prominent reasons is if the payment option has expired. When it happens, you will be able to use your Xbox subscription post-expiry of the subscription of the Xbox plan. You will need to update or add a different payment method to renew your subscription.
Why is Microsoft not accepting my debit card?
First and foremost, Xbox doesn't accept Debit cards from all countries, even if it is Visa or MasterCard. Most Debit Card requires users to enter a PIN when making a payment, and Xbox service is not built to handle this feature. Some countries require additional security verification or two-factor authentication to process payments. So, you will need to use a credit card as a payment method.