If you play online games on Xbox One, you will have to buy Xbox subscriptions such as Xbox Live Gold or Game Pass to do that. When you launch a game on Xbox One and receive error code 0X803F800B. This means that your Subscription has expired, which can be either for the Game you are trying to launch or the Xbox subscription. Here is how you can resolve the problem.
Xbox One Game will not launch, Error 0X803F800B
At times automatic Payment has failed, or you may have run out of balance in your account, and maybe all you need to do is renew your Subscription to resolve the problem.
Renew Xbox Subscription
Renew Game Subscription
Review of Payment Information
Pay Outstanding Balance.
Many a time, people cancel the Subscription or disable auto-renew, and that's why you see this.
1] Renew Xbox or Game Subscription
There can be two possible subscriptions related to the error. One is the Xbox Live Subscription, and the second is the Game itself has a subscription.
Press the Xbox Button, and navigate to Profile and System
Then navigate to  Settings > Account > Subscriptions.
If you see an option to renew, make the Payment, and complete it.
Launch the Game, and check if the issue exists.
2] Renew Game Subscription
Go to  Services & subscriptions page in your Microsoft account
Find the game subscription if any listed under it such as EA Access, and then select Renew,
Next, follow the instructions and repurchase the Subscription in the Microsoft Store.
It happens with games that came with a time-limited subscription or trial game or if the game is only available when you active Pass subscriptions.
Read: Fix Xbox One is stuck on Green Loading Screen.
3] Review of Payment Information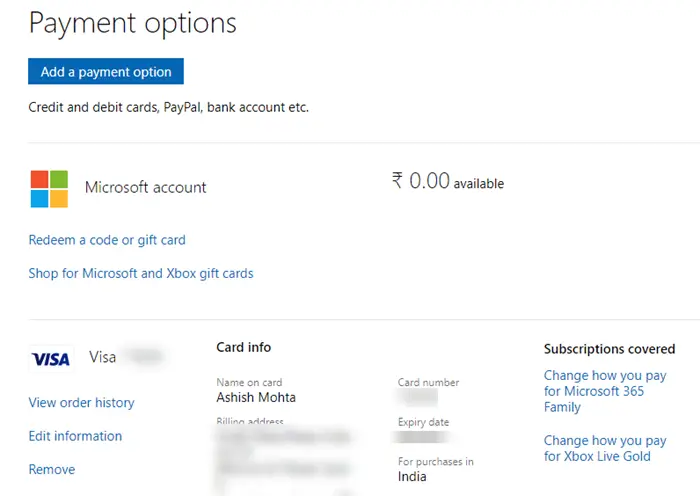 Subscription renewal also fails when the payment info is incorrect.  It usually happens when credit card info has expired, or you have changed your bank details connected with Xbox Account.
Go to the Billing section of your Microsoft account
Check if the credit card or bank information is correct
If the accounts are not valid, click on Add Payment button, and then add an account which works
More on how you can troubleshoot Microsoft Account payment issues and problems
4] Pay Outstanding Balance
If there is an outstanding balance for anything that is related to Xbox, make sure to clear the Payment. You can find it under Payment and billing. Select and click on Pay now. Select any of the added payment methods and clear it.
As a summary, the error is related to Subscription, and only when you renew the issue will be resolved.
I hope the tips were useful, and you were able to get rid of the error — Xbox One Game will not launch, Error 0X803F800B.