Xbox Game Pass is considered the Netflix of games, and for very good reasons. The service is home to hundreds of titles for subscribers to play to their heart's content. It's quite incredible, but you know what is equally as such in the eyes of some? Game Pass Perks!
What are Xbox Game Pass Perks
It's Microsoft's way of thanking gamers for subscribing to Xbox Game Pass. The folks at Microsoft love you so much they are willing to give away free content just for subscribing to their newest popular service.
From our understanding, Perks can fall under several categories. For example, you can get free in-game content such as character skins and weapons, free currency to buy your most wanted in-game content, and more.
Now, we should point out that Game Pass Perks are only available to those who have subscribed to Game Pass Ultimate. As it stands, then, if you have the basic level Game Pass subscription, you won't be qualified to take advantage of Perks.
Additionally, please note that Perks do not last forever. Once you are given a Perk, you must not wait long to claim your prize. If you keep the Perk until after the grace period, then you will lose it forever.
How to get Game Pass Perks on Xbox?
Being qualified is one thing, but getting the Perks is another. Don't worry though, it's quite easy to do this from your Xbox Console, PC, and Android app. We are going, to begin with, explaining how to do this from the Xbox.
Turn on your Xbox and sign in
Select Game Pass
Choose Perks
Claim your Perks
1] Turn on your Xbox and sign in
OK, so first you must power on the Xbox by pressing the Xbox button on either the console itself or from the controller. From there, be sure to sign in with the correct profile.
2] Select Game Pass
From the main menu, scroll to locate the Game Pass app, and then tap on it to open.
3] Choose Perks
After opening the Xbox Game Pass app, you should come face to face with a few highlights at the top. Underneath them, however, are a bunch of options in the color gray. Go to Perks and select it with the A button.
4] Claim your Perks
You should now be looking at a list of Perks right before your very eyes. Simply locate the one you want to use, choose it with the A button, and from there, tap on Claim, and that's it, your Perk is now available for usage.
Redeem Xbox Game Pass Perks via Xbox Game Pass for PC
Yes, the service can be had on Windows as well. It began life on Xbox, and now folks can take advantage of the features on Windows as well. So, how can PC gamers claim their Perks with ease?
Open the Xbox Game Pass app
Navigate to the Perks screen
Claim your Perk
1] Open the Xbox Game Pass app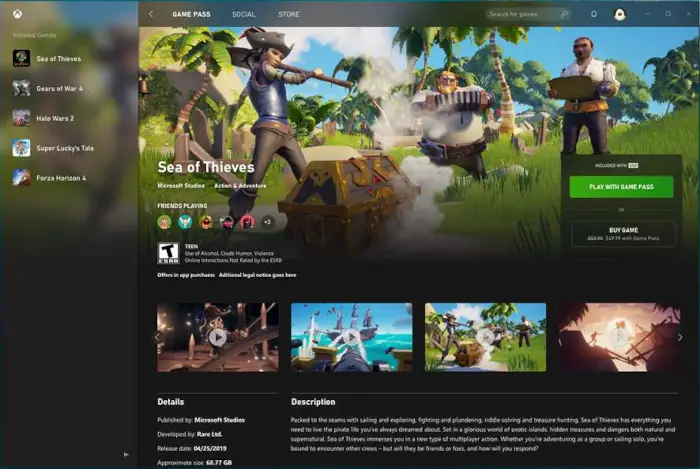 First, you must open the Xbox app and select Game Pass from the top. It is situated next to Social, so you cannot miss it.
2] Navigate to the Perks screen
You are now required to find your way to the Perks screen. The option is right there so click on it and wait for a new screen to appear.
3] Claim your Perk
Once you've decided which Perk, you're more interested in, go ahead and select it, then click on Claim Perk. You will either need to redeem it in the Microsoft Store or download it right away if no code is required.
Xbox Game Pass perks not working or showing on PC
If Xbox Game Pass perks is not working on PC, maybe your Game Pass Ultimate subscription has expired. Once your Ultimate subscription expires, you won't see new Perks, or Perks you've claimed in the Perks gallery, so make sure to redeem them first.
Read: Sorry, we're having trouble showing the details of this perk right now
Is Xbox Game Pass still free?
It was never free, to begin with, unless there was some special promotion. Folks are required to pay a monthly subscription, and in exchange, they will get access to hundreds of quality video games they can play none stop until the subscription ends. The basic cost is $9.99 for both Console and PC. However, if you want more, then subscribe to Game Pass Ultimate for $14.99 per month.