Hyper-V Host Compute Service, aka vmcompute.exe, is responsible make sure the Hyper-V service is up and running when needed. If the service is blocked, you will receive WslRegisterDistribution failed with error 0x80370114. This post helps you to resolve the problem and use WSL as expected.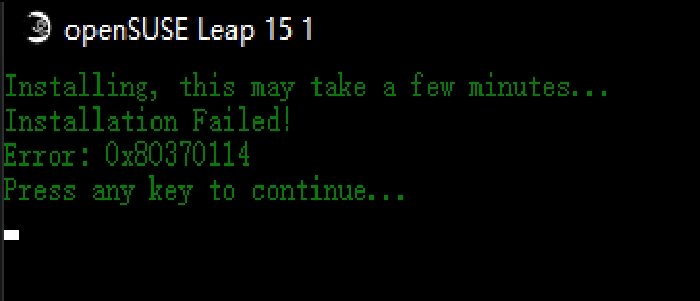 Be aware that the same error code may also show an error message—
Error: 0x80370114 The operation could not be started because a required feature is not installed
The problem can be resolved using the same method.
WslRegisterDistribution failed with error 0x80370114
To unblock the service, you will have to check with the antivirus or security solution. If you are using Windows Security, follow the steps as below:
Type Windows Security in the Start menu and press Enter to launch.
Click on App & Browser control available on the left side
Then click on Exploit protection settings at the bottom
Switch to the Program settings tab
Locate the Hyper-V Host Compute Service by going to the under mentioned path:
C:\WINDOWS\System32\vmcompute.exe
Once included, select it, and then click on the Edit button
Locate Code flow guard (CFG) and uncheck Override system settings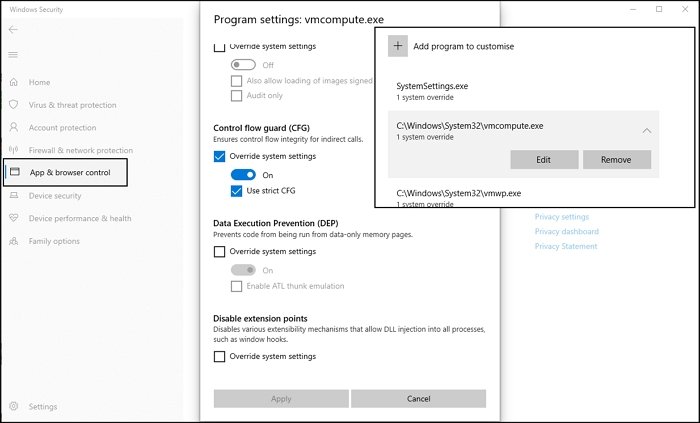 Finally, open PowerShell, and execute the following command to start the service
net start vmcompute
Done that you can now set the WSL version if needed using the wsl –set-version <distro name> 2 command.
App & browser control in Windows Security protects PC from potentially dangerous apps, files, websites, and downloads. So make sure not to disable it, but always add an exception so the programs can run as expected.
Additionally, make sure you have enabled Virtualization at the hardware level, Hyper-V, and anything that is related to WSL.
I hope the post was easy to follow, and you were able to resolve WslRegisterDistribution failed with error: 0x80370114 by unchecking the Override system settings in CFG.
Similar WslRegisterDistribution failed with errors:
0xc03a001a | 0x80041002 | 0x800700b7 or 0x80080005 | 0x80070422 | 0x80370102 | 0x80070003 |  0x80070032 | 0x8007023e | 0x800701bc | 0x8007019e and 0x8000000d.