WSAPPX is a process that runs in the background on your Windows 10/8 computer as a part of the Windows Store and the Universal app platform of Microsoft. It is used for installations, updates, and uninstallation of Store apps, so once you are done installing all updates, you don't need it.  But at times you may face situations where you find that this process is using high disk, CPU or memory.
WSAPPX High Disk Usage in Windows 11/10
If you face this issue, here are a few things you can try to troubleshoot and fix the issue.
1] Increase Virtual Memory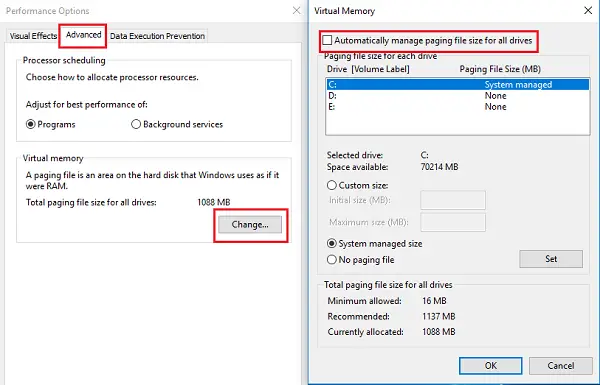 The virtual memory size may need to be expanded. You can do it as follows:
Type the word "performance" in the search bar and select the option "Adjust Appearance vs. Performance in Windows."
Select the 'Advanced' tab among the tabs on the top.
Go to 'Virtual Memory' and click on 'Change'.
Uncheck the 'Automatically manage paging file size for all drives' checkbox.
Select the drive where the OS is installed and click on 'Custom size'.
Set the 'Initial size' equivalent to the size of your RAM but in MB and the 'Maximum size' to double of the Initial size.
Click 'Set' and then 'OK' and then restart your device.
See if this helps.
2] Disable Windows Store

You can do this by two methods. First, with the Group Policy Editor. Second, with the Registry Editor. Here are the steps for both methods.
Using Group Policy Editor
Type 'gpedit.msc' in Start Search and press Enter. It opens the Local Group Policy Editor.
Go to 'Computer Configuration' and select 'Administrative Templates'.
Then go to 'Windows Components' and select 'Store'.
Find the 'Turn Off Store application' setting in the right pane.
 Select 'Enable' and 'Apply'.
Using Registry Editor
Some versions of Windows do not have the Group Policy Editor option. So, here is the other way to do it. But before you begin, create a backup of your data first.
Type 'regedit' in Start Search and hit 'Enter'. This opens the Registry Editor.
Navigate to:
 HKEY_LOCAL_MACHINE\SOFTWARE\Policies\Microsoft\WindowsStore key
Here you need to create new DWORD value within the Windows Store key and name it RemoveWindowsStore and give it the value of '1'. If the WindowsStore key does not exist itself, you will have to create it.
Now restart your Windows device.
When you disable Windows Store, third-party Windows Store apps cannot be installed or updated. If anybody tries to open the Windows Store app now, the screen will display the message:
Windows Store isn't available on this PC. Contact your system administrator for more information.
Apps like Mail, Movies & TV, Photos, Calculator, and OneNote need this app for automatic updates so if you need those frequent updates, disabling this feature is not recommended.
3] Change the value of AppXSvc in Registry
Jerry Shelton adds below in the comments:
Open Registry Editor and navigate to:
HKEY_LOCAL_MACHINE\SYSTEM\ControlSet001\Services\AppXSvc
In the right panel, change the value of Start to 4.
Restart the computer.
4] Troubleshoot in Clean Boot State

If nothing helps, you may need to perform a Clean Boot in order to make Windows run only on a few essential driver sets and startup programs. This will help you manually isolate the issue in case it is because of startup programs.
Hope something here helps you.